Professor Green didn't let the fact that he's still on crutches stop him from having a good time last night, as he was spotted out in London with fiancée Millie Mackintosh.
The couple attended the DKNY Artworks launch in the capital on Wednesday evening (12 June) to watch an energetic performance from Rita Ora, who was joined on stage by her best friend and model, Cara Delevingne.
And despite having to use his crutches to help him walk following his accident last month, Pro Green was just as keen to party as the rest of the guests.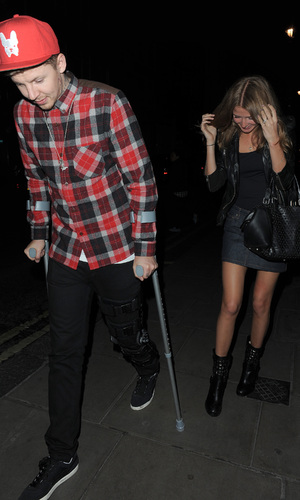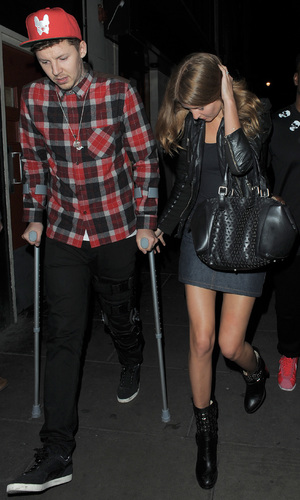 He arrived at the Lambeth Fire Station venue along with his
Made In Chelsea
fiancée, Millie, and clearly enjoyed the impromptu double act from Rita and Cara - although he was under strict instructions from Millie to not stare too much!
Pro Green tweeted: "Big up @RitaOra. I'm just here skanking on crutches. Normal."
"So @RitaOra is dancing with Cara, the bird's enjoying it but I'm not allowed to look. #doublestandards"
The Hackney raised rapper, 29, went for a smart casual outfit for the gig and sported a red checked shirt, a matching red snapback cap, black jeans and a pair of black trainers.
Meanwhile, Millie remained close to her future hubby's side throughout the night and opted for a slightly grungy ensemble with a short denim skirt, a black leather jacket, black studded biker boots and of course, her sparkly engagement ring.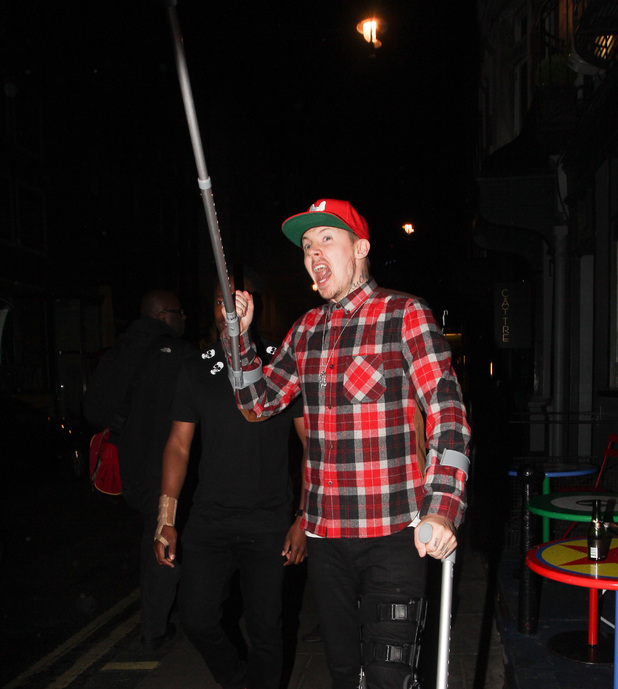 However, it sounds like the reality TV star's skirt might have been a little on the short side, as one eager paparazzo almost snapped a picture of her underwear - that is, before he felt the wrath of
Professor Green
and his crutches!
Pro Green - who was
hit by a car a couple of weeks ago
- can be seen waving his crutches in the air in one of the photos taken outside the Groucho Club yesterday, which appeared to be an attempt to warn off the camera man who got too close.
He later tweeted: "Please don't try and take a picture of Millie's underwear because you will meet my crutches like the pap who just tried it. #Crutches."
Well, it seems like those crutches are coming in pretty useful!
What do you think of Millie and Pro Green's style? Let us know below!