Chris Brown has fuelled rumours that he is back with his ex girlfriend, Karrueche Tran, after being spotted cuddling up to her in a photo uploaded by a friend.
Reports that Chris, 24, and Karrueche have kissed and made up were already swirling at the start of the month, since the pair were
seen hanging out together backstage at the Hot 97 Summer Jam concert
in New Jersey, where Chris had been performing.
And now it seems the former flames can't stay away from one another, as they were caught cuddling over the weekend by one of Chris' pals, rapper Kid Red, who uploaded the candid snap to his Instagram account.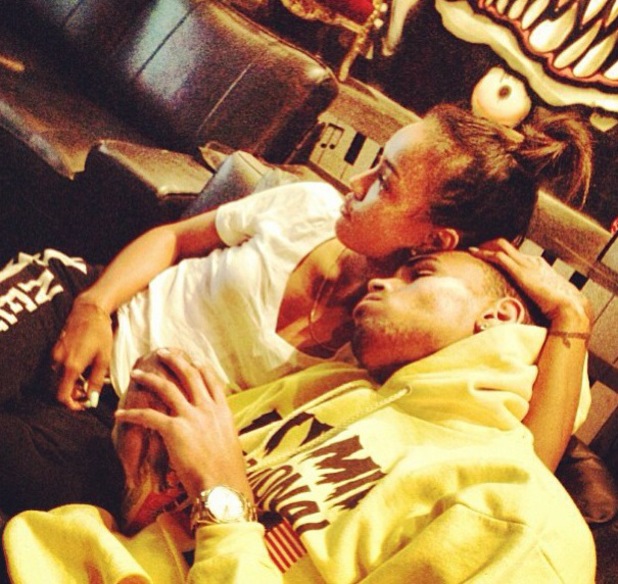 In the picture, Chris can be seen wearing a yellow hoody from his Black Pyramid clothing line and resting on the Vietnamese model's shoulder, while she affectionately places a hand on his head and leans against him.
Beside the picture, Kid Red wrote: "No friendship without love!"
Does that mean that Karrueche and Chris are just friends who love each other or could it be that they're well and truly back together?
The award-winning
R&B singer is said to have ended his on-off relationship with Rihanna last month
and is now thought to be living with Karrueche again in his plush LA pad.
Chris has also been seen hanging out with Karrueche on a number of occasions following his split from RiRi, including at his 24th birthday bash in Hollywood in May.
Although Karrueche is known to have remained amicable with Chris after he got together with Rihanna last year, it seems as though the pair are growing closer by the week now that the Bajan songstress is supposedly out of the picture once more.
We're struggling to keep up with this ever changing love triangle!
What do you think of Chris and Karrueche's relationship? Let us know below!