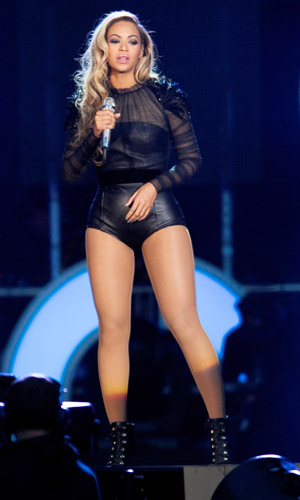 Beyoncé has laughed off rumours that she is pregnant after recent reports suggested she was expecting a baby with husband rapper Jay-Z for the second time.
The music superstar deflected from the question when asked about the reports during an interview on US TV, conducted while she was backstage at last week's Chime for Change concert in London.
Today
host Savannah Guthrie asked the Destiny's Child singer, "I would be remiss if I didn't give you a chance to dispel any rumours about whether you're expecting."
Beyoncé
, who looked bemused, replied: "What kind of rumour?"
The 'Single Ladies' singer, who is mum to one-year-old Blue Ivy, then continued to laugh, adding: "What? Huh? Huh? I don't know what you're talking about."
The pregnancy rumours have been swirling for weeks after the 31-year-old was
forced to cancel one of her concert dates in Antwerp, Belgium
last month.
Doctors ordered the star to rest after suffering from dehydration and exhaustion. Beyoncé later admitted in a YouTube video that
she was secretly diagnosed with tonsillitis during the European leg of her mammoth 'The Mrs Carter Show World Tour'
.
More recently though,
Beyoncé shared some rare photos of a romantic night out with with Jay-Z
where she was pictured sipping on wine, which many took as further evidence she is not currently pregnant.
Beyoncé now has a short break from touring, but will soon be back on the road, this time kicking off the North American leg of her tour in Los Angeles on 28 June.
Read more:
Jessie J and Rita Ora wear crop tops at Sound Of Change concert: pictures
Beyoncé poses with a cigar while in Cuba with Jay-Z - picture!
Watch a clip from the interview below: