Celebrity Big Brother runner-ups Heidi Montag and Spencer Pratt have claimed they faked sex romps in the house.
During the series, the married couple, dubbed Speidi, appeared to be engaging in a sex sessions much to the amusement of onlooking housemates.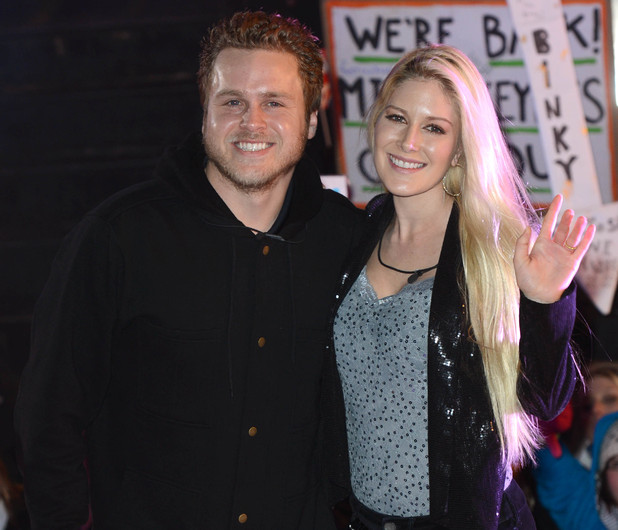 But Heidi and Spencer declare that the romps were simply another way to mess with the minds of the other contestants!
Spencer, 29, told the
Daily Star
: "Every night all they would do was creep in on us and stare. We were putting on a show. It's not a secret that we were messing with their heads.
"Every night we were doing our scenes, we were just turning it up for the TV."
Speidi's bed action soon became the talk of the house, as at first, housemates had criticised Speidi for not kissing or being affectionate towards one another.
Our
Celebrity Big Brother
blogger, Nicola McLean
was in shock after watching the 'fake romp' on TV
. She said in her blog: "What on earth happened between Heidi and Spencer in the bedroom last night?
"Whatever it was, it was all over within a minute! We all know about sexual frustration, but come on now."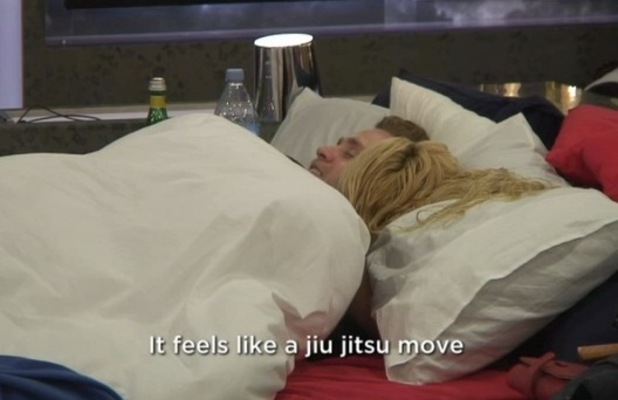 Nicola added: "I just found them SO cringey in the lead-up to whatever happened, what with Heidi saying, "I wanna get naughty!" and Spencer slapping her butt."
But Heidi, 26, remains adamant that she would never have sex on live television. She claims: "They (the housemates) were saying to us all the time that they wanted us to have sex. It was odd and so inappropriate.
"I think they were all so sexually frustrated in there and they're just like that anyway, their humour is way out of line and inappropriate most of the time."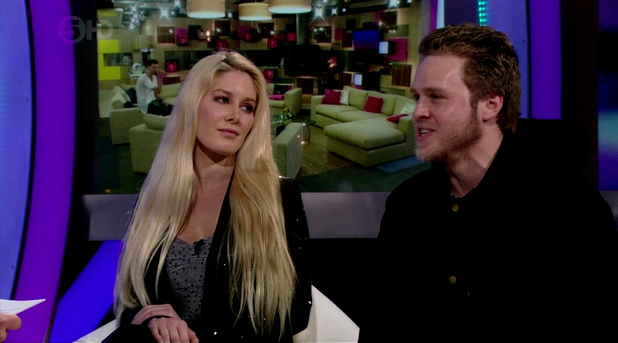 Spencer and Heidi's mind games constantly baffled housemates. Labelled as this year's villains, the couple got involved in plenty of arguments, refused to participate in tasks and were one of the first contestants to actually play
CBB
as a game show.
The couple lost out on first place to former
X Factor
contestant Rylan Clark and received a chorus of boos on Friday night's final, despite their runner-up position.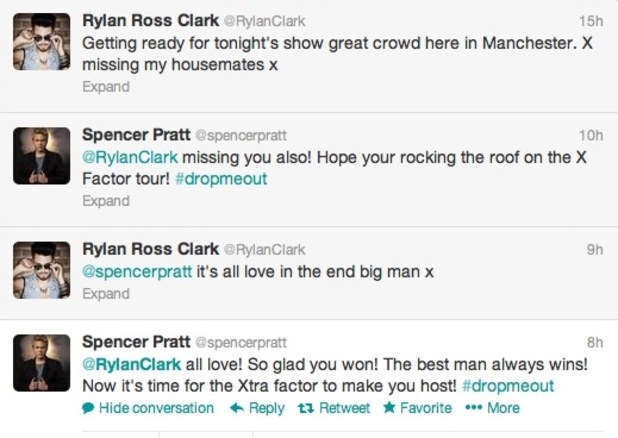 Rylan, who is currently on the
X Factor
tour, tweeted last night that he was missing his housemates. Spencer replied: "@RylanClark missing you also! Hope you're rocking the roof on the X Factor tour! #dropmeout."
Rylan responded: "@spencerpratt it's all love in the end big man x."
And Spencer seemed to agree that their exchange of words in the house meant no harm. He said: "@RylanClark all love! So glad you won! The best man always wins!"
Heidi and Spencer are still in the UK and it looks like they could get used to living the British lifestyle after speculation that
the couple are to have their own British reality TV show
. They could be back on our screens in no time at all!
Read more:
Nicola McLean's CBB blog: 'Rylan deserved win, but Speidi stole the show'
CBB's Heidi Montag and Spencer Pratt insist: "We're entertainers!"