Katie Price's ex-boyfriend Leandro Penna has told Reveal that she is a little lacking when it comes to friendships.
Speaking for the first time since splitting from Katie - aka Jordan - Leandro also admits that she is a bad cook who likes scoffing junk food.
>Read more:
Leandro Penna: "Katie Price is empty and never valued me"
When asked who her best friends are, Leandro says: "I don't know. Maybe one... I don't know. Not many!"
He added: "Katie cooks very fat food - a lot. It's not good."
In our exclusive video, the Argentinian model also reveals that his nickname for the former glamour model was "baby" - unless they were arguing. In that case, he'd just blast "Katie" at her!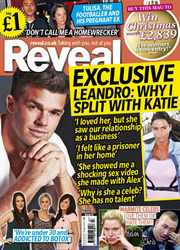 A spokesperson for Katie said: "It is a shame that Leo is going down this route but Katie does not want to have a tit for tat argument about this.
"Katie cared for Leo deeply but relationships end. It is time that they both moved on and if this is how Leo feels that should be easy for him."
Read our full and frank chat with Leandro about his split from Katie in this week's Reveal, out now.
- Copyright Reveal: Our lawyers are watching.
Do you think Katie and Leandro made a good couple? Tell us below and you could win £50!
Read more exclusives from this week's
Reveal
here:
Olly Murs: "I've slept with girls since The X Factor - I'm not a nun!"
TOWIE's Gemma Collins and Lucy Mecklenburgh in love dramas
Debate: Is Christopher Malone a big phoney? We thrash it out!
Additional reporting by Olivia Heath