Beyoncé chose Election Day to show off her hot new fringe on Tumblr.
The 'Countdown' singer shared a photo of her at the polls yesterday and also gave followers a glimpse of her new hairdo - poker straight blonde locks with blunt fringe.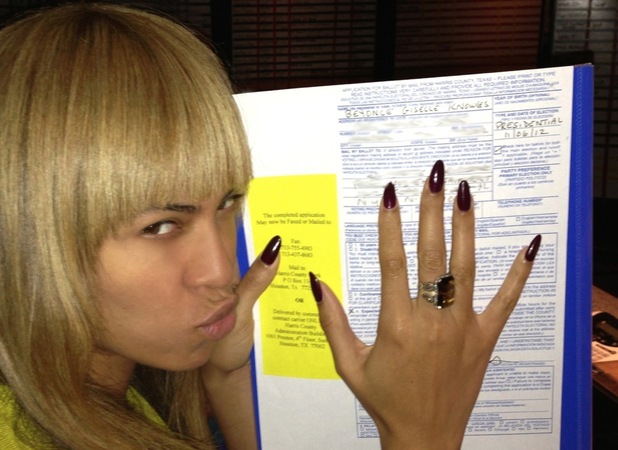 Beyoncé
and her husband Jay-Z were vocal supporters of Barack Obama throughout the campaign, with Jay playing at a rally for the President just 12 hours before polls opened yesterday (November 6).
Despite living in New York with her husband and their 10-month-old daughter Blue Ivy, Beyoncé, 31, cast her mail-in vote in her home state of Texas.
Although the state was called for Republican candidate Govenor Mitt Romney, Beyoncé's vote for President Obama in her hometown of Houston helped the Democrats carry Harris County - making her vote very important!
What do you think of Beyonce's new blonde 'do? Let us know in the comments below and you could win £50!
Read more:
Beyoncé leaves husband Jay-Z speechless at Brooklyn concert
Read more:
Rihanna shows off another new hairstyle
Check out another of Beyoncé's gorgeous hair-dos in her 'Countdown' video below: