Lady Gaga stands out from the crowd at London Fashion Week with some typically weird and wonderful outfits…
Let's face it,
Lady Gaga
was never going to sit demurely and quietly in the front row at LFW, was she? And the 'Bad Romance' star didn't disappoint when she rocked up to Philip Treacy's show over the weekend sporting a huge floral headpiece, velvet green dress, and gold tights.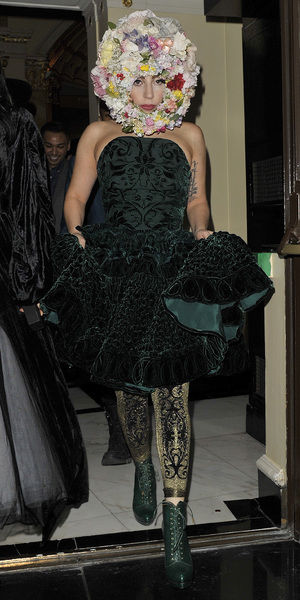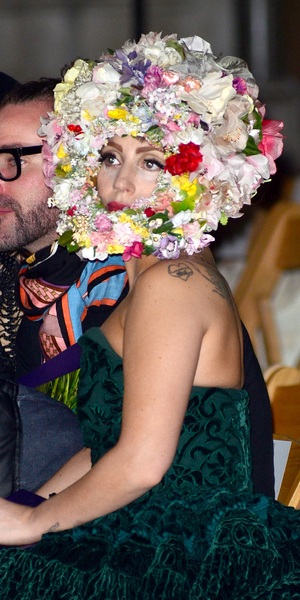 One dramatic outfit wasn't enough, however, and she also changed into a hot pink cape, flowered tights and typically towering boots for an appearance on the Philip Treacy catwalk to kick off the show.
She made a dramatic appearance on the catwalk to introduce the "greatest milliner of all time" before his show, which paid homage to the style of the late Michael Jackson.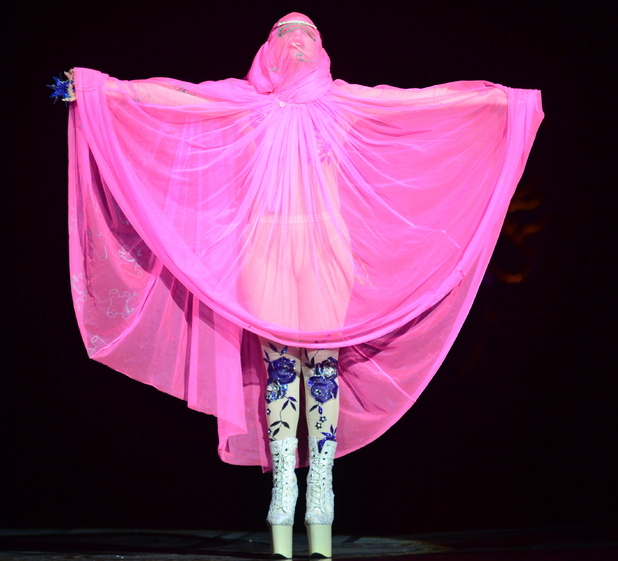 It marked the first time Philip Treacy had shown in London for 12 years – and he told ITN it was all Lady Gaga's idea to open the show!
Gaga, 26, then donned her third unusual outfit of the night, seeming to pay tribute to Disney with a black-and-white suit and oversized Mickey Mouse-style ears, encrusted with Swarovski Crystal, as she left the show. She was also sporting a Michael Jackson-style white glove which was also encrusted with Swarovski Crystal, in keeping with the theme of the Philip Treacy event.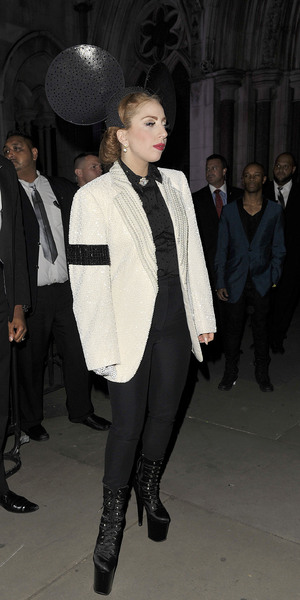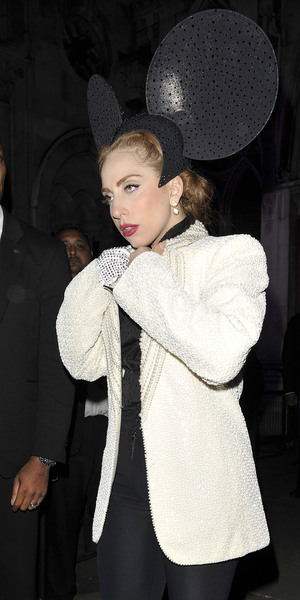 But clearly Gaga wasn't content with just three jaw-dropping outfits as later on she switched into yet another showstopping look, this time draping herself in a pale pink fabric and what looked like animal tails – though no word on whether they were actually real.
She also kept her head and mouth covered and held a neon-coloured clutch bag as she left the Royal Courts of Justice, where the Philip Treacy catwalk had been held, to head back to her London hotel.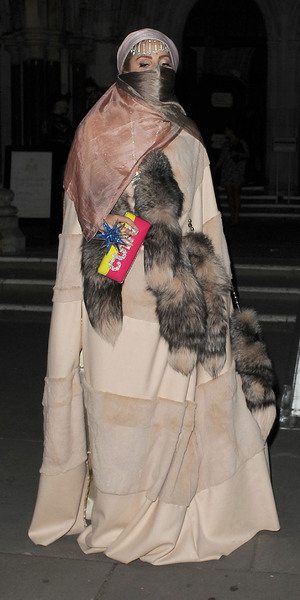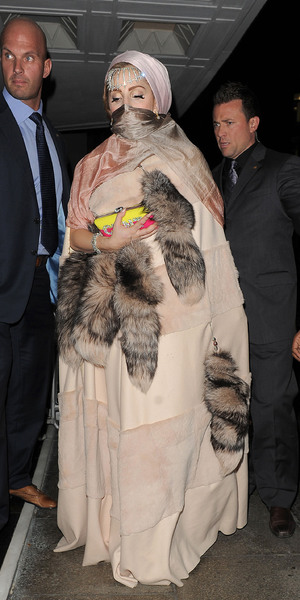 Lady Gaga jetted in to London from Dublin, where she performed the latest stop on her 'Born This Way Ball' tour on Saturday night. It followed two dates at London's Twickenham Stadium and one in Manchester.
The jet-setting pop star also found time to
dash to New York last week for the launch of her debut fragrance
- and to get the back of her head tattooed in honour of her friend Terry Richardson's late mother. Gaga had earlier
shaved part of her head
but used the perfume launch to have the
shaved portion tattooed live on stage
.
What do you think about Lady Gaga's London Fashion Week ouftits? Let us know below!
Read more:
Lady Gaga versus Rihanna: It's a statement sunnies face-off!
Lady Gaga offers one Little Monster fan her dream job
Posh and Lady Gaga's favourite foot cream is a Fashion Week winner
Watch Lady Gaga's music video for 'Born This Way' below:
Check out Reveal's gallery of more bizarre Lady Gaga looks below!