After shaving her head earlier this week, Lady Gaga has succeeded in shocking us once more, this time by getting a tattoo done live in front of partygoers at the launch of her debut fragrance.
The eccentric singer marked the released of her new scent, Fame, at the Guggenheim Museum in New York by arriving in a replica of the perfume bottle. She then stripped down to her lingerie on stage and had a tattoo of a cherub inked on to the back of her head while guests watched.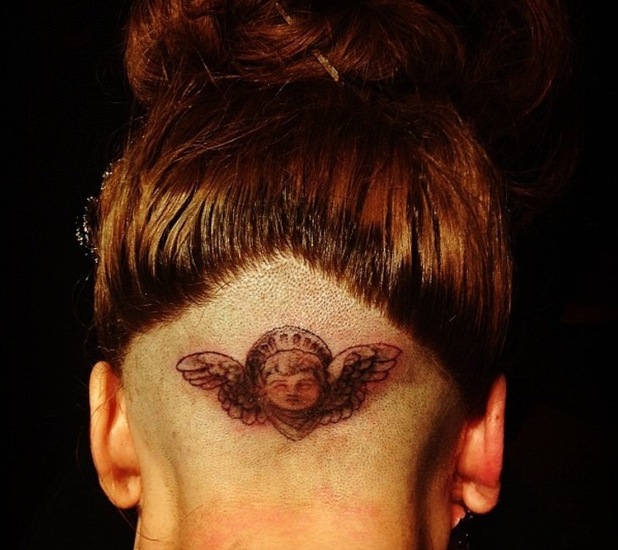 Gaga shaved her head
a few days prior to the launch, revealing that the drastic hair style was a tribute to her close friend, Terry Richardson's mother, who passed away on Tuesday.
Her latest body art sits directly in the section of her head that has been shaved and features a cherub's face, with wings and wearing a crown. Tattooist Mark Mahoney explained that it was inspired by the 26-year-old's Italian roots: "It's kind of a Renaissance era cherub, a nod to her Italian heritage."
But while Gaga remained calm and collected during the process, Mark admitted that he found tattooing the pop star in front of a live crowd "a little distracting at first'"
He continued: "Once I got the pattern on, I realised it was just a perfect image for that place on the body. I knew it was going to be fine, just because it seemed to fit so perfectly right there."
The elaborate launch party was attended by fans and fellow celebrities such as Lindsay Lohan, Paris Hilton and Yoko Ono - and we think Gaga definitely pulled out all the stops to make it a night to remember.
What do you think of Lady Gaga's new tattoo? Let us know in the comment box below.
Watch
Lady Gaga
getting tattooed in this video:
Read more:
Lady Gaga, Paris Hilton and Lindsay Lohan dress up for perfume launch
Read more:
Lady Gaga shaves her hair in memory of close friend' late mother
Check out a gallery of some of Lady Gaga's most bizarre looks below: