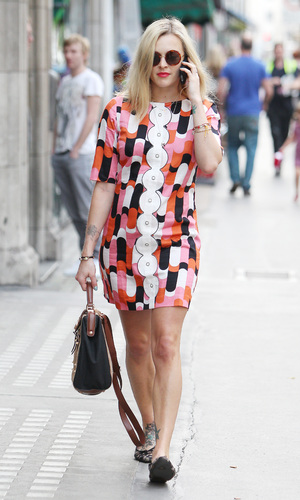 Fearne Cotton is already feeling the benefits of her first pregnancy – bigger boobs!
After announcing her pregnancy on Wednesday night, Fearne chatted about her baby joy on her Radio 1 show with fellow DJ Chris Moyles.
Chris was the one to point out what he called "the pregnant booby situation" to which Fearne replied:
"That's happening – it's unreal. I've actually got them for the first time in 30 years."
She confessed that she had been "feeling ropey" for three months but couldn't say anything to anyone.
Chris sang congratulations to the 30-year-old presenter, who is having a baby with Jesse Wood, son of Rolling Stone Ronnie Wood.
Fearne, who arrived at work today in a colourful print dress, said she was "overwhelmed with messages" from well-wishers during a "crazy, emotional 24 hours".
Is it just us or does it seem like everyone is pregnant at the moment? Tell us what you think in the comments below!Read more: Fearne Cotton gets kiss from Jesse Wood after pregnancy announcement!Read more: Fearne Cotton expecting a baby with boyfriend Jesse Wood