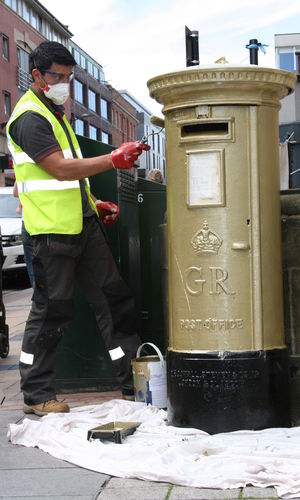 It seems not everyone is as patriotic as the rest of the country right now, as Jessica Ennis' gold Olympic postbox in Sheffield has been vandalised.
In honour of each gold medal Team GB win, a post box in the athlete's hometown is painted gold.
But it has now emerged that a thug has vandalised the box in Sheffield city centre that had been painted to celebrate Jessica's heptathlon gold, which she won on Saturday.
Speaking to
Postcode Gazette
, Royal Mail spokesman Gwyn Davies said: "We are extremely disappointed that someone has chosen to vandalise the gold postbox painted to recognise the gold medal winning achievement of
Jessica Ennis
.
"We have teams around the UK which look after and maintain our 115,000 postboxes and we have already repaired the damage to this box."
The gilded postbox has proved a huge attraction for the rest of Sheffield, with people stopping to have their photo taken next to it.
It even has its own Twitter account @ennispostbox.
What do you think about the vandalism? Is nothing sacred? Let us know in the comments box below.
Read more: London Olympics 2012: Gold post boxes pop up in winners' hometowns!
Read more: What will Jessica Ennis wear next on the red carpet?