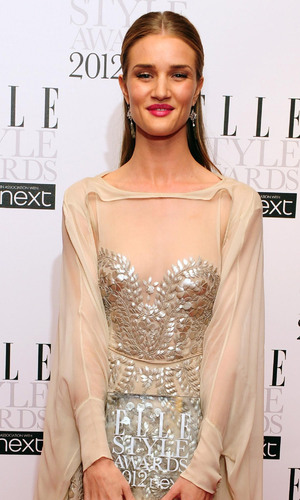 Rosie Huntington-Whiteley is one of the world's most beautiful woman but insists she hasn't always had it easy when it comes to her looks
It may be hard to believe, but supermodel Rosie says she was "very unaware" of her gorgeous good looks growing up.
The 25-year-old Brit tells the new issue of
Elle
magazine: "I grew up very unaware of my body and how I look; that wasn't something anybody thought about."
Unbelievable, right?
And it seems even impossibly beautiful supermodels can be made to feel inadequate at times.
Recounting her stuggle to break into the modelling industry, she tells the magazine: "I wasn't quite tall enough either and I hated it to be honest.
"There was no individuality, no opportunity to be individuals. I think that people forget you're human and you just become an object.
"[In New York] I was constantly reminded that I wasn't right wherever I went and that was difficult because I'd come from a place where it didn't matter. For any young girl to be told they're not good enough, every day, wherever they go..."
But instead of giving up on her dream, Rosie, who's dating Brit actor Jason Statham, says that she used the criticism as ammunition to fuel her dreams.
"I just had this thing, that this was where I was going, this was the opportunity that life had presented me with, this was my destiny and I wasn't going to just pack it all in because these people gave me a hard time - and that's still my attitude now."
As for her biggest fear, she says it's being branded a failure. "That's probably where my drive comes from," she adds.
With a successful modelling career, promising movie career and very own lingerie range we think it's safe to say no-one would brand Rosie a failure now!
The full interview with Rosie appears in the September issue of
Elle
, available from 2nd August.
Have you ever struggled to achieve your dream?
> Read Reveal's full fashion and beauty news