Andrea Faustini was the nation's favourite on last year's series of The X Factor.
Also known as the little 'Italian teddy bear', Andrea sailed through the competition with his pug jumper, warm and friendly personality and powerhouse vocals.
Coming in third place after being mentored by Mel B, it wasn't long before he went on to sign a record deal with RCA Records. Now, Andrea's just released his debut album
Kelly
, with 'Give a Little Love' being the lead single taken from his 10-track album.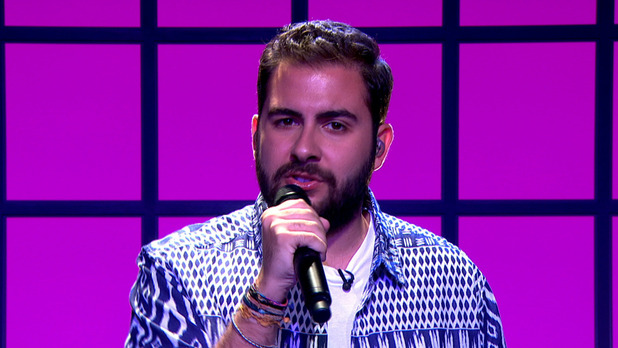 We caught up with 21-year-old
Andrea at the QVC studios after watching two of his incredible live performances
on the channel's morning show, where he told
Reveal
all about life since
The X Factor
.
You've been busy promoting your debut album Kelly, how have you found it?
"Yes, it's been a busy week. Everything is very new for me. I've never done a promo week but it's been great. It's been so, so quick. When I stop for two minutes, I think, 'What the hell is happening?!' I'm so excited. I know it's a tough industry but I'm enjoying myself and I think that's what matters."
What is your favourite song on the album?
"It changes all the time. 'Give a Little Love' is my first ever single so I feel very close to that one. I love 'Kelly' as well, and there's a song called 'What Would Dusty Do', which would work so much better live because it's very jazzy and bluesy, which I love."
Did you enjoy the recording process?
"It was amazing. I've never really liked being in the studio to be honest. But recording original stuff for my album was amazing. I literally had the time of my life in the studio. I had so much fun and I felt the excitement of creating new music."
Who would you love to collaborate with?
"One of my biggest dreams would be to collaborate with Stevie Wonder. He's amazing. He's not young anymore but I don't know how he still sings like that! I'd also like to collaborate with Lianne La Havas or Sam Smith."
When you were on X Factor, you had a lot of support from popstars...
"I was so happy because all of these singers that were supporting me were on my iPod. It was so weird. I remember literally stalking Jessie J backstage when she was rehearsing on
The X Factor
. I asked for a picture and she already knew who I was. I was like, 'Are you kidding me? Do you actually know me?!' She was very nice, and so was Sam and Ed Sheeran. They are very nice people, so it was cool."
Are you still in touch with Mel B?
"We've been in touch a few times since the end of the show. It shows that her support was real and that she wasn't doing it for the cameras. She was honest and direct. She tweeted me a few days ago saying she was very proud, so I'm happy, that was really nice."
What do you think of this year's judging line-up?
"I like this year's line-up. I quite like Cheryl Fernandez-Versini and Simon Cowell together, I think they work very well together. I'm quite excited about Nick Grimshaw and Rita Ora, especially Nick. He's going to see things from a different point of view."
What advice would you give to singing hopefuls applying for this year's X Factor?
"This is the most incredible experience that you will have in your life. It's tiring, it's mad, it's exhausting but it's so beautiful. Embrace it and really enjoy it without wasting it."
Do you still keep in contact with everyone else from your series?
"We have a group chat on WhatsApp to try and stay in touch. We became very close during the tour, but it is hard to stay in touch because everyone is doing their own thing."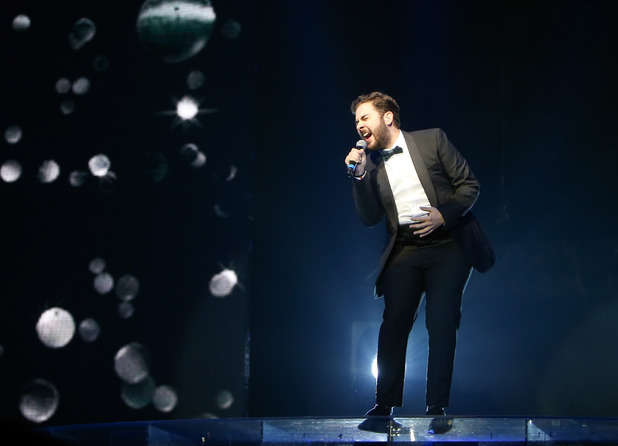 Describe the moment you signed your record deal...
"Oh my god. Well, I heard rumours about RCA signing me straight after the end of the show, but I actually found out that I was getting this record deal a month later. They called me for a meeting at RCA in London. I travelled from Italy and I just didn't know what they wanted to tell me. They played me songs to give me an idea of what they were working on. I've never felt so free. I ran out of Sony celebrating in the street."
How does it feel to have such huge support from your fans?
"I'm so, so happy. I always try to keep in touch with my fans. They're not just nice to me, they're nice to each other. They're a very nice bunch and they support me all the way. I'm very grateful."
Do you go back to Italy often?
"I still go back and forth because I don't have my own place in London, but I'm actually going to be moving here on 18 August. I'm very excited about it. I'm going to be sharing a flat with other people I know, so it's going to be good."
Do you feel like being in the public eye has given you less privacy?
"Not really. I feel like I don't act like a star. I get on the bus and tube every single day. People are very nice to me and some recognise me, but in London it's a bit different because everyone is rushing and they don't really see you. I feel like I still have that private part of my life that is just for me, my friends and my family, and no one is taking that away from me."
What would you like to achieve in the next five years?
"It's very hard to say. I don't really know what to expect from this album because it's the first time I've released my own stuff. I don't really have expectations of any kind. I'm just embracing everything that is coming. I just know that I want this in my life, so I will work hard and I will fight for it."
How would you sum up the past year in three words?
"Unexpected. Is amazeballs a word? Well let's just make it one! And, happy."
Andrea Faustini's debut album, Kelly, is available at £10.50 on QVC - qvcuk.com.Try Reveal's digital edition on iPhone & iPad. Subscribe now & never miss an issue!
Watch Andrea's performance of 'Give a Little Love' on QVC below: