Joey Essex is back on our screens this week with Educating Joey Essex, The General Election: What Are You Saying?!
The show follows Joey as he meets all the party leaders, and gets to grips with what politics
actually is
. We asked Joey to fill us in on the show, and found out what he'd do if he were Prime Minister. We can only dream...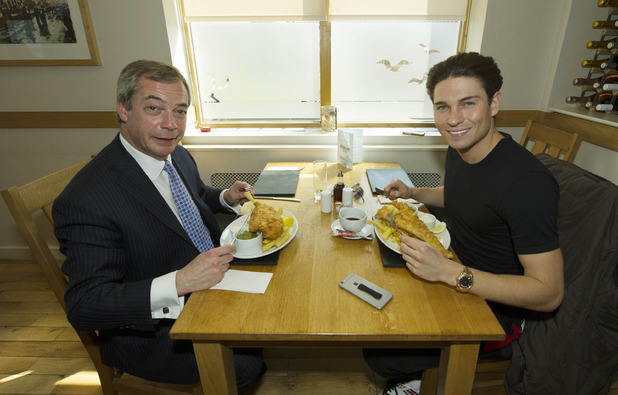 Hi Joey, so what did you know about politics before you started the show?
"I didn't know anything about it, I didn't know who the Prime Minister was about six months ago. I didn't know his name or where he lived, but I know everything now. I know all the basics basically, I know what party leader is with what party and what they do. I think a lot of people in the political world think that young people know stuff about politics, but we don't really know anything about it. They look at you like a doughnut and they go, 'You must know something about politics?', that's how one of them looked at me once."
So what did you learn from making the show?
"Who the leaders are, what they do, stuff like that."
And have you learnt any new political words?
"Manifesto, coalition and one more…mallit? Ballit? [sic]."
Ballot?
"Yeah, ballot. What does that mean?"
Well you get given a ballot paper to cast your vote...
"I thought it was a fish!"
You mean mullet, a type of fish? Or a mallet, to tenderise food?
"Yeah, that's what I'm talking about, the mallet where you hit the fish!"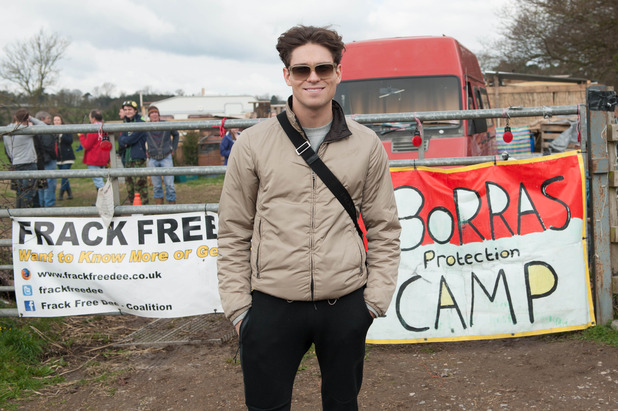 So if you were Prime Minister, what five rules would you bring into the country?
"I'd bring in speeding cameras for slow walkers if you walk too slow in shopping centres. I'd get all supermarkets to deliver everything. Free haircuts if you get a Joey Essex haircut. Every time someone rings you up you'd have to say, 'What are you saying?', and you couldn't say 'hello'. Every year on 29 July, which is my birthday, we'd have a big party, it would be like Christmas but Joey Essex Day."
Those are all great ideas! What would call your party?
"The Reem Party, it makes sense."
And how would you get people to vote for you?
"I would just tweet, Instagram and do another
Educating Joey Essex
!"
What would your campaign picture look like?
"It would probably be me with big white teeth, and I'd wink!"
That's a picture! So what would your slogan be?
"It would be, 'Vote for me, and you'll get a Strapzy."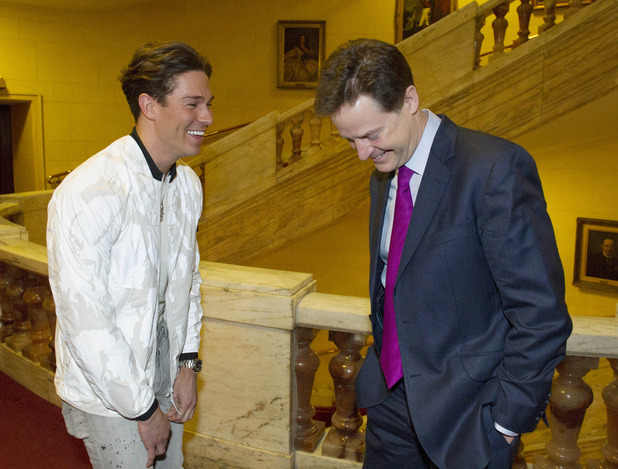 What did you think of the leaders?
"They were nice, they're all trying to do something nice for the country. They're all doing some good things, some bad things. I think they're all cool."
Obviously they taught you a lot about politics, but did you teach them anything?
"I did, I taught them how to take selfies with Strapzy's! I also taught them how you can click the + button on your iPhone to take a picture. So yeah, they learnt quite a few things from me!"
What would you like people to get out of the show?
"For people to just understand what politics is all about. People coming into the world aren't getting educated on it. Maybe 20 years ago, but in my time at school, no one knew about politics. It's like if you want to get involved you can, but if you don't want to you don't have to. I think there's not enough awareness about it. To young people it just seems a bit boring, and it isn't that fun, but it is important to vote."
Educating Joey Essex, The General Election: What Are You Saying?! is on Tuesday 5th May, 9pm, ITV2.
For exclusive competitions and amazing prizes visit Reveal's Facebook page NOW!