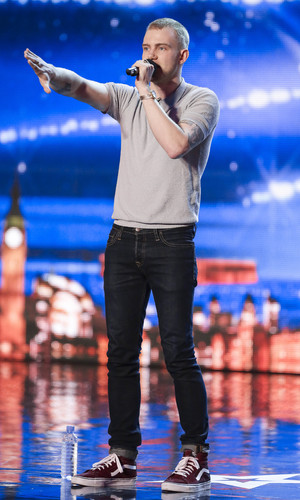 Professional songwriter Ed Drewett had a lot to prove during his first audition on Britain's Got Talent which aired on Saturday night's show.
He may be an unknown name in households across the UK, but Ed's name features on songwriting credits to some of the biggest popstars today including One Direction, The Wanted and Olly Murs. The Essex-born star, who has been dropped by his record label twice, also featured on Professor Green's single 'I Need You Tonight' in 2010 and 'Never Be a Right Time' in 2012.
On Saturday night (17 May), Ed, 25, impressed the studio audience and judges Alesha Dixon, David Walliams and Amanda Holden with his original song, 'Blink'. He received a rapturous applause and while the judges said he had a hit on his hands, one person whose feedback he didn't receive was Simon Cowell's, who had missed several auditions due to the birth of his son Eric.
We grab a quick chat with Ed who tells
Reveal
about bouncing back from rejection, facing Simon and why it's his time to shine...
How was it watching your performance back on Saturday?
I hated it so much. I actually couldn't be in the room until it was on. I went out and sat in the garden because I was terrified. I'd seen a little clip of the first bit of my audition and I felt my voice was shaky and a bit weak. I knew that potentially the reaction of the public was riding on the back half of the audition. To see it go well when I eventually got the guts to go back in the room with my family was incredible. It was a very nerve-racking moment.
The judges were impressed with your song and vocals but you seem to be quite critical about your performance...
You have to be or you don't progress. I've always been very self-critical. Sometimes it's a good thing and sometimes it's a bad thing but it's important, and getting the right level is important as well.
Going back to your audition, can you describe the moment just before you stepped out on stage?
I was backstage and a runner came up to me and said the judges didn't know anything about my past. It was terrifying. The sound of the red buzzers made the whole floor rumble, so I was nervous. In fact, I was a mess and I knew I had to step my game up.
Did you keep your audition to yourself?
I mostly kept it to myself, mainly because I had to. I wasn't sure I needed to tell anyone. Obviously my family knew but it's something I'm proud of doing and the people I did tell have been very supportive. They told me to enjoy it while it lasts. I'm very aware that nothing is certain in the industry, and I may go no further.
What has the general support been like since your audition aired?
What's been unreal is the support from my town. I was born in Essex but I live in Hertfordshire and as a youngster growing up and carrying a massive PA system everywhere in my £200 car, all these things sort of make you become the little town singer. I was performing in pubs and bars around Essex and Hertfordshire. The fans have been incredible and they've kind of followed me loosely throughout every stage of my career where I'm trying to get to that place. A lot of people realised that Saturday night was a massive, massive moment for me. To finally have my song sung to the nation was awesome.
You've penned tracks like 'Best Song Ever' and 'All Time Low', but is singing something you've always wanted to do?
It's what I always wanted to be as a kid, a singer. Songwriting for myself was something that I stumbled upon from a young age. I started writing when I was 12 and I loved it. Then I found out that if I write a song, I can sing the song and I thought 'let's do this' and I'm still trying. I mean, it's incredible to hear something you've written yourself on the radio but my dream has always been to be the singer myself.
You've been very open about the fact that you've been dropped twice. What has kept you determined to live out your dream?
It's the music. If I didn't believe that I could sing these songs and that these songs weren't good enough to be heard by the public, then I wouldn't be doing it. I wouldn't carry on. This is all in aid of getting these songs out that no one has heard. They are songs I believe in and I always will do.
You've done the first audition, but you're yet to perform in front of Simon - are you nervous at all?
It's horrible. That's why I'm practising a lot because I have to only not impress Simon, but I have to show the other judges that I can sustain some extent of quality. I have to show the public that I can do it again too. I'm up for the challenge but at the same time I'm not afraid of failure.
Why have you chosen to compete on BGT instead of other talent shows?
The main attraction was that I could do my own songs in the safest way possible. If I were to do
The X Factor
, I would be singing up against worldwide smashes every week, and if I even got that far, it would be a lot more difficult. This is a place where there's a lot more attention on my actual songs and I feel that's my reason for going on there - my songs and my talent, so let's see where we end up!
BGT continues Saturday night on ITV
Reveal is now on Google Plus! Join us here for the latest pictures, fashion and celebrity news!
Watch Ed's audition below: