Alesha Dixon has stayed away from the limelight recently after giving birth to daughter Azura Sienna, but now she's back with a bang!
The
Britain's Got Talent
judge has just announced her latest venture, a collection of fragrances based on her favourite crystals leading with her first scent, Rose Quartz, which will be available from March.
Reveal
caught up with the starlet at her launch in London to talk perfume and babies, plus the possibility of a Mis-Teeq reunion (yep, it could be on the cards!)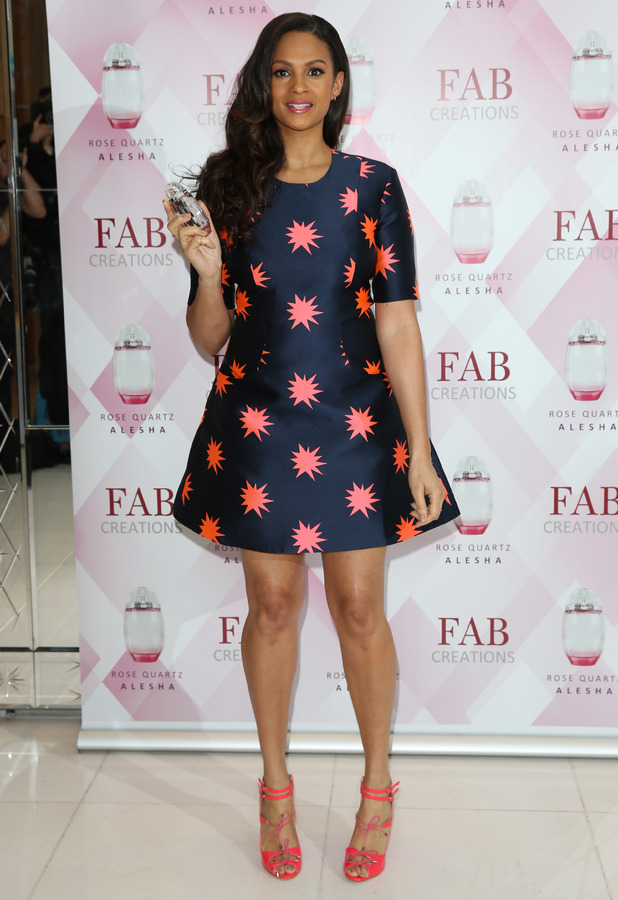 Congrats on the new perfume! What made you decide to make one?
"Why not? Every girl loves perfume. I've been developing mine since about 2009 and I'm a fussy bugger so I thought I would wait until I 100% loved it.
"It's an honour to have your own perfume, it's a dream really. I feel very blessed, apart from obvious reasons as a businesswoman, it's also about expanding my brand and trying new ventures. It's a great way to kick off the year."
What's your signature scent?
"I quite like Britney Spears' perfumes. Also
Escentric Molecules Molecule 01
and
Versace Yellow Diamond
, but I'm scared to use them because they're so expensive! Then I end up having to throw them away because the scent goes. So with mine, I wanted to make sure I genuinely loved the scent and people didn't think it was too expensive. I wanted to be proud of it. We had Rose Quartz ready to go for a long time, I would have released it last year but we decided with me being pregnant we should wait.
"When you're pregnant it can affect your smell. I guess if you smell a perfume when you're pregnant and you like it, that's good, because you can easily be put off anything!"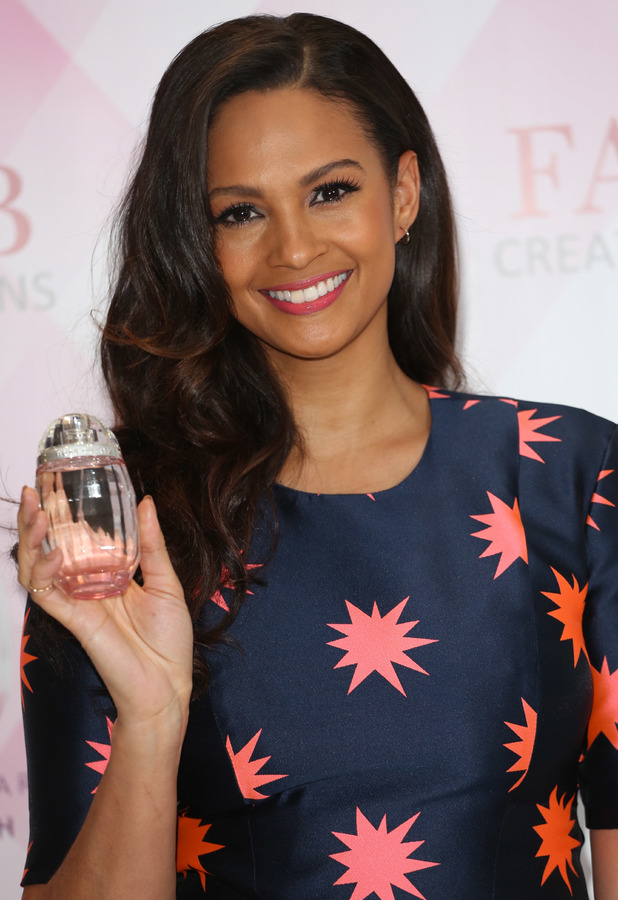 Does it feel strange being back in the working environment following the birth of your daughter, Azura Sienna?
"Yes, I feel like an alien!"
We have to say, we love her name! How did you choose it?
"Her name means 'blue sky'. I was in Portugal at the time, sitting round a pool. I went away just before the
Britain's Got Talent
live shows for about four days to Jason Vale's (aka the Juice Master) retreat. This was when I was still hiding my pregnancy. Even Jason didn't know I was pregnant! I was on my own sitting down one day and the sky was clear blue, and it just hit me. It had a great meaning.
"Sometimes I call her Sienna, sometimes Azura Sienna or Sisi..."
Simon Cowell is going to be a daddy soon, will you be setting up play dates?
"Why not! I'd quite like Azura to be friends with Simon's baby actually!
"I haven't seen him or spoken to him, but I'm dying to see him."
What parenting tips would you give to Simon?
"Sleep when you can, that's all I can say! That's the hardest part, the sleep deprivation."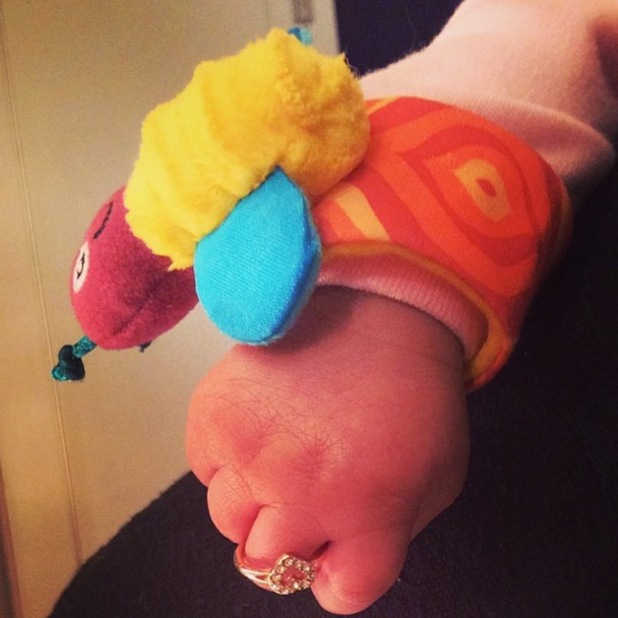 You look absolutely amazing right now, what's your secret?
"Spanx are my new best friend! I did find it a bit difficult trying on clothes for today, though."
You tweeted a while ago about splitting some trousers, what happened?
"I did! We were in the dressing room, crying with laughter. I had to pay for them, they were about £200... but it was the funniest thing ever. That's what happens though, you've just got to go with it."
Do you have any tips for losing baby weight?
"Just be as natural as possible. I ate and ate and ate, indulged up until Christmas, then on 1 January I started going to the gym. I walk for 10 minutes, run for 10 minutes, do a few press-ups and that's me done. I've also just started being a bit more healthy with my food. I'm doing Jason Vale's juices again. I like eating too much though, so I'm just going to incorporate the juices with food. Juicing is the way forward!"
Felt good 2 go shopping yesterday 4 the first time in ages and very funny when I split a pair of trousers that I tried on! #ijusthadababy

— Alesha Dixon (@AleshaOfficial) November 20, 2013
Do you miss singing?
"Yes, very much."
Any plans for a Mis-Teeq reunion?
"I think it will happen one day. I just don't know what shape, form or when! Personally, I'm dying to get back in the studio. I've got lots of things to write abut now and it's important to feel inspired. So I feel it's the right time now, plus I want my daughter to see me on stage! I want her to see what I do."
And finally, do you have any plans to get married?
"Never say never!"
Alesha Dixon's fragrance Rose Quartz is priced at £25 for 100ml, and is available to buy from March 2014.
Will you be trying Alesha's fragrance? Let us know by commenting below. The best comment across the site each week wins £50!
Got an iPad or iPhone? Reveal Mag has been especially designed to fit!