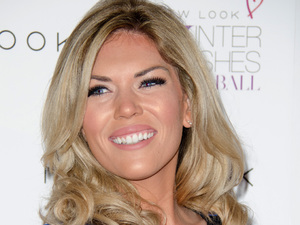 TOWIE's Frankie Essex is blogging every episode of I'm A Celebrity... Get Me Out Of Here! exclusively for Reveal. She'll be giving her frank opinion on her brother Joey Essex and his fellow campmates as they tackle Bush Tucker Trials and live together in the Australian jungle...
Episode aired Saturday 30 November
I was so excited last night to head down to the jungle again!
My brother Joey was fascinated by that frog he saw in the Bush Telegraph, wasn't he?! He knew exactly what it was and everything. I wonder how long he was in there looking at it? Haha!
New Camp Saviour Amy left camp and headed down to join Joey and Kian. The boys seemed pleased to see her, while Amy said she was glad to be there as tensions in the main camp were mounting. Back in camp, a lot of people seemed pleased that Amy had gone despite looking aghast with jealousy that she had been picked by the public! Mo asked everyone if they knew who she was or why she was famous and everyone said no they didn't! Does that make Amy a bad person though? Okay, she's not an actress or Olympic swimmer but a model. I don't really understand why everyone seems to dislike her or at least that's how it's coming across. I know we don't see everything and maybe Amy's getting a good edit, but she seems the same on the show as she did outside in the 'real world'. I think a lot of it is jealously. She's young, she's pretty, and she isn't stupid which most people assume models are. Yes, she's sunbathed a bit too much, but why does that make her spolit or overindulged?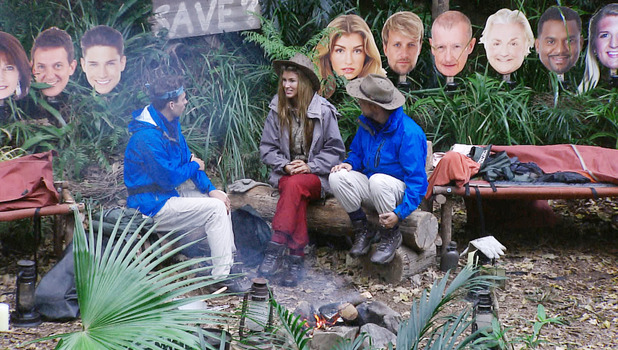 The camp then had to decide who was doing the next trial. Everyone basically ruled themselves out, except Laila and David. It went to a camp vote and David was chosen to head down to the Bushtucker clearing. And he did so well in the trial! He had to put his head into boxes that looked like TV's, then put his hand in another box - both of which had some nasty bugs in them - wind a wheel round to drop a star into his box which he had to then retrieve with his mouth. He got eight out of nine stars and he only lost that one star because he ran out of time because he couldn't catch the star with his mouth (which Dec found hilarious). Those great ants though, ouch! They were biting him everywhere; ouch!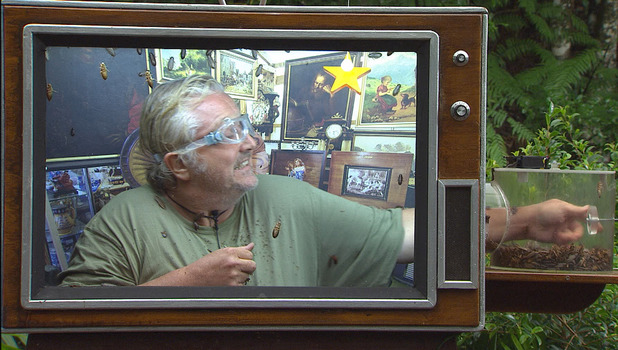 Back in camp, David began to act his way through his explanation of the trial pretending he had got nothing which Matthew totally fell for! Later on, all the campmates got to know each other a bit better, with Rebecca telling the camp how she started swimming lessons at the age of four and how she cannot believe she's gone on to win at the Olympics and hold the world record! I had to laugh when she said she was so blonde that when she finished the race and looked at her time she couldn't think what WR meant next to her time. It means world record! Ha ha. I like Rebecca more and more every day and think she is a very normal, down-to-earth person.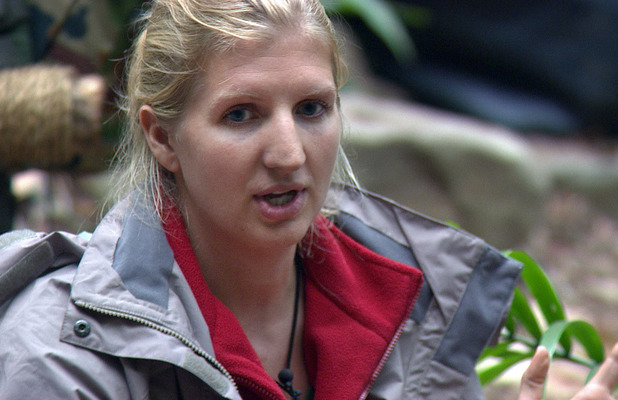 Then it was time for Amy, Joey and Kian to complete their latest challenge, Gold Mine. It reminded me of my childhood actually! They had to throw pieces of gold down these little chutes and try to get them into carts as they went past underneath. Very similar to when you go to an arcade on the seafront and try and play on the 2p or 10p machines to try and win money! Loved it. Obviously they had bugs dropping on them and rats round their feet the whole time so slightly different to Southend On Sea! They had to get 100 pieces of gold in each of their carts to win an immunity star. They all managed it today - hurrah! - and of course our Joey was the first one to complete it! Now they had to pick another three campmates for immunity. All three of the saviours stuck by their word and didn't pick themselves and instead chose Vincent, David and Rebecca who join Mo in being safe from the first public vote.
Ant and Dec headed down to the camp to deliver the news and also announced that the rest of them would be completing a Bushtucker Trial... Whoever wins will also be exempt from the public vote meaning five people will be safe and seven people will be up for eviction. Now, I'm not a betting sort of person usually, but I bet either Kian or Joey will win that trial! And, from whoever is left, I think that Annabel will probably be voted off, although I would prefer it to be Lucy if I'm honest. Let's see if my predictions are right!
I'm A Celebrity... Get Me Out Of Here! continues on Sunday 1 December at 9pm on ITV.
Full
I'm A Celebrity...
lineup below:
Copyright: ITV