It's Fluffy Friday! This week Zookeepers are welcoming a new baby giraffe to their neck of the woods at ZSL Whipsnade Zoo after mum Savannah gave birth just in time for Mother's Day. What a lovely gift hey?
Fourth-time mum Savannah kept zookeepers guessing for weeks after her expected due-date, finally giving birth to a female calf on Wednesday 24 February. Keepers named her Nuru, which is the Swahili word for light.
Here she is, welcome Neru!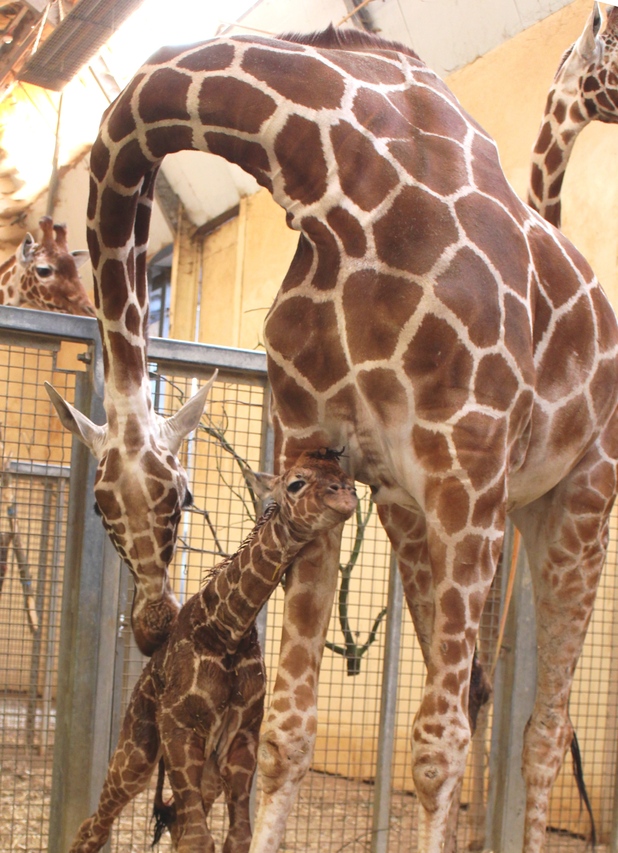 In traditional giraffe style Nuru is already tall by human standards at 5ft6in, but the lovely new arrival is only miniature when compared to her 16-foot tall mum.
Keeper Cassie Taylor said: "Savannah is a fantastic mum, so it was particularly lovely to have the calf arrive in time for Mother's Day.
"We were lucky enough to be there to observe the birth, and watched Nuru as mum Savannah gently helped her stand up and delicately cleaned her new arrival.
"Savannah is attentive and protective, but also relaxed enough to let dad Bashu and the other members of the group play their roles in childcare too."
The baby giraffe was born at 9am and after less than an hour of wobbly attempts, soon figured out how to use her long legs to stand up to her full height.
At just eight days old, Nuru has already been spotted exploring her surroundings and interacting with other members of the herd, showing similar personality traits to her bold and inquisitive parents.
Keeper Cassie Taylor continued: "Calves don't usually wean from their mothers' milk until they are a few months old but Nuru is already showing an interest in leaves, and at one point dunked her whole head in the water bowl! She's a really wonderful addition to the group and will make a great playmate for 18 month old Luna and two year old Willow."
The new calf is part of the European Endangered Species Programme (EEP), which helps ensure the survival of endangered species in Zoos across Europe.
Check this adorable clip of Nuru's first moments in the world!
Book a visit now to see Nuru and the rest of the giraffe herd, as well as ZSL Whipsnade Zoo's other 2,500 animals, at www.zsl.org