Hit US sitcom Friends is celebrating its 21st birthday, and thanks to Comedy Central, fans can get the chance to hang out on parts of its famous set.Reveal
were invited to the FriendsFest press preview, so our Acting Deputy Web Editor, Olivia Heath, headed down to London's trendy Brick Lane to check out the TV set made famous by Ross, Rachel, Monica, Chandler, Joey and Phoebe.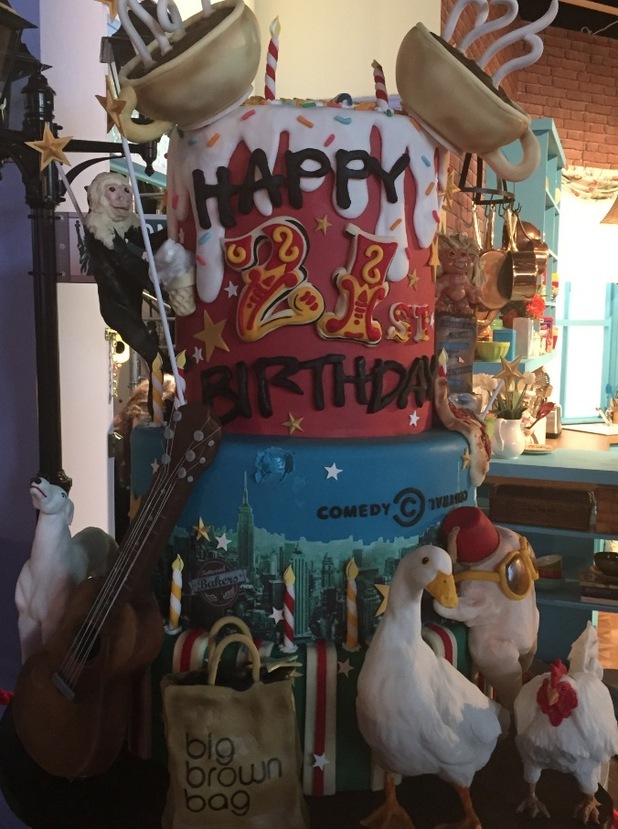 Like any
Friends
fan, we literally couldn't wait to step into the full scale set of Monica Gellar's famous apartment - and we weren't disappointed.
The kitchen is so compact and fully stocked with food. We even peered in the fridge to find a 'fake' hotdog, sandwich, meatball roll and Rachel's meat trifle!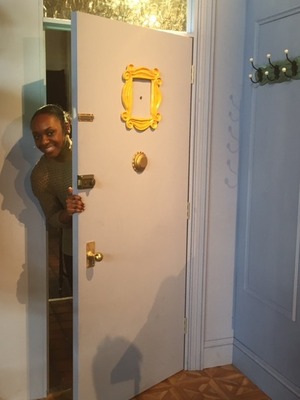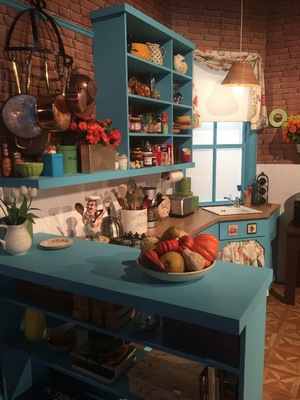 Monica's apartment was one of the group's main gathering places on the show, and it definitely looked cosy. We sat on the sofa and watched some TV, while also flicking through some magazines. A little chill time never hurt anybody!
While getting comfy on the sofa, we were feeling a little peckish, and couldn't help but stare at the plate full of 'fake' chocolate chip cookies on the table.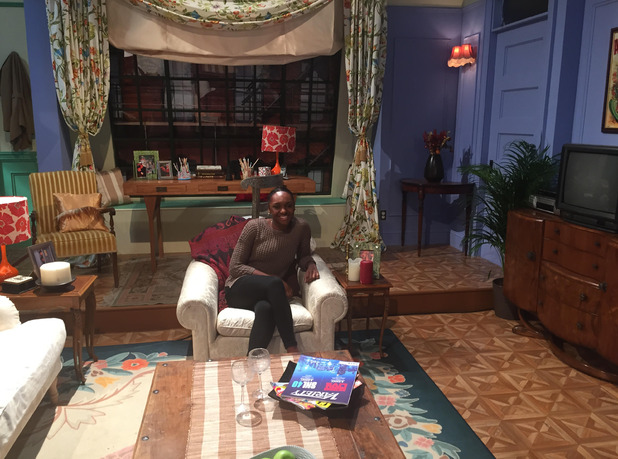 Before we left the apartment, we had a cheeky peer out of the rear window to spy on the 'Ugly Naked Guy'. And, we had to pose for a pic by the door with that famous gold photo frame. So iconic, right?!
After that, we headed to Phoebe's busking area and had a little strum on the guitar. It's nerve-racking stuff performing in public!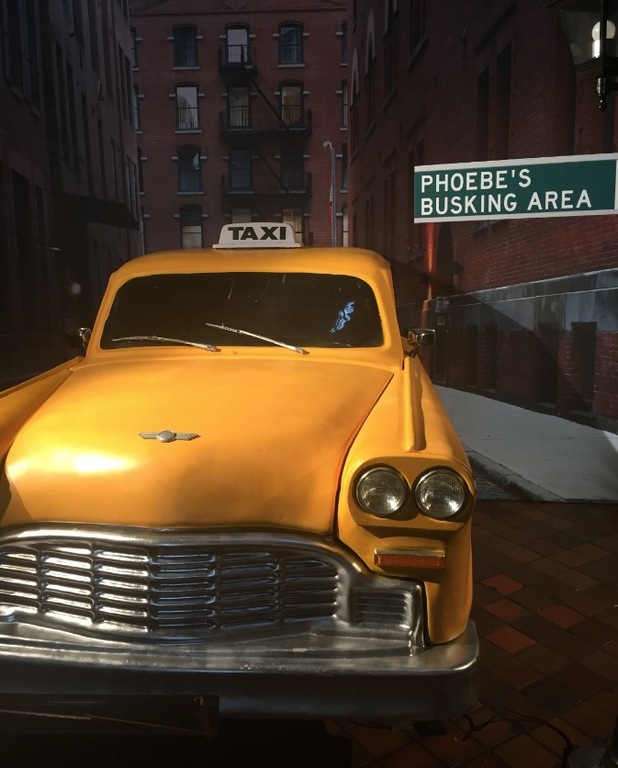 We also ventured outside to the New York themed courtyard once the rain settled, and found ourselves posing by a replica of the iconic water fountain with those yellow, blue and red umbrellas!
If only there were six of us and we could have recreated the opening title sequence!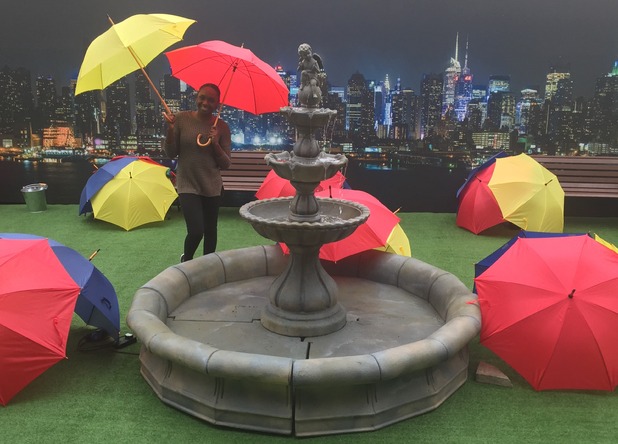 We had a good look at the props and memorabilia, and sat on a replica of Rosita, Joey's leather recliner, all while watching an actual episode of
Friends
.
We also saw Pat the dog, Joey (and later Chandler's) ceramic dog statue. Other areas at FriendsFest included a pop-up 'Rachel' blow dry salon and a foosball table.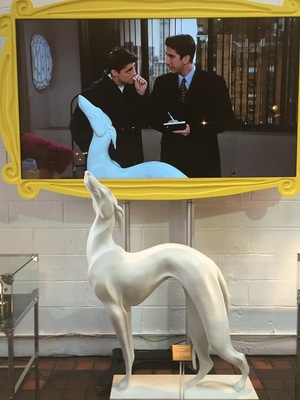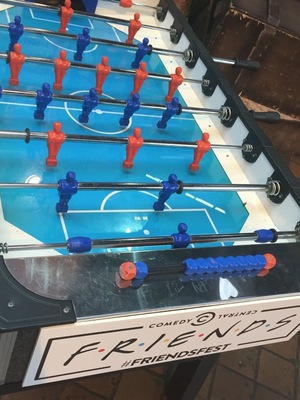 But what was the best part of our tour? Hanging out with James Michael Tyler at the Central Perk-inspired café!
As we sat on that unmistakeable orange sofa, we were just hoping a director would be nearby to shout '3, 2, 1, action!'.
Friends
icon James, who played Central Perk manager Gunther, returned for the second day running to celebrate 21 years of the greatest sitcom of all time.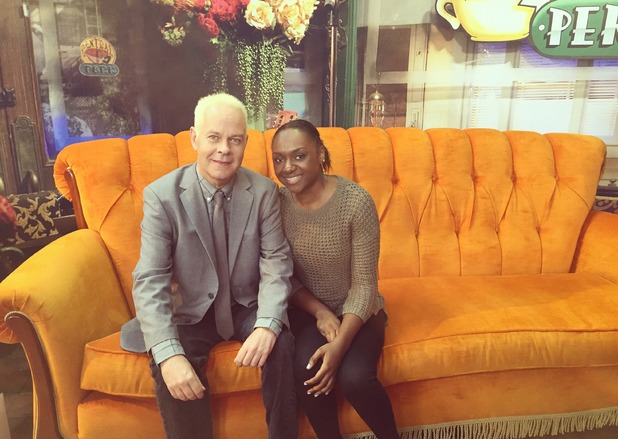 He actually popped down on Tuesday night, where he rubbed shoulders with the likes of Michelle Keegan, Sam Faiers and Tom Fletcher. He was back on Wednesday morning for another round of photos and to hang out at his favourite haunt, Central Perk!
FriendsFest is a week-long fan experience between 16 to 20 September. Viewers wanting to get into the mood for Comedy Central's FriendsFest can watch episodes of Friends in chronological order, weekdays from 5pm on Comedy Central.
Try Reveal's digital edition on iPhone & iPad. Subscribe now & never miss an issue!