Since we launched our Report Every Rape campaign last year, there has been a 29 per cent rise in the number of sex assaults being reported to police
In February 2013, we launched the Report Every Rape campaign after new Government figures revealed the shocking truth about sex crimes in the UK.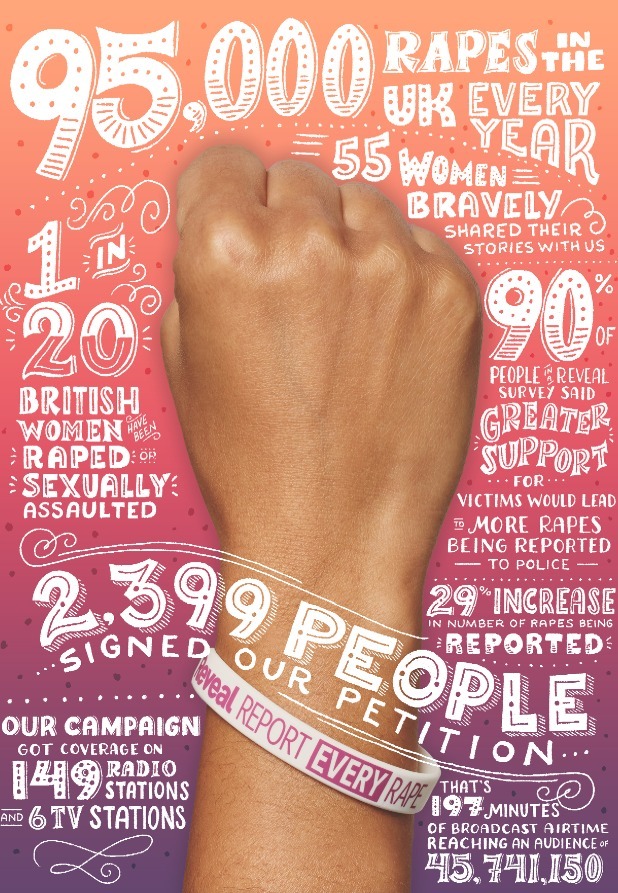 Hundreds of you contacted us to share your thoughts and lend support and 55 women bravely shared their harrowing stories in our pages.
With your help, we've fought to dispel myths surrounding the still-taboo topic of rape and dispel the view of rapists as monsters lurking in alleys.
Nine out of 10 victims know their attacker: a partner, a father, a friend.
Rape wrecks lives. We've seen the consequences – mental health problems, inability to keep a job or trust people, substance abuse, even suicide.
Reporting rape is extremely difficult. A survey we conducted showed the main reason victims are unwilling to come forward is because they fear no one will believe them.
Our aim was to bring the subject into the open – the more we talk about this problem that affects every part of society, the more we can break down barriers preventing people speaking out and getting the justice they deserve.
Gradually, the tide's turning. In September 2013, we enlisted the help of ex-EastEnders star Danniella Westbrook, who was gang raped by drug dealers.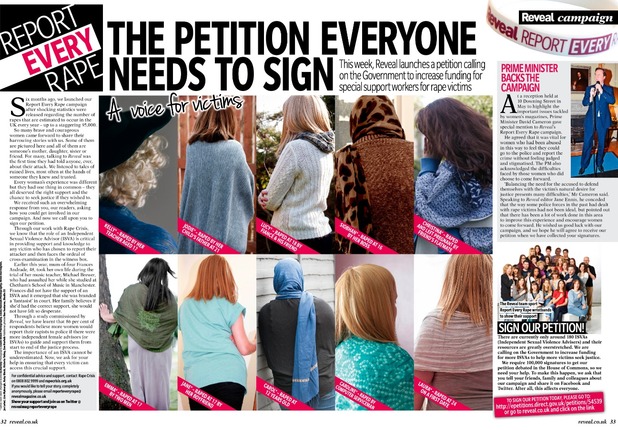 Together with two courageous young women – Zoe Priestley, 23, raped by her stepfather from the age of nine and Karen Billingsley, 30, who suffered a decade of abuse by her uncle – we launched our petition on TV and radio.
In response to our survey, which showed almost 90 per cent of people believe greater support would lead to more rapes being reported, we called upon the Government for more funding for Independent Sexual Violence Advisers (ISVAs). These specially-trained staff are crucial in helping victims during the gruelling and often isolating process of the justice system.
Reaching an audience of 45 million, the campaign attracted a host of celebs who lent their support by wearing our Report Every Rape wristbands.
Now, more victims are coming forward than ever. Figures from the Office for National Statistics show reporting of rape has risen by 29 per cent in the past year alone – three-quarters of these being about recent attacks.
Chief Constable Jeff Farrar of the Association of Chief Police Officers said: "This shows victims of abuse have more confidence that if they go to the police, they'll be listened to, taken seriously and their report will be investigated."
Although, as Rape Crisis point out, the figure is just the 'tip of the iceberg' and sexual violence remains "hugely under-reported", it's a step in the right direction.
By giving a voice to victims of rape or sexual assault, we can work towards greater support, increased reporting and justice for those who need it most.
IF YOU NEED HELP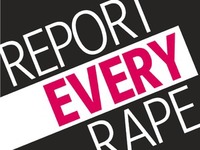 For confidential advice and support contact Rape Crisis on 0808 802 9999 and rapecrisis.org.ukIf you would like to tell your story please email reporteveryrape@revealmagazine.co.uk
Reveal is now on Google Plus! Join us here for the latest pictures, fashion and celebrity news!