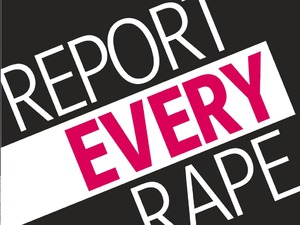 Reveal has launched a petition to call on the government to increase the amount of funding for rape victim support workers – and we need you to sign it, as Reveal's Editor-In-Chief Jane Ennis explains...
"We've been running a campaign in Reveal called Report Every Rape encouraging women to come forward and tell their stories. But after a few months we realised that getting women to report the crime was only half the battle. Successfully prosecuting a rape case is very difficult and many women fail to see the trial through to its conclusion.
Imagine you've suffered the terrible trauma of rape. But you've been brave, strong and determined enough to seek justice. You've been through the fear and embarrassment of reporting the incident to the police and the CPS has decided 
to prosecute.
But when you get to court, the perpetrator's defence counsel starts asking questions about how short your skirt was, how much make-up you had on, what you had to drink. Perhaps you led the man on? Perhaps it was your fault? Perhaps you consented to the act? Then your whole sexual history is dragged before the court. Didn't you once have a one-night stand? Didn't you once boast about having two boyfriends on the go? In fact, aren't you a bit of a slut that deserves everything she gets? Or perhaps someone recalls you once telling a lie. Well then, you're probably a fantasist who made the whole thing up.
It's at this point that many rape cases break down because the victim can't take any more. They walk into court with their heads held high expecting justice and they leave in tears, feeling that somehow the abuse was all their fault. This is why, of the 15,670 rapes reported each year, only 1,070 are successfully prosecuted.
But these figures dramatically improve when the victim is supported by an Independent Sexual Violence Advisor (or ISVA). With one of these women at their side giving encouragement and telling 
the victim what to expect, the chances 
of a successful prosecution soar to more than 90 per cent.
Unfortunately, the Government only funds around 180 ISVAs and they're sorely stretched. At Reveal we're trying to change this and you can help by signing our petition calling for more funding for ISVAs. The petition is on a Government website, only takes a minute to sign and there's a guarantee your details will remain private.
So please sign our petition and help a rape victim get the justice she deserves."
Go to http://epetitions.direct.gov.uk/petitions/54539 and sign now.