I'm sorry, I'm sorry, I know it's been ages since I've updated you.
And as most of you will already know, I am now a married lady. Mrs T, if you will. Hurrah!
But I will bore you all about my – our – big day in another post. I have still one more topic to cover that I meant to write about the week before the wedding. But, as any of you out there who have tied the knot will already know, there is no time in the week before your wedding. Not enough time to eat, to exercise, to do anything apart deal with all of the last minute panics that you swore you'd never have.
So, now, very belatedly, I am getting round to it. Bridal beauty. No, I hadn't forgotten, or I definitely hadn't decided to go au natural. No, no, no. I clearly have lots to update you on.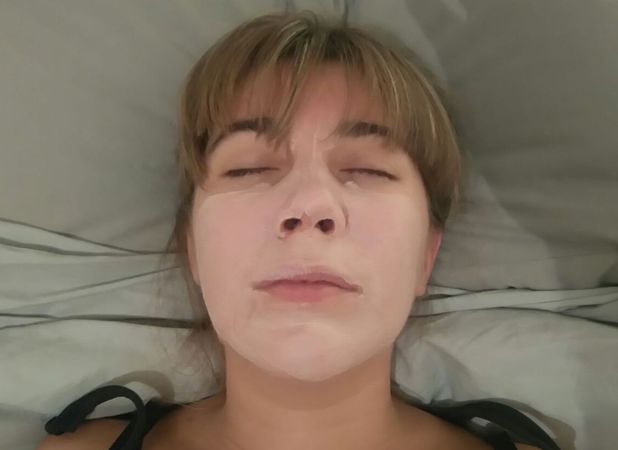 First off, I got my brace off! Hurrah! Cheer! Celebrate! The time it was on seemed to fly, and after seven months, it had worked its magic and I had straight teeth for the first time… well, forever! Thanks, Oasis Dental Care, my new bestie! I will be forever grateful. And the finishing touch was to have them whitened, which I did at home with a special kit involving an ever-so-attractive gum shield. But the bottom line? My teeth were sparkling!
Next on my list was my skin. I despair of my skin, I really do. I suffer from rosacea and constantly have red patches, bumps and just general blemishes all over my cheeks. The only thing that ever really clears them are a double-dose of topical gel and tablets. In the month leading up, I'd just finished a course, so I was starting in pretty good shape.
But I started drinking a green veggie juice every morning to try and keep it clear (just to avoid any confusion, the wonderful dermatologist Dr Sam Bunting has told me that juices really have no effect on your skin, but hey, you do anything you can, eh?)
I've experimented with loads of face moisturisers and cleansers but I think my favourites have to be Kalme's cream cleanser, which you don't even have to rinse off (did you know how harsh just water can be on your skin? No, me neither!), and Avene's anti-redness moisturiser. I've even got Mr T addicted now, and he has his very own at work. (I'm sure he will really appreciate everyone knowing that!)
Then before I went to bed, I'd use either Origins Drink Up Intensive Overnight Mask or Beauty Sleep Elixir. If you haven't used either of these products, you're missing out. The Origins mask is gorgeously creamy and instantly calms your skin after cleansing, while the Beauty Elixir is an oil that sinks into your skin quickly and, because it's full of essential oils, it's easy to close your eyes and fall asleep thinking you're in a spa.
I also started a strict body scrub ritual, rather than just my usual whenever-I-have-time-and-remember approach. The Sanctuary body scrub is effective enough to leave your skin feeling nice and smooth, but gentle enough to be used every two or three days.
Then, a week before the wedding, I did a course of Timeless Truth facial masks. Mr T wasn't too impressed when I surprised him when he came home one night and I was wearing one, along with the teeth-whitening gum shield ("Don't you think this is all a bit extreme?" I seem to remember him asking, while peering over me on the sofa) but I have to say, I loved them. I alternated between their Bio Cellulose Apple Stem Cell Collagen Facial Beauty Mask and the Co-Enzyme Q10 Caviar Nourishing Facial Beauty Mask, and my skin was so calm after each of them. I'd definitely recommend.
And I have to say, all of these lotions and potions worked. My skin was the best it had been in years, and I was definitely ready to walk up the aisle…
More from the Clueless-Bride-To-Be:
28. The hen do
27. The wedding make-up
26. Last trip to the Isle of Man
25. Planning the first dance
24. My wedding dress exercise regime
23. My wedding diet
22. The three month countdown!
21. Gifts for your girls!
20. As a wedding guest... before your own wedding
19. Choosing the underwear
18. The bridesmaid dresses
17. Two brides thrash out the great gift list debate
16. All about flowers
15. Cakes, cakes, cakes!
14. Picking your perfect ring
13: The photographer
12. The invites
11. The wedding fair!
10. My (first) big mistake
9. How to pick a wedding dress to suit your shape
8. Reader, I got a brace!
7. Choosing the all-important venue
6. The dreaded guest list
5. Breaking down the budget
4. Picking my bridesmaids
3. Everything you need to plan or buy
2. Getting by with a little help from my friends
1. The proposal!