As we turn up at Norland College in Bath, the young nannies arriving for their morning lectures make for quite a sight in their traditional uniform of brown coat, flat hat and gloves with their hair pinned up in a neat bun.
While it all looks a bit too Mary Poppins to me, the nannies wear their uniform with pride. 'It's iconic and part of our heritage,' one trainee tells me.
In fact just a few years ago the nannies were given the option to ditch the uniform and they decided against it.
'Being a Norlander is something you keep with you for life,' says Dr Janet Rose, Principle of Norland College. 'The uniform holds an element of prestige.'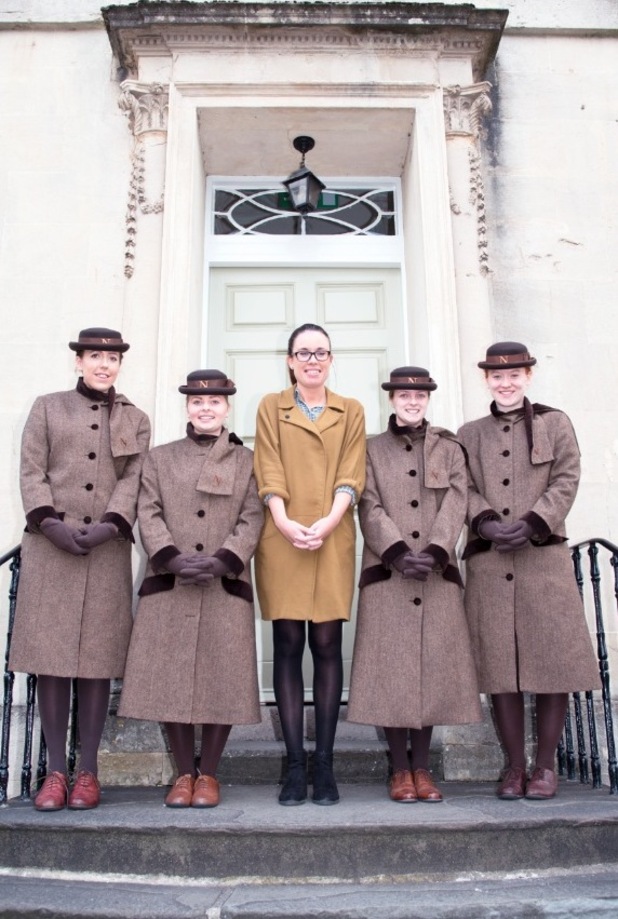 The 92 nannies that were accepted onto the course this year will undertake a three-year BA degree, which involves practical sessions, lectures and placements. They then do an NQN (newly qualified nanny) where the student goes and works with a family. Afterwards, they use the college agency to secure a job.
Training to be a Norlander is hard work. Once fully qualified they'll be prepared for all manner of different circumstances, from nit removal and baby baths to learning how to be resourceful when it comes to keeping kids entertained.
There are more extreme elements too, for example the nannies learn how to fend off would-be attackers and drive at speed. Basically, they become superwomen.
It's all worth it though because Norland nannies, favoured by celebs and the super-rich, are very much in demand.
With only one nanny for every three jobs going it's pretty much guaranteed employment. The starting salary is £25-35k and within a year it can double. For those with high profile clients, such as the Duke and Duchess of Cambridge, the sky's the limit.
So how would I, someone who finds children terrifying, fare against Britain's super nannies in the making?
In my first class I'm introduced to the virtual babies the students look after during training. In the day they're kept in a teaching room that stimulates a real-life nursery.
'My baby wouldn't stop crying last night. I only got an hours sleep,' a tired looking nanny tells me. 'But I loved it.'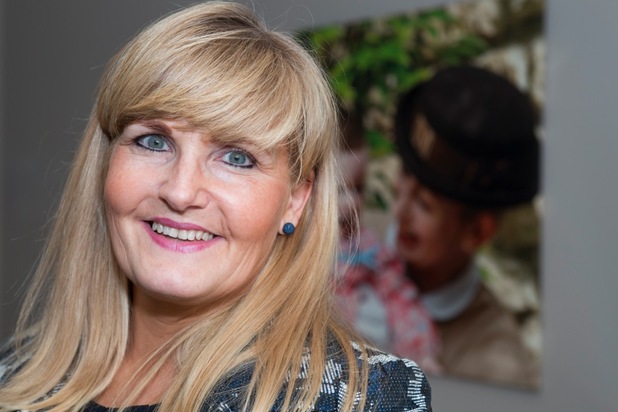 I couldn't think of anything worse but am buoyed up by her enthusiasm and feel ready to get stuck in.
First, I'm shown how to prepare a cot for a newborn. My eyes can barely keep up as the trainees dart about adjusting the sheets. When I try, it ends up a tangled mess, and I decide I would make a terrible mother.
Next, we prepare some formula feed bottles, something I assumed would be pretty easy… but apparently not if you do it the Norland way.
'You always use a knife to level off the formula,' I'm told. 'Each time you pour in more liquid, bend down so it's at eye level.'
Funnily enough, simple things become quite complicated when it's all so precise!
We move onto dressing a newborn, but again, I'm out of my depth as I struggle to get the dolls arms into the babygro. How they do this with a wriggling baby I do not know.
The standards at Norland are clearly very high – but it does the job because the nannies are taught how to provide the very finest care for their clients' children.
And perhaps something is sinking in as before we pause for lunch I suddenly find myself patting the dolls back as if winding a real baby.
Later, I join a three-hour food and nutrition class – the nannies will be expected to rustle up food for the family at late notice.
It's patisserie week, which sounds fun, although last week, I'm told, they learnt how to gut fish. Gross!
We start by making puff pastry. 'You'll be fine, just copy us,' one friendly Norlander tells me.
I genuinely try my best, but as the class is so fast paced I get in a bit of a pickle, add far too much water and it suddenly all goes wrong. As the nannies move onto the next step, someone has to stay and help me remove all the sticky mess, which is supposed to be dough, from my hands, bowl, table… everywhere!
Hanging my head in shame, I try to crack on with making some choux buns with crème mousseline. Despite my best effort, it becomes clear my calling is not in the kitchen, in fact just separating the egg whites is a struggle.
I eventually give up and start chatting to the girls instead. It's then that I discover just what sets us apart.
As one nanny tells me about a six-week placement she's been on, it all clicks into place: 'I had this moment where I'd calmed down the two babies I was caring for,' she says. 'I was exhausted but they were lying in my arms and I thought, "this is it."'
As I leave, tired and jaded, I'm left with one, underlying message - to be a Norlander you have to genuinely have a passion for kids. These new nannies are a new breed: smart, ambitious, and above all dedicated to children.
Would I cut it? Probably not.
Norland College is holding a student open day on Saturday 5th November. Visit
Norland.co.uk
For exclusive competitions and amazing prizes visit Reveal's Facebook page NOW!