I've always loved my friends.
They're funny and kind and generous and just generally, all-round amazing people. But my hen weekend confirmed it. They are literally the best human beings ever. A lot of people have told me my wedding will be the best day of my life so far but our big day has a lot to live up to after that.
Everyone knows organising a hen do can be a real pain. Trying to cater for everyone, keeping costs down, managing people you don't even know… It makes my head hurt even to think about it.
In an effort to keep the hassle down for my wonderful bridesmaids, I decided to organise the accommodation and transport. But after that, they told me firmly, it was up to them.
So I did some Google research, and found two gorgeous cottages just outside of York – the perfect distance between my London ladies and Geordie gals. And, being a bit of a train geek, I got us the tickets on the day they came out, so they were uber cheap.
Then that was my bit over and done with. I just had to… wait. I have to admit, I got a bit nervous when a couple of my hens mentioned they hadn't heard anything. But then my sister let slip my bridesmaids had had a secret meet-up and that Rachel had even brought along her laptop and spreadsheet. Amazing, eh? I knew there was a reason I'd been bezzie mates with her for so long.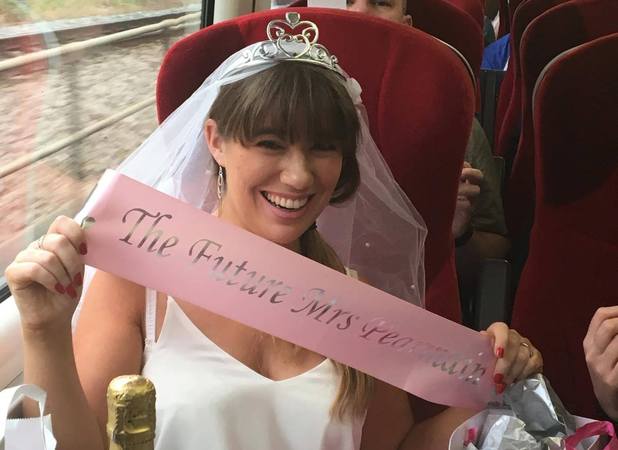 So by the time the weekend arrived, I was extremely excited. Not just because I was getting to spend a full weekend with all of my friends but because I was having a hen do. And a hen do meant I was actually getting married. ARGH!
I met a group of my friends at the train station and they had sashes and veils, to adorn me with and Prosecco, crisps and chocolate to get us up there. The people sat opposite us clearly were unimpressed with their poor selection of seats but we had a great time.
And when we arrived at the cottages, things only got better. Far, far better. My wonderful bridesmaids Caroline, Alison and Rachel were there to greet with a bar full of glasses of Prosecco and a CD playing all of my favourite songs. They'd decorated the house with pink bunting and pictures of me with all of my friends.
We sat and drank and chatted and drank and played games and drank until the afternoon was long over. Aware of my wedding diet, they'd even made a healthy chilli for tea and had organised a pamper party with face-masks and nail varnishes. A proper girly night.
The next morning, I'd been told to wear a floaty dress, so I was baffled to come downstairs to find everyone else in black leggings and T-shirts. But I was told everything would become apparent later.
And I barely had time to wonder because my sister, mam and a couple of other friends arrived and we went straight out to a bottomless brunch and, after far too many glasses of bubbles, we went to a dance studio for a… Dirty Dancing dance class! Hurrah!
It was literally one of the funniest things I'd ever done. My sister couldn't quite understand the basic steps, two girls danced circles round the rest of us and my mam struggled on the bits we needed to get down to our knees. But none of us stopped laughing the entire two hours.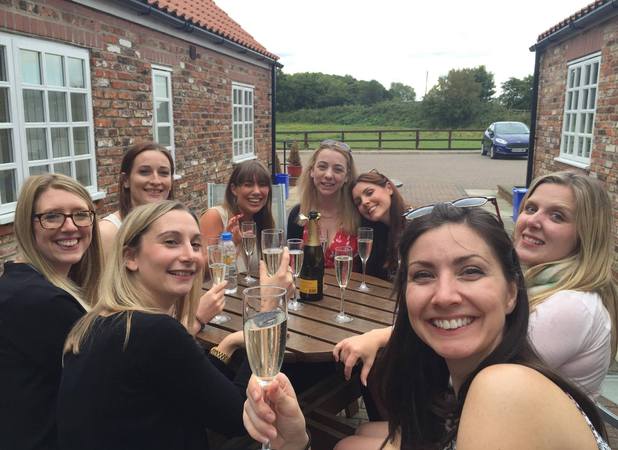 Then we headed home for an amazing afternoon tea (officially my favourite food in the world), a game of Mr & Mrs and a quick visit from a naked butler before heading out clubbing.
Could a girl want for anything else for her hen do? I literally don't think.
So how did they pull it off? I, for one, would like to know. So I questioned them to get their tips – and here they are:
Organise everything!
My bridesmaids had thought of and organised everything little thing. Literally everything. All of the taxis were booked and paid for, everyone had a name card on their bed so they knew where they were sleeping, they'd been asked what alcohol they liked. They'd even made a bathroom kit so no-one had to bring shampoo, conditioner, showergel or toothpaste.
Ask for an all-in fee from everyone.
Apparently all of the guests were asked to contribute a specified amount but that paid for everything – the food, the activities, the taxis, the alcohol. Everything.
Don't ask for too many opinions.
My bridesmaids had decided on everything we were going to do between themselves and then told everyone else. That saved having too many people get involved and also meant that people could opt in and out of the different activities.
Get help.
My girls went to event organisers
Hen Heaven
to help them organise the dance class and the butler-in-the-buff. They can help with everything from booking accommodation to all of your activities and can give you really good packages if you book more than one between them. Excellent!
More from the Clueless-Bride-To-Be:
>27. The wedding make-up
26. Last trip to the Isle of Man
25. Planning the first dance
24. My wedding dress exercise regime
23. My wedding diet
22. The three month countdown!
21. Gifts for your girls!
20. As a wedding guest... before your own wedding
19. Choosing the underwear
18. The bridesmaid dresses
17. Two brides thrash out the great gift list debate
16. All about flowers
15. Cakes, cakes, cakes!
14. Picking your perfect ring
13: The photographer
12. The invites
11. The wedding fair!
10. My (first) big mistake
9. How to pick a wedding dress to suit your shape
8. Reader, I got a brace!
7. Choosing the all-important venue
6. The dreaded guest list
5. Breaking down the budget
4. Picking my bridesmaids
3. Everything you need to plan or buy
2. Getting by with a little help from my friends
1. The proposal!