After Natalie Turner, 20, failed to get a cancer diagnosis, she was told she needed her leg amputated to save her life. Now, after marrying her childhood sweetheart, she's been given the shocking news she may only have months to live...
"As I was leaving my trainee hairdresser job one day, aged 17, I suddenly felt this horrible, throbbing pain in my right leg.
After I told my mum, Denise, 47, she took me to the walk-in centre.
The doctor there thought it was a strain, but a few weeks later my leg had swelled up and started hurting even more.
My boyfriend, John, urged me to get it checked out again, so I did.
This time, after being sent to the Queen Alexandra Hospital in Portsmouth for tests, a specialist told me I had sarcoidosis – a disease where cells in your body create inflamed lumps.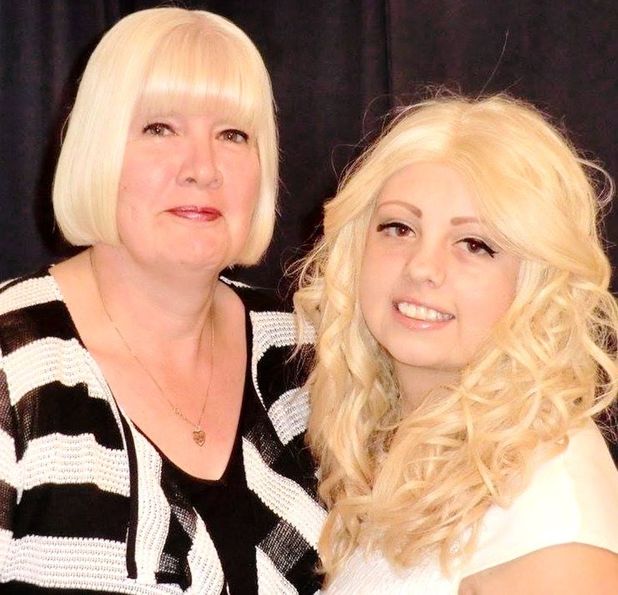 I had steroid infusions every two weeks, yet the pain remained. Months passed by and I was in constant agony. It hurt me to walk and stand.
Over the following year, I saw medical professionals 24 times but was always turned away – even though, at times, my ankle had doubled in size.
Finally, in October 2014, Mum marched me to the surgery and demanded they refer me for an MRI scan.
I was booked in for one, but never thought it would be anything serious, as I was only 18.
But a few weeks later, the consultant told me it was cancer. I had Ewing's sarcoma, a type of bone and soft tissue cancer, in my ankle and thigh.
As Mum held me, I broke down. It felt like my whole world had crumbled. When I told John, he cuddled me and promised we'd get through it together.
Over the next few months, I had six sessions of intensive chemotherapy. It made me so ill, but John was always there by my side.
Sadly, although the chemo did shrink the tumour, it wasn't enough. Doctors told me that the only chance I had of survival was to have my leg amputated. I was devastated but had no choice.
I felt angry, too. For months I'd been going to hospital, yet the doctors hadn't investigated the problem properly.
If I'd been given a scan straight away, my cancer might have been caught earlier.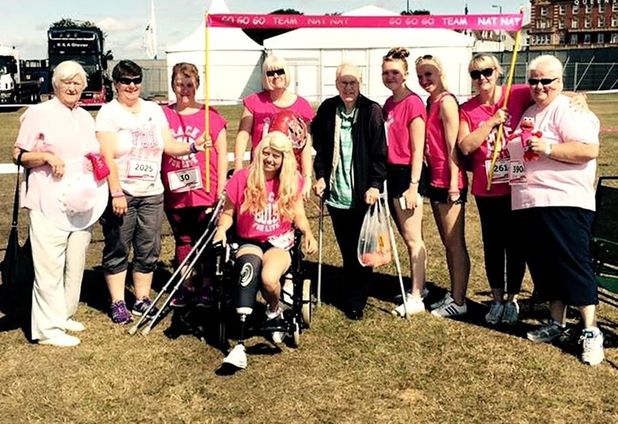 In May last year, I had the operation to remove my right leg. I was so nervous but, when I woke up, I just felt relieved that it was over and the cancer was gone.
Soon afterwards, I started having physiotherapy and slowly learnt how to walk again, using a prosthetic leg.
In July, just nine weeks later, I took part in the 5K Race for Life near my home in Southsea for Cancer Research UK. I'd only had my prosthetic leg a week, so I walked as much as I could before being pushed in my wheelchair.
A month later, I went away to a leisure camp in Chichester with some friends for my 19th birthday. John and I were in our caravan one evening when he suddenly grabbed my hand. 'Will you marry me?' he asked. 'Yes!' I squealed. I couldn't wait to marry him – not only because he was my soulmate, but because I'd just been through one of the toughest periods of my life.
More good news came a couple of weeks later, when I was given the all-clear. We decided to tie the knot in 2017. I was so happy.
But in February, four months later, I noticed my back kept aching. I went to hospital and was sent for a scan immediately.
Deep down, I sensed something was wrong. And I was right – the cancer was back, in my vertebra and lung. This time, though, they couldn't save me.
I was given devastating news – I had just six months to live. If I was lucky, this might stretch to two years with treatment.
After everything I'd gone through, it just seemed so, so unfair.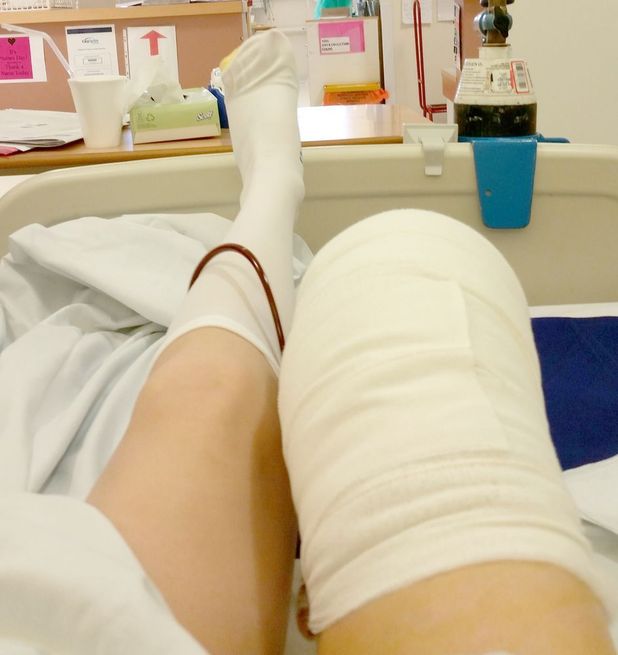 In March, I had a 10-day course of radiotherapy before starting yet more chemotherapy. John and I decided to bring our wedding forward... just in case.
On August 13, we tied the knot at the Marriott Hotel in Portsmouth, in front of all our family and friends. It was a beautiful, yet bittersweet day – but I felt like a real-life princess in my ivory lace dress.
Then we jetted off to Disneyland Paris for the honeymoon, taking all the family along... it was amazing!
All I can do now is live each day and make the most of the time I do have left.
I'd urge anyone in any kind of persistent pain to demand a scan. It could mean the difference between life and death."
A SPOKESPERSON FOR PORTSMOUTH HOSPITALS NHS TRUST SAID:"Whilst we cannot comment on an individual's personal circumstances, due to patient confidentiality, we can confirm that this case was fully investigated. We worked hard to ensure that all concerns regarding the diagnosis of this very rare form of cancer were addressed. Patient care and safety is the highest priority. Any feedback is taken very seriously, and used to review and improve our services."
By Laura Hinton and Nilufer Atik