Now we've got less than two months before the wedding – how on earth has that happened?! – Mr T and I are getting down to the nitty-gritty, organising the final details of our big day.
Last weekend, we visited the Isle of Man for the final time before our big day. We had a to-do list that included finding Mr T a suit, testing the food and doing our engagement photo shoot.
I'm not going to lie, it was a busy three days. When we arrived on Friday morning, we went straight to the suit shop, stopping off only at the hotel quickly to drop our bags off.
Now, obviously I fancy Mr T. Quite a bit, as it goes. But, while I jump at any excuse to dress up, he's a rather casual man at heart, who lives in a jeans and T-shirts. So I have to admit, seeing him in tails and a cravat, he did look exceptionally good. Even if it was with his trainers.
Then, as we were heading back home, we even found him some smart black shoes in the nearby shopping centre. They were in the sale, so we had enough left of the budget to treat me to a new pair of sparkly heels. Two big ticks off the list already and a massive bonus for me!
Then we went shopping for goodie bags for our nieces and nephew. Because they're under ten, we don't want them to get bored (read twisty) through the meal and speeches. So we've stocked up on reading books, colouring books, puzzle books, toys, bubbles… As we left the store with bag fulls of goodies, we admitted maybe they now had enough to keep them entertained for a fortnight, rather than two hours, but better too much than too little, right?
On the Saturday, we had an easy day, exploring the island and finding out things to do. I'm becoming boring as I continue to wax lyrical about the Isle of Man but the more I see of it, the more I love it. This time, we took the electric railway right up to the highest point of the island and played at being an old married couple by having a cream tea for lunch.
Then it came time for the food testing – the bit we'd been looking forward to the most! And it didn't disappoint. We tested four different canapés, then the starter and main of the wedding breakfast. The table was literally groaning with food.
But we were so glad we did, because although the canapés and starter was exactly what we wanted (the guests are in for a right treat!), the main wasn't quite what we thought it would be. It wasn't bad, just not as exciting as what we wanted. So after speaking to the chef, we've changed our minds and have something completely different. Something (hopefully) better.
And finally, on the Sunday, we did our engagement shoot.
As I've mentioned before, I hate taking my photo taken. I find being confronted with how I actually look a really unpleasant experience – I much prefer to remain in blissful ignorance. However, for two reasons, this day wasn't as bad as I'd feared.
First of all, I'd persuaded my dentist at Oasis Dentist to take off my top brace for the shoot. All of the teeth had already shifted into place but she said that most people prefer to keep them on until the top and bottom ones are both done to do a 'big reveal'. Screw that! Get 'em off, I say!
So I did. And I am thrilled with the results. It is one of the best things I've ever done. The pain of them being tightened, waking up in the middle of the night to find my gums stuck to the metal, not being able to eat anything remotely crunchy or crusty – all worth it. I spent all day licking the outside of my newly smooth teeth and nipping to the toilet to check them out.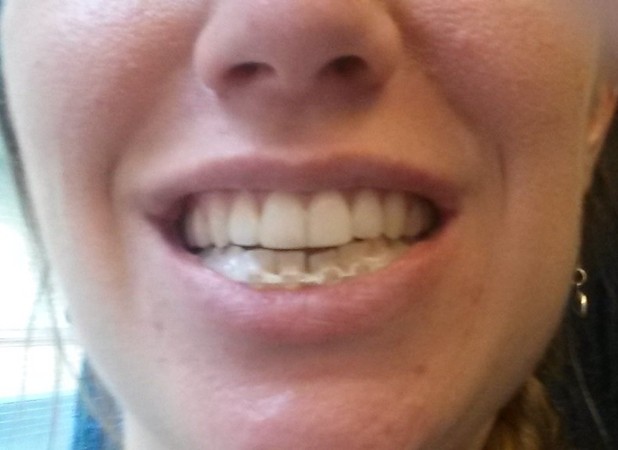 And the best news is that I only have another three weeks left of my bottom braces – hurrah!
And secondly, our wonderful wedding photographer, Shan. From the moment we met her, Mr T and I both fell in love her wonderful, bubbly energy. And she was just as great when she met us this time, telling us how gorgeous we looked and how much she was looking forward to the wedding.
She drove us all over the island, stopping to take snaps outside of theatre doors, on the beach, out in the fields overlooking the bay. Nothing was too much trouble for her. She had us looking at each other, looking at her, looking at out passed the camera, walking away from her, walking towards her, kissing each other, touching foreheads. Loads of stuff.
Goodness only knows how they'll come out but we had a real laugh doing the shoot, so at the end of the day, who cares?
By the time we got to the airport – lovely Shan even dropped us off – we were exhausted but delighted. Seven weeks to go…
If you have any tips or questions, get in touch with me at @Sarahw0684
More from the Clueless-Bride-To-Be:
25. Planning the first dance
24. My wedding dress exercise regime
23. My wedding diet
22. The three month countdown!
21. Gifts for your girls!
20. As a wedding guest... before your own wedding
19. Choosing the underwear
18. The bridesmaid dresses
17. Two brides thrash out the great gift list debate
16. All about flowers
15. Cakes, cakes, cakes!
14. Picking your perfect ring
13: The photographer
12. The invites
11. The wedding fair!
10. My (first) big mistake
9. How to pick a wedding dress to suit your shape
8. Reader, I got a brace!
7. Choosing the all-important venue
6. The dreaded guest list
5. Breaking down the budget
4. Picking my bridesmaids
3. Everything you need to plan or buy
2. Getting by with a little help from my friends
1. The proposal!