For anyone wanting to dip their toe into the ocean of kink, spanking can be a fabulous place to start.
Firstly, you can go as hard or as fast as you feel comfortable with – great for those wanting to test their sexual waters.
And, if you don't want to invest in expensive equipment until you're sure it's for you I've got some great news. Our wonderful human bodies have naturally evolved with spanking in mind. I mean, why else would we have hands? So you don't need to buy anything before you give it a whirl, just use your paw!
As a foolish and arrogant woman, I thought I knew exactly what I was doing when it came to a bit of slap and tickle. It's easy isn't it? I've seen BDSM porn… you just, like, spank the person. Right?!
While it can be simple, I've learned there is SO much more to spanking than just mindlessly swinging an implement at your partner.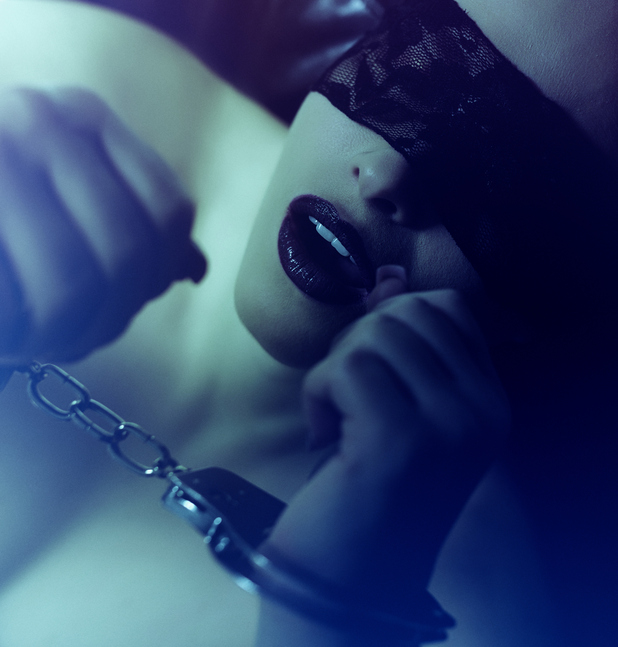 Luckily, Renee Denyer invited me to join in on the spanking class she runs. Held at
Sh! Women's Erotic Emporium
, Renee, who manages the store, shows interested couples how to spank each other in a safe and enjoyable way.
I'd thought it would be a difficult task to find someone to come along as my spanking partner. But from the moment I mentioned it to Reveal's features editor Laura, she was game.
Some naysayers might argue bending over while your colleague smacks your bum is weird/awkward, but we beg to differ. Truth be told, it's not the first time we've done something like this together. In fact, we are pretty good pals outside of work, too. Also, Renee was kindly plying us with fizz – something we took full advantage off claiming it would make us feel "less uncomfortable" (when really we just love getting sloshed.)
Unsurprisingly, Laura, who I see as a natural leader and someone who knows exactly what she wants, said she leaned towards being the dominant one in a partnership. Well duh, I thought.
On the other hand, I thought I swung more towards being submissive. In sexual situations, I much prefer it when a partner takes control. So with that in mind, we decided who would be the spanker and the spankee.
After we'd emptied our glasses (for the fifth time), Laura buckled me into a spiked leather collar, fur-lined handcuffs, slipped a blindfold on me and bent me over a chair.
Here's what we learned…

WHY DO PEOPLE WANT TO BE SPANKED?
"It's fun!" Renee says. "You might want to try it to spark up a relationship a bit. Or maybe you want to try a bit of role play.
"Some people do it for an endorphin high, because if you build up the spanking steadily then more and more endorphins pop into your head.
"It can help you release a bit of tension after a long, hard day. Some people might laugh and others might burst into tears. Either could happen and either reaction is normal."
Obviously not all tears are good tears, so if you give it a go and realise it's not for you, then stop immediately. Remember, it's meant to be pleasurable and enjoyable for all parties and you should never continue playing if it's not 100 per cent consensual!

FIND OUT WHAT YOU LIKE FIRST
Whichever role you assume in spanking play, it's important to find out exactly what you like.
"Even if you are the spanker, it is important to know the amount of trust the spankee places in you. It works the other way around too, the spankee should know justhow much work the other does."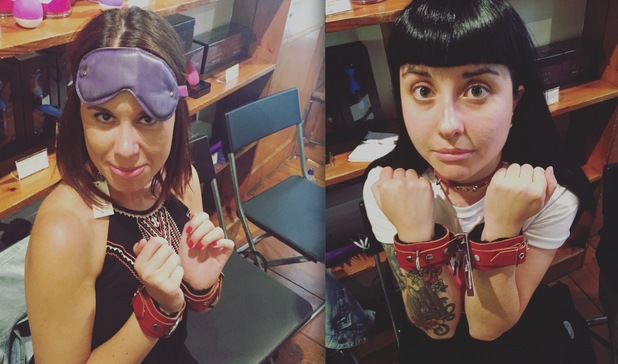 MISCONCEPTIONS ABOUT SPANKING
Everyone is responsible for themselves, but also for everyone else.
"Just because you are submissive does not mean you don't have control," Renee explains.
"The person who is submissive often has more power than because they say have the ultimate say as to when enough is enough.
"Other people come into Sh! and pick up the biggest spanking implement they find and go straight home and use it on their partner. You should always start off small and work your way up."

TRUST IS ESSENTIAL
Before you go to play any kinky games with anyone, there is one essential thing you need to have: trust.
"Trust is vital," Renee says. "Listen to your instincts and never go further than you feel comfortable with.
"And do not ever play with someone you do not feel completely comfortable with. It's incredibly important that there is a bond between you and your play partner."

COMMUNICATION
Communication should be constant throughout any spanking play.
"Check in with each other to make sure both are having a good time," Renee says.
"Your partner may be very strong and have no idea how hard they're spanking you, this is how things can go wrong. Always ask if what you're doing is ok."
Renee suggests grading the spanks at the beginning. Spank lightly to begin with and discuss how each feels by grading them from one to 10. A number one spank would be so soft you can't feel it, and 10 is so painful you never want to feel it again.

TALK FIRST
With any new partner there are a few things you need to find out before getting started.
Do they have any medical issues? Sports injuries? Asthma? You have to bear these in mind. Also spanking someone's breasts if they have had an enhancement can be dangerous too.
Renee advises: "With any new implement, practise on a pillow and always try it on yourself first as you need to know what it feels like. Spank yourself with it on the thigh or inner forearm to gauge the sting."

SAFE WORDS
This is perhaps the most important part of spanking play.
Your safe word will be used during play to communicate to your partner that you have had enough and it needs to stop.
"It can be quite titillating during play to say 'No, stop!' when really that's part of the power play in your spanking scene, and you don't want them to stop," Renee says.
"This is why your safe word needs to be a word you wouldn't usually say during sex. Respect for the safe word is very important."
For the purpose of our class, we agreed upon the safe word "flamingo".
Or if you want to, the traffic light system can be used to communicate how you're feeling as it's really simple.
Say "green" when you want your partner to go full steam ahead. "Amber" means you want them to proceed with caution. And of course, you say "red" when they need to stop.

HOW TO GET IN THE SPANKING MOOD
Getting into the spanking zone can be hard after a stressful or long day at work.
"A good thing to do is think about the spanking scene in your head," Renee says. "Think what you would like to happen, what location do you want the play to take place in, what implement would you like to use.
"Planning your scene can be a great way to get in the mood."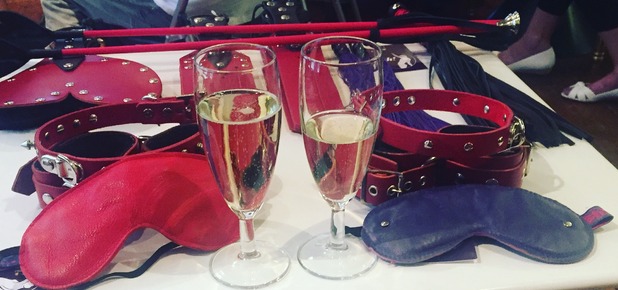 PRE-SPANKING SNACKS
Consuming a bit of sugar before a session can be a very good idea, Renee says. And drinking lots of alcohol while spanking isn't the best idea as it numbs the sensations.
Laura and I didn't exactly stick to this one, but please forgive us. We weren't really engaging in serious spanking and the class was a fun and friendly environment for learning, not actual play.

ROLES DURING PLAY
In spanking you can assume the role of the top or the bottom depending on what suits you best.
Top: the person who does something.
Bottom: the person who has something done to them.
"Top and bottom are basically just for play situations. Dominant and submissive tend to be more psychological," Renee adds.

ACCESSORIESCollars
You can kick a spanking scene off by introducing a collar.
"Do not put a collar on someone one you do not intend to play with," Renee says. "In the kinky scene a collar signifies ownership."
Handcuffs
If the bottom is happy to be cuffed, secure them either in front or behind their back.
Always use soft cuffs made of leather, padding or fur rather than cheap materials that can cut into your wrists.
I'd recommend
these leather wrist cuffs from Simply Pleasure
. They're quite pricey at £49.95 but they're really soft and durable. Plus, you can get matching ankle cuffs – cute!
Ball gags
Some people might not be comfortable wearing a ball gag and that is absolutely fine.
"You can make your own by taking your knickers off and stuffing them in your partner's mouth – this could be a punishment or a treat," Renee says.
Remember: if someone's wearing a gag, you need to agree on another way of saying the safe word as they wont be able to speak – try a physical signal.
Blindfolds
While wearing a blindfold can be great as it heightens your senses and improves the sensations you're feeling, some people find it claustrophobic.

ONLY SPANK SAFE AREAS
When spanking, only make contact with padded areas like the buttocks, thighs and tops of arms.
It's important to protect the neck, kidney, backs of knees, shins and elbows.
"When it comes to facial slapping, you must always ask for consent," Renee says. "If your partner is ok with breast slapping then it can be done in moderation as long as they're not breast feeding or pregnant."

GET SPANKING
Renee says: "The sweet spot for a woman is just on the rounded bit of their bum cheek. For a man it is more in the middle of their two cheeks so aim there."
Start off by spanking the sweet spot with your hand, and follow it up with a little grope. By groping the area you've spanked, it takes a little bit of the sting out of it.
Build the number and strength of spanks up slowly.
Paddles
If you're new to spanking and want to use more than your hand, you can try a fur-sided paddle. You spank with one side then turn it onto the furry edge to rub them down with it.
"Sometimes it is not just the shape of the implement but also the material that adds to the sensation," Renee says. "Using something made of rubber will make the spank more stingy."
Laura and I tried A LOT of paddles out, but this
Leather Heart Spanking Paddle
was our fave because not only does it look adorable, but its fur felt really nice on our bums! And it's only £30.
Riding crops
Make sure you're holding the crop fully and firmly in your hand.
"It's all about the flick in the wrist. You can tease them with the crop beforehand by running it over their body or bum.
"And once you've spanked them with the end of the crop, hold your hand over where you have hit to take the bite out of the sting."
If you're loving every second and want to take it up a notch, Renee suggests the top counts in the bottom.
"Get them to count to three then do the blow," she says. "Then when you feel their body relaxing, go again."

RHYTHM
Rhythm and timing is very important.
Always start off slow and build up the strength of the spanks and the frequency.
This means that if you're really into it you will be able to go harder and faster for longer.

HOW LONG SHOULD A SESSION LAST?
Spanking play can go on for as long as you want it to.
It could simply be a few short spanks before moving onto something else. Or it could last for hours on end, it's completely up to you.

ENDING THE PLAY
"If either feels like they've had enough, a good way to signal the end is to slowly remove their collar or blindfold," Renee says.

AFTERCARE
This is just as important as safe words or trust, after all, you've been through a lot together.
"Have a drink, have a cuddle, talk about what worked well," Renee says. "It's really important you have a debrief at some point.
"Talking about your experience together can help a lot and make the next play a lot more enjoyable."

Needless to say, Laura and I enjoyed every second of the class. And oddly enough, both of us learned that we don't seem to know ourselves at all.
After two minutes with the blindfold on, I felt claustrophobic and anxious. While I didn't mind being cuffed (Laura was kind enough to secure them in front of me so I could still lift a champagne flute to my mouth), from the second I had my sight taken away, I freaked out.
At first, Laura has assumed she would enjoy being the top a lot more too. But by the end she'd managed to let go and felt comfortable enough to show her vulnerable side (she blames the booze). We actually ended up switching roles, so she was the one on her knees.
Happy spanking pals!

More Sex Blogs You Might Have Missed!How to master the art of erotic massageEverything you need to know about lube, glorious, lube!These ridiculous sex myths seriously need debunkingJetting off and getting off: summer holiday tipsCharlie Sheen's the new face of Lelo Hex condoms and people aren't happyToys to enjoy with boys!How to give perfect oral sexIt's international masturbation month!