As a naturally very "unsensual" person, the idea of giving someone a sensual massage fills me with abject horror.
Up until recently, I'd never actually received a professional massage myself and therefore have approximately zero clue what you're meant to do slash touch.
In fact, my only frames of reference for this unnerving activity are: 1) the Friends episode where Ross pokes at that poor bloke with wooden spoons, and, 2) those unrealistic and creepy massage porn videos where the bed always squeaks and everything's a bit awks.
Whenever partners have asked me to massage them in the past, it's taken every fibre of my being not look repulsed and just bugger off. I've only just, and probably not even properly, mastered all the other stuff – hand jobs, blow jobs, reverse cowgirl etc do not come easily to someone as ungraceful and unsexy as myself.
And then recently a new(ish) partner asked me to get kneading and despite really, really not wanting to, I half-heartedly prodded him for five minutes before claiming I "was desperate for a wee" and promptly leaving.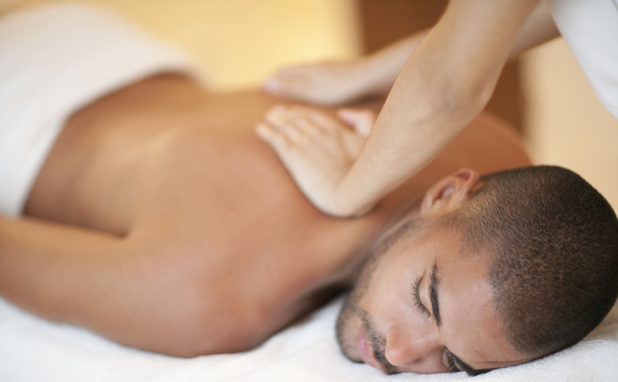 Luckily, the fabulous babes at
Scarlet Ladies Talk
– a members-only community for women who want to explore their sexuality and pleasure in a safe space – hooked me up.
They invited me along to their "Sensual Touch for Him" event and promised by the end of it I'd be able to take a man on a magical trip to massage heaven. "Learn how to drive him wild with your touch," they said. Naturally, I obliged.
So in a very fancy Pimlico penthouse apartment, overlooking the Thames, I made myself comfy on a very white sofa and prayed the red wine I was swigging would stay well and truly inside my glass.
Colin Richards, whose swanky pad myself and 20 other nervous women were hanging out in, is an expert erotic masseuse and runs
Intimacy Matters
– a company dedicated to teaching singles and couples how to pleasure each other.
Colin brought out three naked-beneath-their-bathrobes chaps who very kindly stripped off and nestled themselves face down on massage beds in front of us.
It was then that Colin oiled up and talked us through how to give a man an erotic massage, as he performed the massage himself. Spoiler alert: it was kinda hot!
Here are his tips (I'm so sorry but I'm an awful journalist who downed numerous glasses of wine to cope with the awkwardness and therefore my shorthand notes are basically just pages on pages of illegible scribbles. Hopefully you'll get the gist…)

MAKE HIM FEEL APPROVED OF
According to Colin, who defines himself as "hetero-sensual", the fundamental difference between men and women when it comes to sex is that "women want to be desired" and "men want to be approved of". Not sure one can generalise like this, but he has massaged a hell of a lot of men so…
His first piece of advice is that if you are giving a guy a bloody good rub down, make sure he knows he has your approval.
"Men are constantly told it's not ok to show their vulnerabilities," he says. "A massage for them is the chance to show that side of them. So be a combination of maternal, dominating and caring."
Colin suggests you let him know at the beginning that he doesn't have to do anything. "Explain this massage is all about him and his enjoyment." Apparently, that takes the pressure off.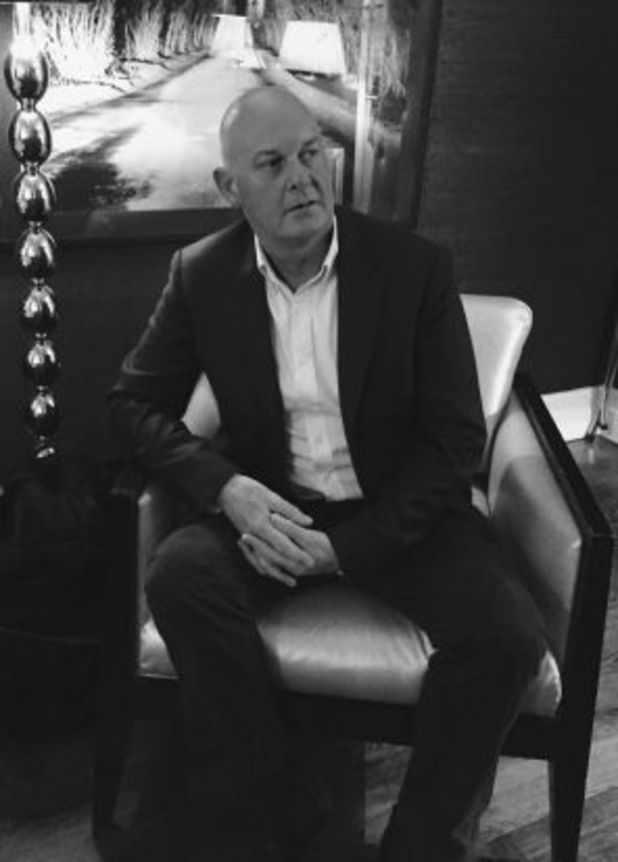 START WITH HIM FACE DOWN
Colin says starting with the man face down is always best. "This means he can imagine what is happening."

DON'T DO IT IN THE BEDROOM
"Have a good, clear space for the massage and if you can, do it in a spare room that isn't the bedroom," Colin says. "That way, it can start off as just a massage and then you can move it into the bedroom when and if you're ready to take it all the way."

OXYTOCIN
Experts say that when this hormone is released into the brain, humans feel heightened relaxation and trust. So it's important to get his oxytocin flowing right from the beginning.
"Start by stroking all over his head and use your hands and nails – this will release his oxytocin within a minute."
Colin suggests starting off with a subtle, gentle and slow touch as seduction is all about a gradual build up.

ACCESSORIES
Keep these hidden from him, so he doesn't know what sensations to expect.
Colin says: "Using a feather, stroke up and down his entire body." He also suggests after a few minutes of feather play, use your fingernails and run them from his head to his toes.
A blindfold could also be used in the second half of the massage when you turn him over.

CONFIDENCE IS KEY
"It is better to be confident whether you know what you're doing or not," he says.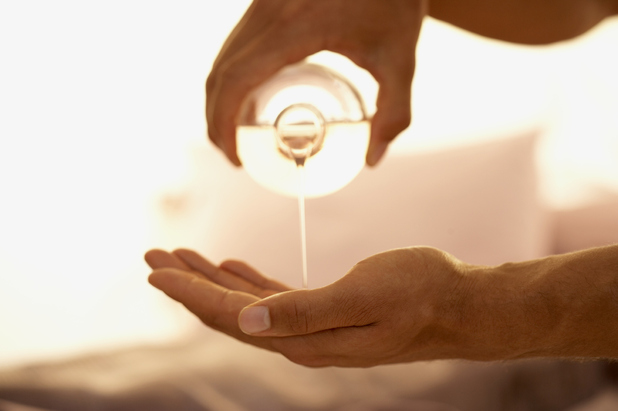 OIL HIM UP
Colin suggests using grape seed oil as a good body lube.
Decant the oil into a squeezable bottle, then you can pop the bottle in a jug or bowl of hot water which will warm the oil up.
Once you've got the oil ready, coat your hands in it and then you can begin.

THE MAIN MOVES
Concentrate on long, sweeping strokes.
Run both of your hands down the middle of his back, over his bum cheeks and around the sides in what is known to massage pros as an effleurage – a circular stroking movement.
Using a well-oiled finger, trace down his back and bum and slowly move your finger over his bum crack. Apparently this should really turn him on.
Later, go down his back in the same effleurage motion using your crossed arms. You can also do the same with your breasts. Do the same again from the bottom of his body upwards.
Do these first few moves for at least 20 minutes to make sure he is getting an actual massage.

PRESSURE
Be quite aggressive.
People always want to be massaged harder and firmer than you would imagine, Colin says. If it's too much he can let you know.

COMMUNICATION
"Remember, the whole intention is to arouse. Let him relax and encourage him to be aroused," Colin says.
"Men aren't often in situations where they are encouraged to be aroused so give him permission to let go.
"Maybe let him know that at some point, you will be naked so he knows what he's got to look forward to later."
The best way for him to let you know what he is enjoying, is to occasionally put your hand in his and ask him to squeeze if it gets too much.

GET YOUR OWN BODY INVOLVED
Colin says it's good to get close to him while you're doing the massage, as it can add to his arousal.
"Rubbing your thigh against his outstretched hand while you massage him can be really seductive," he says.

EXTRA SEXY MOVES
Colin suggests gently lifting him up around the hips and brushing his penis lightly with your hand, as if it could be by accident. Ooh la la.
Touching his balls is basically the golden move, so unless you know he doesn't like it then get them involved.
Get completely naked without telling him while he's still face down, that way when he realises it will add to his arousal.
Scratch his bum – apparently it works like a charm.
Use your whole body. Get on top of him as if you were doing the reverse cowgirl position and then slide yourself up and down his back.
If this isn't all already too much for you, try holding his penis like a shotgun with one hand, and with the other massage his perineum (the area between his testicles and penis). Colin promises this move will give him an erection.

TURN HIM OVER
After the first half, leave him alone in the room for a while to calm down. The second half is essentially meant to be the really sexy bit.
Start again from the bottom and massage his feet then slowly wander upwards over his stomach.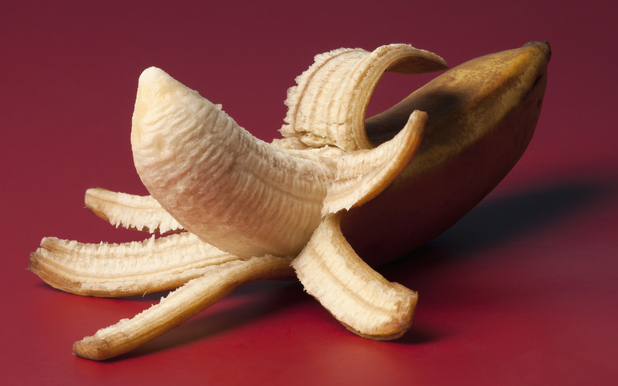 THE PENIS MASSAGE
Get more oil in the mix and start massaging his penis, this should make him hard again. After a few minutes, move onto another area of the body completely. Then a few minutes later, go back to his penis.
A nice, firm grip is the way forward as you basically want to replicate what it feels like to be inside your vagina.
"When massaging his penis, make the downward motion stronger and the upward motion softer," Colin says.
"Watch what his face is doing and follow the cues. The frenulum (the skin that connects to his foreskin if it's still there!) is like the clitoris. Massaging it can make some men come.
"It's all about speed so always keep things steady."

PROSTATE
Some people are incredibly weird about anal play, and that's fine and should be respected. But if you want to get the prostate involved, Colin says use plenty of lubrication before moving a finger into his anus and curling it upwards. This should stimulate his prostate.

MOST IMPORTANTLY
Colin says the thing you must absolutely do is make sure you carry on when he comes. Don't just stop as it could ruin his orgasm.
"Even as the ejaculate come out, carry on stroking his penis but stop below the head and continue up and down the shaft."

AND FINALLY
You may want to have sex afterwards, but remember this is all about him so don't make intercourse or orgasm the focus.

I mean, it does sound all very complicated and the situation itself is a hotbed for potential cringe moments. But as Colin says, just feign pure confidence and you'll be fine.
Click here
to see what awesome events the Scarlet Ladies have coming up.
More Sex Blogs You Might Have Missed!Everything you need to know about lube, glorious, lube!These ridiculous sex myths seriously need debunkingJetting off and getting off: summer holiday tipsCharlie Sheen's the new face of Lelo Hex condoms and people aren't happyToys to enjoy with boys!How to give perfect oral sexIt's international masturbation month!