Marimar Quiroa, 21, was born with a facial tumour but she refuses to let it get in her way. She uses her make-up skills to promote positive messages of self-acceptance via her hit YouTube channel
When Marimar Quiroa was a child, she would hide her face, turning away from strangers in the street so they couldn't stare at her.
Born with a facial tumour, 21-year-old Marimar, from California, is deaf and unable to speak and eat.
She doesn't let anything hold her back. And now, she proudly bares her face to millions of strangers online.
Since starting her YouTube channel, in which she uses sign language to show off her make- up skills, her videos have been viewed five million times by her 100,000 loyal subscribers.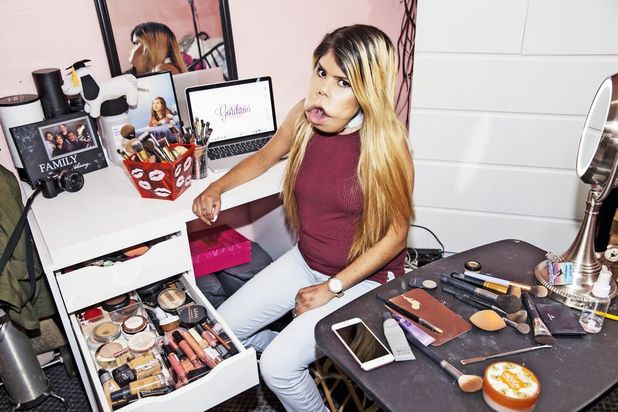 The inspirational beauty school student is determined in her mission to challenge traditional standards with her powerful and positive messages of self-love and acceptance.
"To me, beauty means accepting yourself for who you are, and ignoring what other people tell you," Marimar says. "You show your beauty how it is. It doesn't matter if you have a different-looking face, you should accept yourself."
Marimar's mum, Maria, didn't know about her daughter's condition until after she was born. The baby was diagnosed with cystic hygroma – a congenital malformation – which means she relies on
a feeding tube in her stomach to eat. Rather than her mouth, Marimar also has to breathe through a hole in her throat.
"It has affected my mouth since before birth," she explains. "Before, my face and head were bigger and I went through the process of many surgeries over several years to shrink my face and mouth to what you see today.
"Cystic hygroma affects me in several ways. I cannot speak, I breathe through a hole in my throat, I eat through a tube in my stomach and the hearing in my right ear is diminished."
Although this incredible young woman has undergone multiple procedures over the years to try to "correct" her appearance, she is now embracing her beauty – and is encouraging others to do the same.
"When I was younger, I would talk to myself in the mirror. I would tell myself I was beautiful.
"I'd encourage myself and list all the things that were good about me and it built my confidence through the years. What I always liked about make-up and beauty was imagining new looks, especially around the eyes, and showing people they're beautiful no matter what," she says.
Marimar had always been interested in make-up, and two years ago she decided to start her own video channel on YouTube. She could never have predicted its success.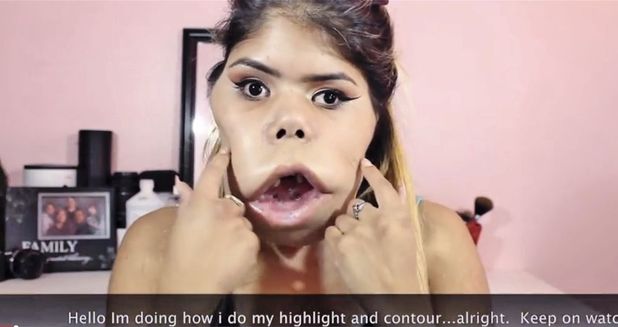 Now, her channel, MakeupArtistGorda66, has been viewed by millions and she gets countless messages from women who she has inspired.
"People comment after viewing my videos, and they say some really nice things. They tell me I'm beautiful and that they love my make-up," she says.
But, sadly, not everyone has been so positive about Marimar's venture, and she has received some abuse from online trolls.
"I have encountered negative people, both on YouTube and out in my daily life.
"People tell me I look like a monkey, that my mouth is wrong, and people stare at me – I see them staring. When they say negative things to me, I either tell them to stop or just ignore them. But if people are staring at me, I stare right back and refuse to look away until they stop."
Marimar's biggest fans are her mum, Maria, and older sister, Airam, 24.
"I say to her she can do whatever she wants – with some limitation, but still she can do everything she dreams of," Maria says. "She says she wants to travel and inspire other people and give thanks that she's alive with a lot of energy. If she wants to do it, then I'm with her – whatever she wants."
Her sister Airam continues, "Ever since she was little, Marimar has managed to figure things out.
"She grasped exactly what her condition was and made the best of it. Personally, she inspires me, because it's not easy having her condition, with everybody looking at you and staring. And for us as a family, it's been hard but we've got through it together.
"To see her get up every day and keep doing what she does is inspirational, because it's not always easy."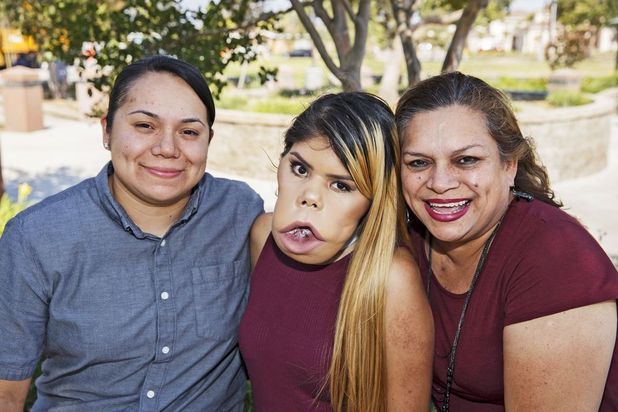 As well as making her online videos, Marimar is also training to become a teacher for deaf children.
In her spare time, she also attends evening classes at her local beauty school.
"I started going to Zumba classes about two years ago," she says. "As I learned, it became really fun for me. I loved it, so I decided to earn my certificate last year in August 2015 to teach Zumba class.
"My condition doesn't hold me back in any way – there is nothing I can't do."
Marimar does not know how her condition will affect her further down the line, but she has big plans for her future.
"I hope to get married some day and have a family, have my own beauty line, travel and teach people around the world about make-up and my life experience," she says.
"It doesn't matter how you look or how you feel about your body," brave Marimar continues. "Accepting yourself and accepting your image is what really matters."
By Emma Pearson & Paisley Gilmour