What happens when two single strangers meet and are immediately told to undress each other? That, in a nutshell, is the format of Undressed, a new TLC dating show. We speak to some of the contestants..."IT CURED MY DATE PHOBIA!"
At the start of their episode, Lauren and Sam, both 23, tell viewers they have different reasons for taking part in the unique TV dating experiment.
Lauren says, "I have a real date phobia. I've been on three dates in my whole life.
"I hate awkwardness, and this is the most awkward situation you can be in.
"I thought I'd throw myself in at the deep end and just go for it."
Sam, on the other hand, has recently lost weight and toned up, so he says he finally feels confident enough to date.
But what are their first impressions of one another? "I don't fancy him," admits Lauren. "He looks more like a boy than a man. But he's still good-looking!"
Sam feels a little differently, though. "I think it might have been a bit of love at first sight," he confesses.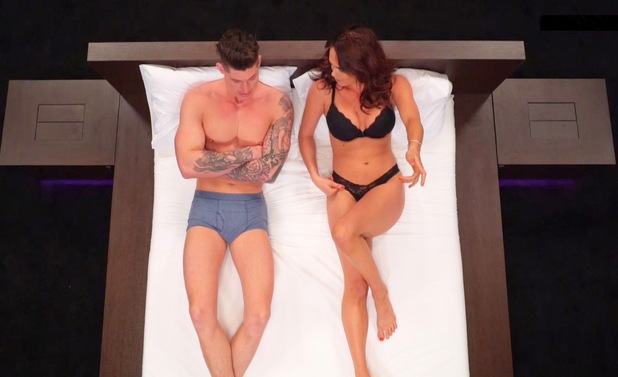 Just moments after stepping into the darkened room, they are instructed to take each other's clothes off before climbing on to the bed.
Lauren undresses Sam first, then he returns the favour. He says, "I got to her skirt and then I wanted to stop. To be honest, I got lost staring at her t*ts! Lauren has a cracking body."
Once the pair are in their undies, they're asked a series of questions by Undressed and shown photos to direct their conversation.
At one point they have to hold a yoga pose, which involves poor Lauren climbing on top of Sam on the bed – while clad in her thong!
"I chose the wrong underwear!" she says to camera. "And his arms were shaking, bless him."
Next, the couple are shown a photo of Sam swimming with dolphins on a screen in the room.
"Dolphins are raping humans and stuff – have you not seen the video?" Lauren jokes, leaving the pair in hysterics.
"They get high as well, off pufferfish. My friend's an animal fan, she's always sending me videos."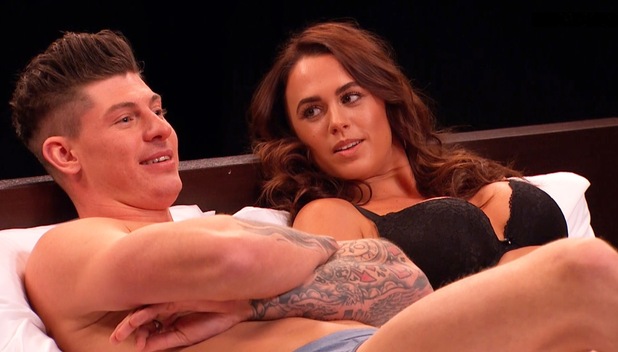 Afterwards, viewers squirm as the pair are asked to kiss, but Lauren says it's too soon.
She tells viewers, "I thought he was leaning in for a kiss! It's a bit cringe."
At the end of the date, they're given 30 seconds to decide if they want to meet up again.
After tapping their response into the pad beside the bed, there's a nervous wait until it's revealed they both say yes.
Sam says, "Inside, I just wanted to jump about on the bed. I was happy!"
WHAT HAPPENED NEXT?
While the couple did go for a couple of drinks after filming, they haven't seen each other again since. Booo!
Lauren reveals, "We've texted each other a few times, but we'll just stay friends as I didn't really fancy Sam.
"I've cured my date phobia, though," she adds. "I've been on another date since – we went rock climbing. But it was really awkward as he was so quiet!"
'WE HAD A SNOG ON THE SHOW!!'
Self-confessed serial daters Nic, 27, and Eden, 30, tell viewers they're both taking part in Undressed because they're fed up with the single life and are keen to settle down.
'2015 was the year of the man whore!' Nic says. 'I was dating woman after woman after woman. Now it's time to settle down and find someone I'm actually interested in.'
But when he's introduced to his date, it's clear there's only one thing on Nic's mind.
'Her legs were the first thing I saw. Whoah!' he says. 'They go on for days! Eden has a great physique.'
Eden then coyly admits, 'Nic has the most beautiful blue eyes.'
Moments later, the pair are told that it's time to undress… and they get straight into it!
Eden starts first by taking off Nic's suit, piece by piece.
Nic tells her, 'Pants, belt, come on, don't be shy…'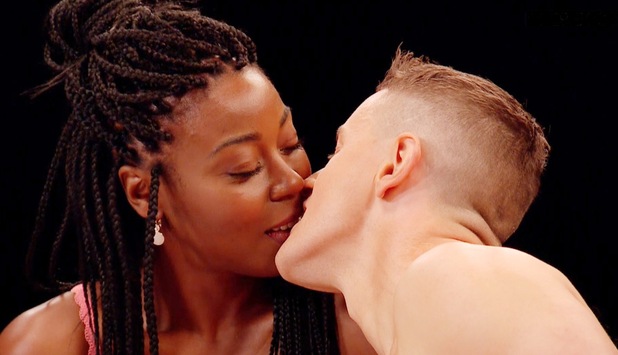 Soon after, Nic whips off Eden's dress to reveal her cute floral undies.
Fortunately, after their initial embarrassment, the pair quickly warm to one another. They talk about how they don't see anything wrong with multi-dating.
Eden says, 'It helps to get rid of anyone unsuitable. I do date d**kheads, though, and I think it's highly possible that Nic is a d**khead!'
Next, they're asked to do a strength test to see who can hold a dumbbell for the longest amount of time.
As Nic tries to put Eden off by flirtatiously nudging her in the side, there's no denying the chemistry in the air.
And when Eden loses the contest, Nic says he's owed a cheeky kiss on the cheek for being the winner. Moments later, the couple start to snog, setting the room on fire!
So when the date comes to an end and the couple are asked if they want to see other again, it's no surprise that they both say 'yes'.
Eden adds, 'On a scale of one to 10, I'd say the date was a solid nine-and-a-half.'
WHAT HAPPENED NEXT?
Although Eden and Nic have yet to meet up again, they're making plans for a second date. Great news!
For exclusive competitions and amazing prizes visit Reveal's Facebook page NOW!