We've all seen those car-crash reality shows where a group of Brits go abroad, get tanked, and regret it all in the morning, so why is it when we head off on holiday booze is usually the first thing on our mind?
Who here can honestly say they've never rocked up to an airport at 4.30am and headed straight to Spoons, saying: "Yeah, I guess it is kinda early, but I'm on holiday!"
And then there's the round-the-clock cocktails. The "I'm on holiday" reasoning can be used time and time again. Want a glass of prosecco with breakfast? Go for it, you're on holiday! Fancy a G and T while you recline on that sun lounger, treat yourself, holiday babe!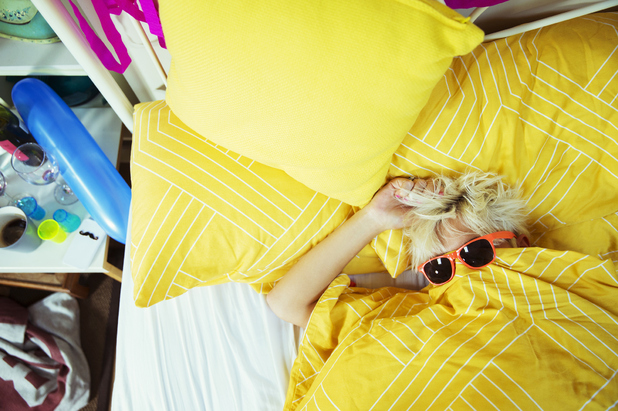 It's all a bit of harmless fun, isn't it? All that boozing we do on a trip, it's all just lols right?
Erm, maybe not.
New study results claim the impact of heavy drinking on a holiday abroad is that the average 18-30 year old holidaymaker loses 21 hours of their holiday over a seven day period to the effects of a hangover.
It's funny isn't it. We're all aware of the health risks associated with necking alcopops like they're going out of fashion, but most of us put that bit of info into a darkened corner of our brain and lock it up, never to think about it again.
But as soon as someone says you're wasting precious holiday time by being hungover, it's like, DING. Now, that's something we care about!
Not-so-shockingly, the majority of respondents said they've felt the effects of a hangover from drinking excessive amounts of alcohol "every day" on their last trip overseas.
The survey, from sunshine.co.uk, found a quarter of the 1990 boozy Brits had suffered "gaps" in their memory when trying to recall certain events and goings-on when they were drunk on their last holiday.
Of everyone questioned, 66 percent said they'd spent a large portion of their break vomiting. Stomach upset was experienced by 60 percent, 41 percent had sacked off holiday plans due to their post-bender headache and 22 percent got the sweats.
13 percent said they'd ended up having conflict with members of staff, fellow holidaymakers or someone they were travelling with as a result of alcohol consumption. They described conflict as a fight or argument.
Realistically, those of us partial to a sex on the beach or 10 are not going to stop getting sloshed on our hols, but maybe we should give a thought to all those hours that could be spent on topping up our tans, instead of being unable to move from our beds?
Oh, and remember, whether you're overseas or in good ol' Blighty... always remember to drink responsibly.
For exclusive competitions and amazing prizes visit Reveal's Facebook page NOW!