For some bizarre reason, we're absolutely obsessed with dating rules.
When should you text after a date? Will you appear "too keen" if you add two kisses to the end of a message?
To some of us, these apparent "rules" are a load of rubbish. As firm believers in the "do what feels right" method of dating, many find them not only irrelevant, but wildly outdated. Not to mention sexist from time to time.
Everyone's different, so surely rules that could be seen to work for one person would be catastrophic for another?
But new research insists on shortlisting all the things you can do to secure another date and therefore we have no choice but to dive into the world of digital dating.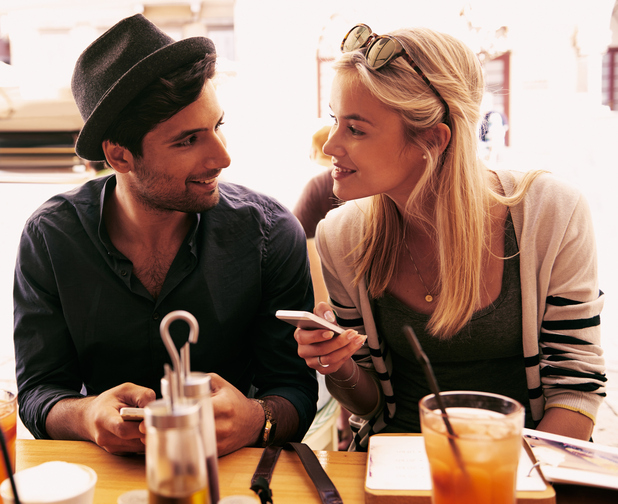 A study exploring the do's and don'ts of dating has apparently highlighted the rules singletons should adhere to if they want to follow up a first date with a second.
According to TLC show Undressed, men should be the ones to first send a text after a first date with a woman. Erm, why?!
And if the woman is keen you're meant to text back within 15 minutes. What if you're on the loo/eating pizza/busy living your life?
For goodness sake though, never put more than two kisses because that will make you seem wayyyy too keen, oh no. Two is the perfect amount of meaningless little Xes because you also don't want to put any less and appear "cold". I'm sorry but were the people questioned in this study living in Victorian times?
The 1,500 polled for Undressed, which is a dating show where contestants strip off into their undies before getting to know each other, also revealed that locking lips is "acceptable" at the end of date one.
Most respondents also said they waited three dates before sleeping with someone. I'm still not entirely sure how this "magic number" was plucked out thin air and ended up becoming The Thing that we do?
Playing games may seem childish and pointless, but according to the study a third of people reckon they'll text back within a quarter of an hour, with just five per cent saying they'd wait as long as two hours. Now this idea is a little bit barmy, but how about you reply when you get a free moment?
Oh but what on earth is the rule when you want to add a new lover on social media? The fact that this is even a question people legitimately ask makes me want to tear my own hair out. Apparently, it's best to wait until some point between the third and fourth dates before sending a Facebook friend request or following them on Twitter.
With digital dating comes some issue of safety, especially if you're meeting someone you don't know. It's unsurprising that half said they've looked up a potential date online before meeting in person. But this stat reveals just how shallow us millennials are, with 15 per cent admitting to cancelling a date after finding their date on social media #rude.
Jo Hemmings, behavioural Psychologist on the show, said: "The advance of smartphones has made dating both easier, and more difficult. There are countless apps to help people find dates, but the conundrum of how soon to follow someone on social media or get in contact opens up a new layer of pitfalls.
"Our parents may have had nothing more complicated to worry about than when to ring a date up on the landline, but these days there are dozens of methods of communication that all have to be carefully orchestrated."
For exclusive competitions and amazing prizes visit Reveal's Facebook page NOW!