There is an underestimated amount of healing power in a good cuppa.
Boyfriend's being a nightmare? Have a brew. Friends peeing you off? Whack the kettle on.
There's just something about a mug of jolly good English Breakfast that seems to wash all your cares away.
And now there's even more reason to get your tea-making skills in the bag.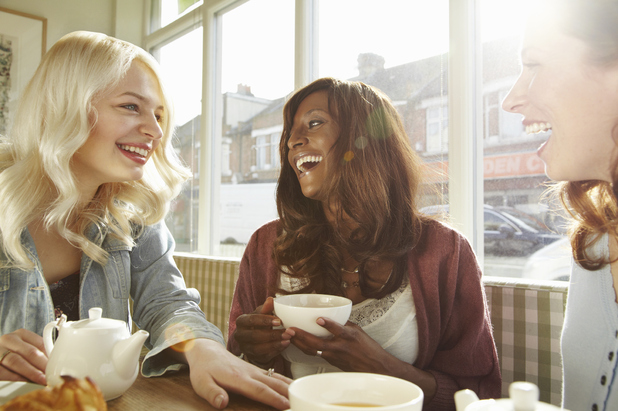 A new study shows making a cuppa is one of the biggest compatibility tests for a couple. Apparently the best way to find out if your partner knows you, is to get them to make you a hot beverage.
According to research by animal charity SPANA, seven out of 10 Brits who are in a relationship are obsessed with drinking tea. But a quarter of them say their loved one is totally incompetent when it comes to making one.
Whether it's stewed, too sweet or not strong enough, 35 per cent said they wouldn't complain to their partner in case it upset them. Meaning time and time again, couples are secretly returning to the kitchen to add more milk, or another tea bag behind their partner's back.
What's more, 11 per cent claimed their work colleagues actually make them a better cup of tea than their partner, and therefore, know them that little bit better.
The study was conducted to mark the charity's
World Tea Party
fundraising campaign.
One in 20 of those questioned said they'd never, ever, made their other half a cup of tea!
And hilariously, a third of people will use a cup of tea against their partner if they've had an argument – making a round for everyone else in the house except them.
Bizarrely, one in 10 couples have had a massive barney because of a cup of tea, after one person failed to make it correctly.
Charity chief exec Jeremy Hulme said: "Many people feel passionately about getting the right brew – we know that the tea round can cause controversy in work places, and it looks like getting the perfect cup of tea can affect relationships as well!
"The great British public place a lot of weight on a cup of tea – and for couples it is another way to demonstrate just how much they do or don't know about each other.
"The UK tends to love a proper English brew, but tea is enjoyed worldwide in many of the countries where we provide free veterinary treatments to working animals, such as horses, donkeys and camels, which is why we felt the SPANA World Tea Party was the perfect way of bringing people together to raise funds to help hardworking animals abroad."
According to the results, these are the top 10 problems solved by a hot, steamy brew!
1. A hard day at work
2. When feeling particularly stressed
3. A busy morning at work
4. After suffering a shock
5. After receiving bad news
6. When feeling overworked
7. During or after a long and arduous meeting
8. A busy morning with the children
9. A family day with distance relatives
10. When breaking up with a partner
For exclusive competitions and amazing prizes visit Reveal's Facebook page NOW!