It's International Kissing Day today!
According to a recent survey of 45,000 people by Elite Singles, only four per cent of daters think being a bad kisser is a deal breaker.
Well, that's good news for anyone feeling a bit unconfident in their smooching skills.
That being said, we all know confidence is THE sexiest thing.
So Elite Singles have compiled a list of their best kissing tips for anyone who wants to woo their date, tongue-first.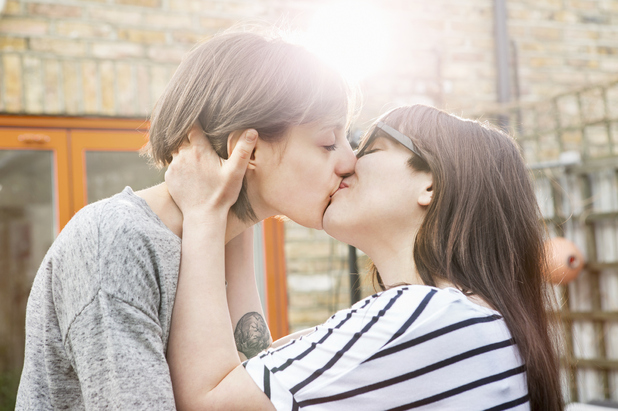 1. Lip preparation is key
If you're anything like me, you never ever leave the house without a pot of Carmex because your lips would literally fall off if you didn't apply it every two seconds.
Elite Singles say there's nothing worse than going mouth-to-mouth with someone whose lips are chapped and flaky. So make sure you soften up before you pucker up!
Maybe don't apply it moments before you're about to make out though, while lubrication is nice, you don't want to be slipping around like a seal in a bathtub.
2. Don't ask for permission
While this tip immediately makes me feel on edge, I don't think they're saying that you need to forget everything you know about consent.
Consent is sexy, so make sure the person you're snogging is up for it.
Their tip is that although you might think asking your date if you can kiss them is being polite, it could be read as nervousness.
This is a bit of weird one, so do whatever feels right for you and your date.
3. Don't plunge into the kiss
There is nothing grosser than when someone's face just looms out of nowhere and lands on yours. Surprise kisses are the actual worst, so avoid at all costs.
Elite Singles say you should lead up to the kissing moment with "prolonged eye contact" and a "subtle stroke on the arm".
Personally, this kind of creepy behaviour would make me run a mile! But if you're into the whole staring-into-each-other's-eyes malarkey, go for it.
4. Build passion
They suggest starting gently and build your way up to a full on snog. Steamy!
5. Be enthusiastic
If you're into them, show them in the way you kiss, they recommend.
Feeling like you're kissing a dead fish can be the ultimate mood killer. You want the other person to be well into it too!
6. Try not to bite their face off
Elite Singles say: "If in doubt, avoid using your teeth entirely".
I feel like this can be translated to any sexual or romantic act...
Most people, unless they've mutually agreed beforehand, don't want to cause their date any pain.
So if you have to, nibble rather than going in all gnasher's blazing.
7. Don't neglect the other erogenous zones
Ears, necks, cheeks... they're all pretty sexy really aren't they?
8. Get your mitts involved
While Elite Singles suggest having one hand behind their neck and another on their waist, I worry this would leave you feeling more like a horny pre-teen couple at a school dance rather than sexually empowered adults. Cringe!
You can read their full guide
here
.
For exclusive competitions and amazing prizes visit Reveal's Facebook page NOW!