When you first meet someone you might potentially snog, the last thing you want to come across as is stingy. Right?
Is there anything more unattractive than someone who has a tight old grip on their purse strings?
Well, apparently any daters that agree with this statement are basically doomed.
Seven in 10 of us say we think it's acceptable to use a voucher on a date. SAY WHAT?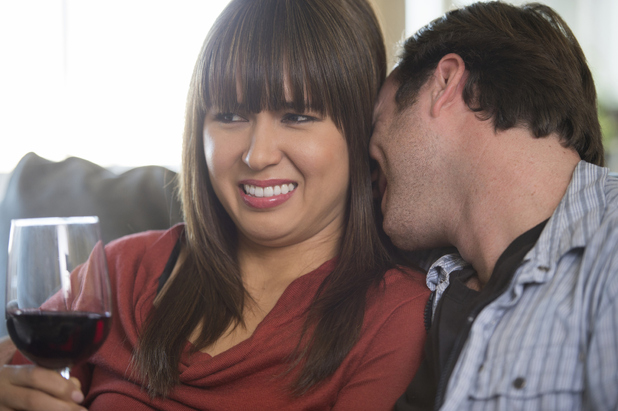 A study into the saving habits of 2,000 Brits revealed less than 30 per cent feel uncomfortable using a voucher to wine and dine a potential partner. These are the normal, well-rounded human beings, yeah?
Would you really not feel grimmed out if on a first date, the person presented a BOGOF coupon? Surely you'd make a speedy exit.
Eighty per cent unashamedly admitted they go to great lengths to hunt for a bargain.
The research, commissioned by
MyVoucherCodes.co.uk
also unveiled Britain's biggest voucher fan, Alexandra Blyth Sharman-Cox, an insurance worker from Essex.
Alex said: "Everyone who knows me knows I love a bargain. I can't resist a discount.
"I got married to my partner last year and vouchers were a big help when it came to lowering the cost. The savings we made must have come to almost £1,000.
"My own savings come mainly from lifestyle vouchers. I'm a self-confessed online-shopaholic and can't resist a Ted Baker garment or Oasis must have. Finding a great bargain is like a little victory, but over the years those little victories can turn into substantial savings."
While the average Brit will manage to accumulate almost £3,000 in savings each year, 30 per cent don't save any money at all. This news will come as a sweet relief to those of us who rinse their bank account down to the very bottom each month.
The study revealed that the most popular time to use a voucher is during a meal out, with 62 per cent saying they had done this.
Chris Reilly from MyVoucherCodes.co.uk said: "It's great to see that getting your voucher on during a date isn't a total mood-kill for us Brits.
"It's clear from the research that most of us love a good deal where we can find one, so it's a good thing that being a bit thrifty here and there doesn't dull the romance."
Hmm, not sure about that one Chris.
For exclusive competitions and amazing prizes visit Reveal's Facebook page NOW!