The Mayhew Animal Home helped rescue Lola, an eleven-year-old blue Staffie, and now she's now spreading the love by helping them with their TheraPaws visiting pet therapy programme.
Seven years ago things were very different when a malnourished Lola was found dumped outside
The Mayhew
.
Being a blue Staffie (meaning that she has a grey coat), Lola was quite a rare dog so The Mayhew suspect that her previous owners used her as a breeding machine, and then abandoned her when she was no longer wanted.
But, after being cared for by The Mayhew, Lola was quickly adopted and given a forever home by Charlie and Ben Le Rougetel.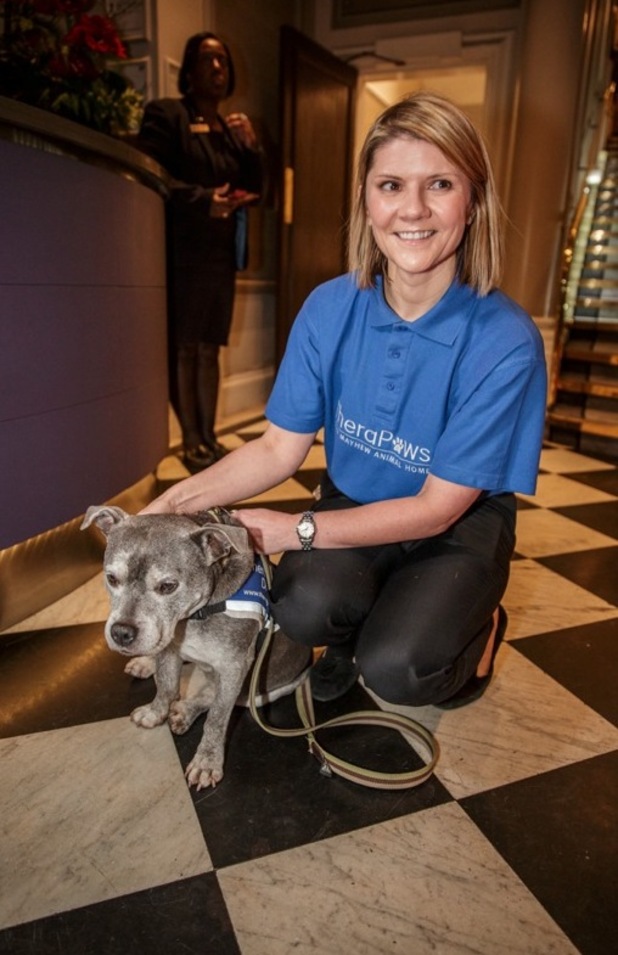 Charlie says; "I met Lola and she was as soft as butter. The first thing I noticed was her snuffling pig noises – she was so endearing."
After turning her life around, Lola now dedicates her precious time to older people by volunteering as a TheraPaws dog, providing pet therapy for residents at care homes, community centres, hospices and hospitals across North and West London.
The cute Staffie and her doting owner have recently visited Kenbrook Residential Home in Wembley Park where Lola dishes out much needed cuddles and love.
Charlie says; "I got involved with TheraPaws after reading about it in a newsletter. I thought it was such a simple but really wonderful idea, and that Lola would be perfect because she is such a gentle dog.
"It was quite moving the first time we went on a TheraPaws visit. It's such a lovely home - all of the residents are a delight to spend time with and as soon as they see Lola, their eyes light up, their spark comes back and they just become super engaged."
"Even though we only go for an hour every two weeks, so many of the residents now recognise her. It means a lot to see the joy in their faces when I take Lola in."
Aw! Not only is Lola a caring therapy dog who is helping to improve peoples' lives, she's also a brilliant Staffie ambassador who is changing people's perceptions – in our eyes, she's a true pet hero!
To find out more about TheraPaws, visit
www.themayhew.org/therapaws
or call 020 8962 8000.
For exclusive competitions and amazing prizes visit Reveal's Facebook page NOW!