The way some women have a thing for handbags or shoes, I've always adored lingerie.
I remember clearly the first time I went into a La Senza and bought my first matching set. I was instantly hooked. In fact, for a while, I spent more on my underwear than my outer-wear.
So if there was one thing I was
not
going to mind spending time on, it was going to be my wedding lingerie.
But, like everything, underwear is all a bit more complicated when it comes to weddings, so thankfully
Wonderbra
fitting expert, Emily Botham, has given me some tips.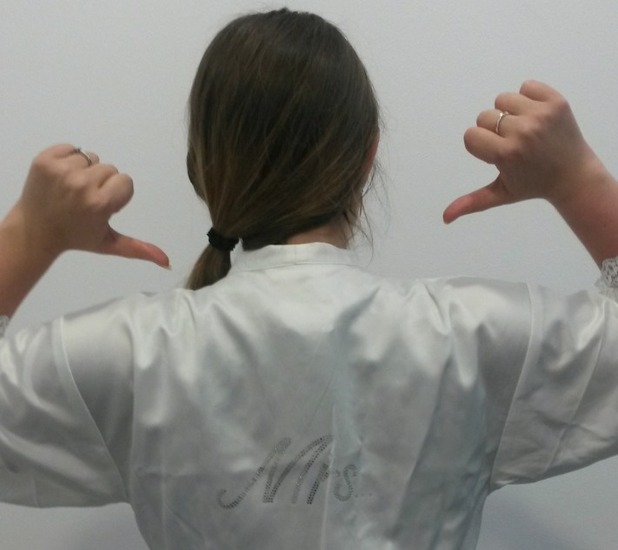 "With a long day ahead, brides want to ensure that their focus is on enjoying the big day, not getting distracted by underwear niggles, therefore support and comfort are key," says Emily. "However, there is still the wedding night to consider, so a hint of sex appeal is essential."
"It sounds simple but every bride should make sure they know their correct bra size. Apart from providing all-day comfort, it will improve posture and enhance the fit of the dress, to ensure you feel confident.
"SS16 bridal trends embrace a variety of necklines, from halter to sheer lace, so choosing lingerie that doesn't show and provides great support can be tricky.
"For a hint of cleavage in a sweet-heart neckline, choose a bra that fully encases your breasts with no overspill. The underwire should sit behind the breast tissue, on the ribs.
"Opt for a supported basque to ensure your silhouette is smooth and supported all day.
"Strapless dresses have often been associated with unflattering underwear choices but there are some pretty choices out there that hold the breasts in place and giving the bust a lift."
Armed with my new knowledge, I scoured the high street – and these are my top suggestions for any brides-to-be. Or anyone who just fancies treating themselves (or their man)…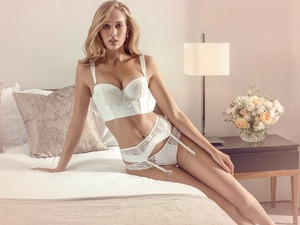 Beautifully bridal
Boux Avenue
's Angelina range is, quite simply, gorgeous. The longline bra and thong is a luxurious cream with lace detailing. It's comfortable, the fit is great and you're guaranteed to feel utterly lovely in it.
Angelina satin longline bra - £45
Angelina satin briefs - £20
Naughty nights
Wonderbra
's bridal collection is super-sexy making it the perfect option for your big day - and night.
As usual with Wonderbra, the fit is perfect, giving you a gorgeous shape. And the basque shows off your figure when it's at its best.
Wonderbra Bridal Basque - £50
Wonderbra Bridal shorty - £18
Perfectly practical
This Deco Darling collection from
Freya
is smooth to the touch and extremely comfortable. The bra gives a gorgeous shape and the knickers are so fine, there's no worries of any VPL. This set would easily get you through the day and it's understated elegance means it definitely be an evening contender too.
Thong - £13
Moulded plunge bra - £38
Moulded strapless bra - £40
Fab for photos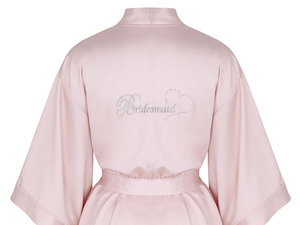 These cute 'Mrs' and 'Bridesmaid' robes from
Boux Avenue
are perfect for wedding-morning pics – and can easily double-up as gifts for your girls too. They're also ideal for doing your hair and make-up in before slipping into your gowns.
'Mrs' robe - £45
'Bridesmaid' kimono - £45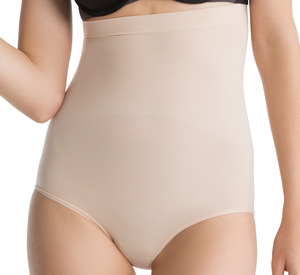 And don't forget your Spanx!
Not the sexiest of underwear but
Spanx
are definitely the handiest. This Higher Power Panty will hold in any wobbly bits you haven't quite managed to get rid of before your bid day as well as ensuring you have the smoothest of silhouettes!
Spanx Higher Power Panty - £33
If you have any tips or questions, get in touch with me at @Sarahw0684

More from the Clueless-Bride-To-Be:> 18, The bridesmaid dresses17. Two brides thrash out the great gift list debate16. All about flowers15. Cakes, cakes, cakes!14. Picking your perfect ring
13: The photographer
12. The invites
11. The wedding fair!
10. My (first) big mistake
9. How to pick a wedding dress to suit your shape
8. Reader, I got a brace!
7. Choosing the all-important venue
6. The dreaded guest list
5. Breaking down the budget
4. Picking my bridesmaids
3. Everything you need to plan or buy
2. Getting by with a little help from my friends
1. The proposal!