I've avoided it for as long as I can but I can't put it off any longer.
So I've taken a deep breath, steeled myself and decided to tackle the bridesmaid dresses.
I have no shame at all in telling you all how beautiful my bridesmaids are. You've seen the pictures, you know I'm not just biased. But they're all so completely different – in their skin tones, their hair colours, their heights, their body shapes. Everything.
How on earth am I going to find a single dress that is going to suit all of them?
Because I've decided I do want them all to wear the same. I know it can look amazing to have your bridesmaids wearing different dresses in the same colour or, alternatively, wearing the same outfit in a variety of shades. Or even just giving them complete control, and having them all wearing totally different ensembles.
But I love the idea of them being instantly recognisable as part of the wedding party and other people knowing immediately who they are. They're important, don't you know?
I've got various thoughts – maxi dresses, because they tend to suit most people, not too fitted, so they'll be comfortable.
But where to start…? Do I take them all shopping? Do they get to choose or do I?
My friends, of course. Loads of them have been married – what did they do?
Caroline
"I really wanted my bridesmaid dresses to have sequins or sparkles as I wanted it to keep them in line with my dress, which was kind of 1920s style,"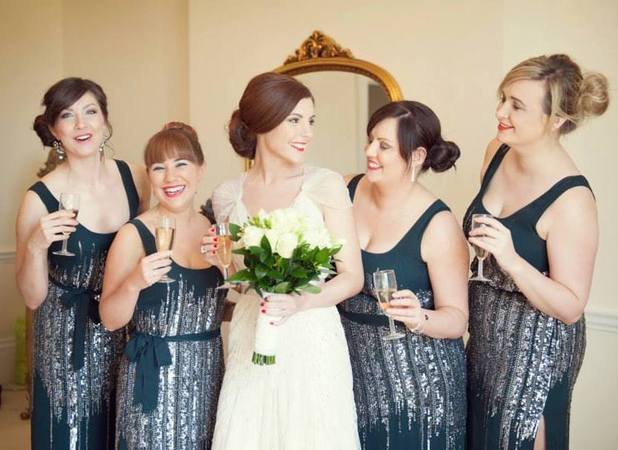 "I'd seen a gorgeous dress from French connection but it was over-budget. However, when I rechecked their website a couple of months later, it was reduced by 75 per cent.
"I sent the link to the bridesmaids and everyone was really positive, so I ordered them. And when they tried them on, they really liked them.
"Although all four bridesmaids were different shapes and sizes the maxi length, empire line with straps seemed to really suit everyone. I'd have been gutted if they hadn't liked it, but would have changed it – I wanted them to feel good."
Charlotte
"I got all of mine for £15 each in H&M! I think it was a fairly neutral shape that suited all & I included wraps and shoes. To be fair, I just chose and hoped for best.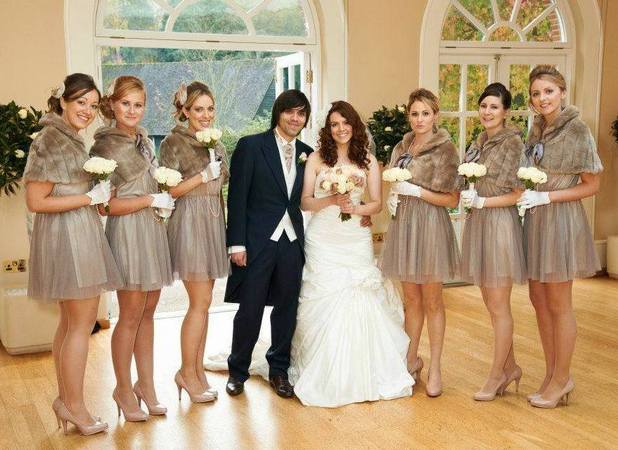 "They all had same hair too. I think a few girls would have chosen different but I thought they looked great."
Kim
"I had four bridesmaids of various shapes and sizes. We spent a day shopping around, before we went to Two Birds Bridesmaids where they tried on a wrap dress and all looked super hot.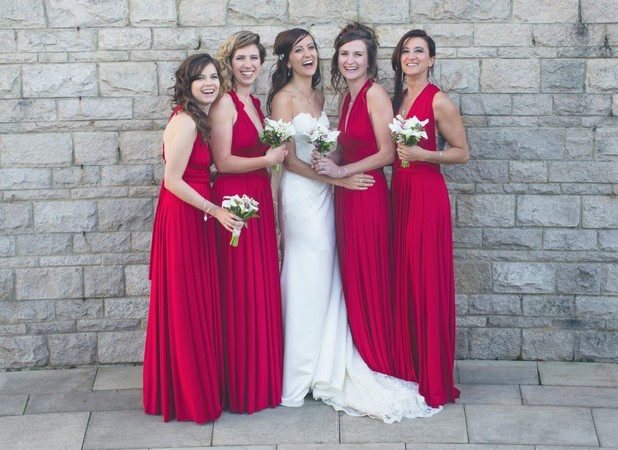 "It was a mutual decision to go for red as I wanted them to all look smoking and it suited them all! The best thing about those wrap dresses is you can tie it to suit your shape - my sister could show off her massive tattoo, my bridesmaid Hannah could wrap up her massive boobs, etc.
"I loved how they all looked similar yet were able to put their individuality on it. I think the dresses were £150 and I paid half of each."
Kerry
"I went for high street as I'm not into traditional bridesmaid dresses. I knew I wanted knee length so looked online for a while. I ended up finding a dress I really liked from Reiss. I had four bridesmaids so I ordered them dresses and when they tried them on, I thought they all suited it. So it was my choice really!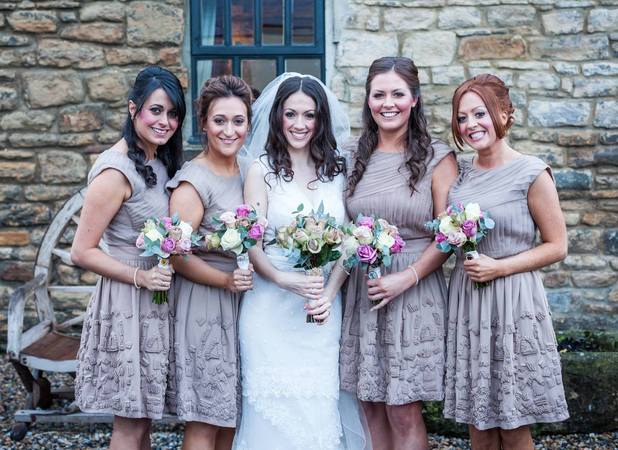 "I let them get their own shoes, but told them to get either pink or a neutral colour and also sent them a few examples of ones I liked. They decided that two bridesmaids would have one pair of shoes and two another, which worked well."
Jo
"My four bridesmaids were scattered across the UK and Amsterdam so a day out bridesmaid dress shopping was looking unrealistic. I knew what I was after – something navy, lacy and not floor length…so typed my requirements into Google Shopping which came up with the goods pretty quickly.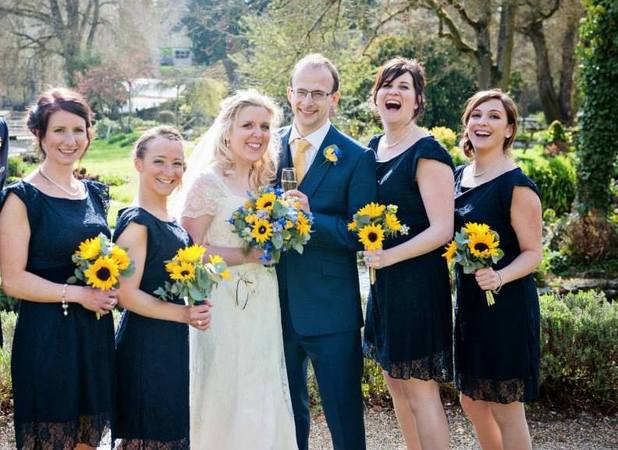 "I sent a link to the girls to see if they liked it. They did – hoorah! - and my efficient 10 minute bridesmaid dress shopping was over. I purposefully chose a style of dress which wasn't overly tailored to increase the chances of getting the sizing right."
Hannah
"I didn't want anything too bridesmaidy so my girls and I hit Westfield for a look around the shops. I was in the midst of a deep love affair with Whistles at the time, so we ended up in there trying on lots of different dresses.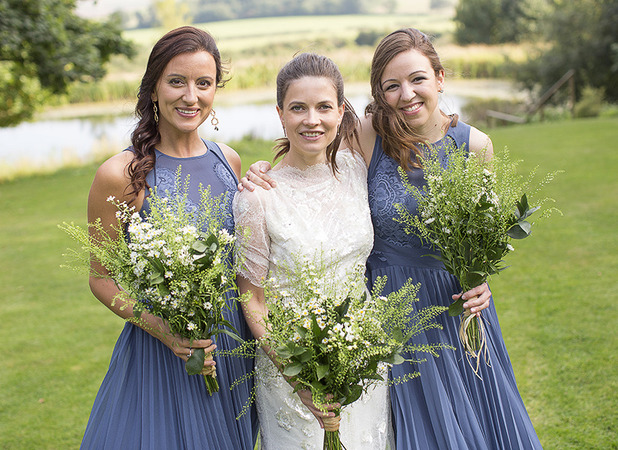 "I was conscious my two besties were grown women with their own sense of style, so was happy for them to chose whatever they wanted - same colour and different dress, or same dress and different colour.
"In the end they opted for the same dress, a long lavender number from Whistles, and they even bought matching shoes!
"One piece of advice - ask your bridesmaids to be brutally honest when it comes to dress trying-on. I've since learned from one bridesmaid that she thought the dress made her hips look wide. It didn't, but try to make sure your gals are 100 per cent sure before you buy."
Anne
"I chose the colour as I wanted certain colour scheme and we just went to a shop and tried on loads.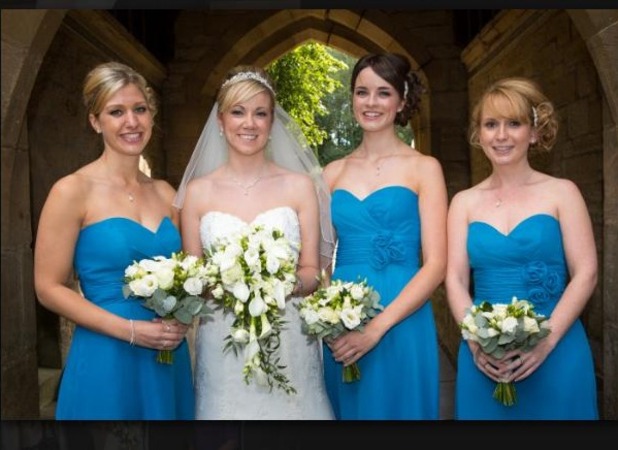 "They narrowed it down to their two favourites, then I made the final choice."
They all make it sound so simple, I wonder if I'm panicking over nothing. After all, it is only shopping – and that's one thing I've had years of practice with…
If you have any tips or questions, get in touch with me at @Sarahw0684

More from the Clueless-Bride-To-Be:
17. Two brides thrash out the great gift list debate
16. All about flowers
15. Cakes, cakes, cakes!
14. Picking your perfect ring
13: The photographer
12. The invites
11. The wedding fair!
10. My (first) big mistake
9. How to pick a wedding dress to suit your shape
8. Reader, I got a brace!
7. Choosing the all-important venue
6. The dreaded guest list
5. Breaking down the budget
4. Picking my bridesmaids
3. Everything you need to plan or buy
2. Getting by with a little help from my friends
1. The proposal!