When Laura Hinton, Reveal's Acting Features Editor, was invited to join a mistress masterclass, she donned the latex, grabbed a whip and jumped right into the erotic and challenging world of BDSM
'When my eyes scanned over the email invite, two sentences jumped out.
"Do you want to be treated like the goddess that you are?" it read. "Would you like to give someone the ultimate pleasure by allowing them to serve you?"
Oh, hello! I thought, reading on.
It turned out I'd been invited to a mistress masterclass, hosted by
Scarlet Ladies Talk
, a collective of women who put on intimate workshops and salons about sex. The class promised to teach me all the skills I needed to find the mistress within.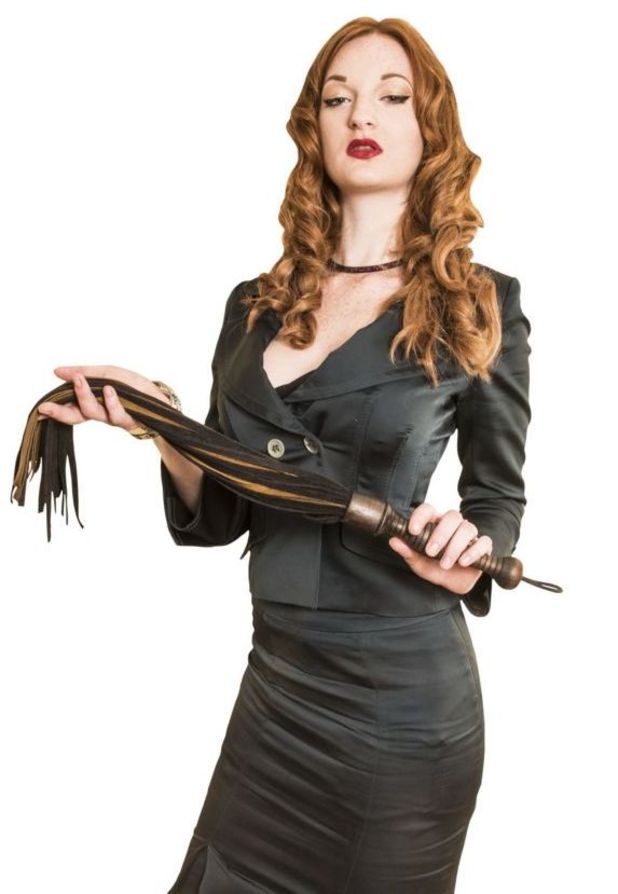 Intrigued to learn the tricks of the trade, and cocky enough to think I'd get an A-plus in spanking, I decided to give it a go...
On the day of the class, I'm surprisingly nervous, so I drag a friend along for support.
After introducing ourselves to the small group of women present, we have a few drinks, and then mistress Zara DuRose walks into the room.
A natural redhead, Zara, 25, is incredibly striking – she's all 50s-style power suit and skyscraper heels.
Although she's surprisingly softly spoken, Zara has an air about her that commands attention.
"I've worked as a fetish model and professional dominatrix for three years," she tells her audience.
"My fetish goes back to when I was really young. I remember being six years old and loving the feel of my latex swimming cap. That excitement has never left me."
As I start to feel a little hot under the collar, Zara goes on to explain that she sees 25 clients a month.
In her personal life, she's married to a man as well as being in a long-distance relationship with a woman, who is her submissive. Zara and her hubby have a dungeon in their spare room, which has a wooden spanking bench, a big wardrobe of latex outfits and a giant cage... so this woman clearly knows her stuff!
As she starts listing all the different types of domination, I realise I have a lot to learn.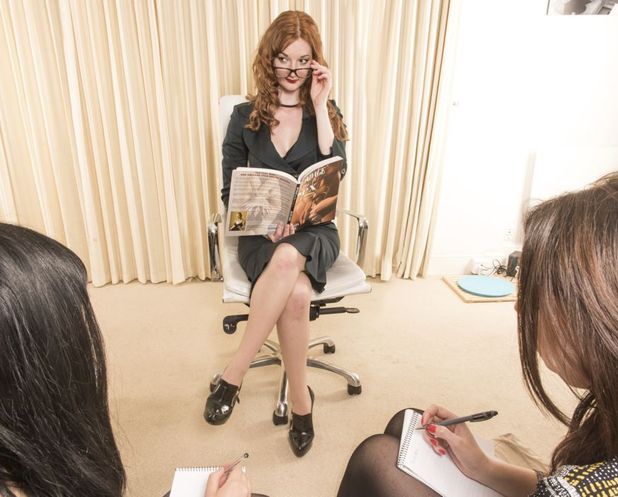 "Some men really get off on financial domination," she says. "I manage their budget and humiliate them in public.
"Other men want to be your human furniture. I also have clients who'll travel 10 miles to pick up a pint of milk and hand-deliver it."
When Zara starts talking about more extreme things, like needle play and hook suspension, I begin to feel slightly queasy.
"So, do I look the part as a mistress?" I ask, keen to move on.
"You need to dress a certain way," she says. "Stockings will make you feel really hot, and a power dress works well with red lippie and perfume.
"The most important thing is being able to read your partner's body language. You need to register every breath."
In the next section, Zara introduces us to her favourite equipment. As she hands out whips, floggers, ball gags, crops and ropes, I feel intimidated.
One of the metal contraptions, which keeps your mouth locked open, looks like something out of a horror movie.
"But why would you want to do that?" I ask... before it suddenly clicks.
If, like me, you're a newbie to this kind of thing, Zara advises you stick to blindfolds during play.
"When you take away one sense, all the others are heightened," she says. "You can then play with temperatures... try stroking an ice cube across the skin."
Next, Zara shows us how to tie a simple knot as part of a bondage routine. We're all handed a rope to try it ourselves.
"Looks easy enough," I say to my friend. But I fall into a complete tangle.
"You'd better practise that one at home alone first," my friend giggles.
Next, Zara shows us her favourite floggers. When she asks for a volunteer to show her technique on, my pal puts her hand up straight away.
Before I know it, she's on all fours being gently flogged by Zara, who, of course, is an absolute pro.
"My eyes!" I laugh, knowing it's an image that will never leave me.
By the time Zara gets out her electro- play kit – a device which creates electric pulses through the skin – I decide I'm a complete wimp.
For exclusive competitions and amazing prizes visit Reveal's Facebook page NOW!