Well this is incredibly depressing.
Research carried out by
Durex
has revealed just how technology is ruining people's sex lives.
Perhaps deep down, we all knew that our obsession with social media and instant messaging was damaging our real world relationships. But what Durex found is pretty startling.
So, you're going away with your partner. More likely than not, you're looking forward to being alone in a luxury setting. Sex should definitely be on the cards right?!
Of the couples questioned for the study, 52 per cent said they expected to have better sex on holiday. So far so normal.
But 60 per cent admitted that in reality, their holiday sex rarely meets their expectations.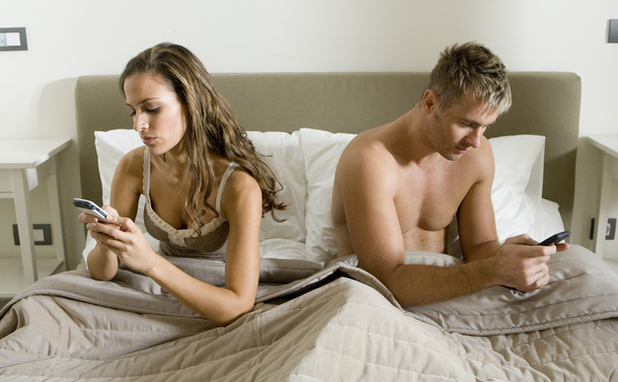 So why have couples' getaways become so disappointing?
Well, 40 per cent of people are less likely to instigate sex if their partner is on their phone in bed. And 41 per cent admit nights on holiday together can be spent in bed concentrating on their phones rather than each other. Sad face.
Other reasons bedroom time has becoming less of a priority is because of "digital distraction" aka checking your phone on holiday - and 26 per cent said this led to an argument while away.
More than half of people questioned felt their relationship suffered as a result of their partner spending too much time staring at a screen.
Alarmingly, 72 per cent of couples admitted to using their phones during sex. HOW/WHAT/WHY?!
This is scary and worrying, because your time away is meant to be exactly that.
Durex sex and relationship expert Alix Fox said: "It's time to take action! Try setting a time limit on how long you can use your handsets for, then turn them off, pop then in the room's safe and lock them away while you play.
"Book a wake-up call from reception each morning, so you don't need to rely on your phone's alarm. Turn on the Out of Office autoresponse on your mails, and think of it as a message to YOU as well as your colleagues and clients: you are not online, and the 9-5 can and should wait.
"Rather than viewing your holiday as something you have to broadcast to the masses on social media, delight in keeping aspects of it as special secrets just for the two of you to share – such as what happens in your hotel bed, your shower, your bath tub… Don't just make media posts; make memories. And make love."
Thanks Alix. I think we could all do with taking this advice from time to time.
For exclusive competitions and amazing prizes visit Reveal's Facebook page NOW!