So Mr T and I have gone a bit off piste. OK, a lot off piste.
Wedding rings were fairly far down our wedding to-do list. Neither of us wanted anything fancy, so I'd just imagined popping into a jewellery store a week or so before the big day and picking out a simple band to take home there and then.
I didn't want it too soon or I could imagine turning into my little sister, Laura, who bought her wedding ring a couple of months before she and her other half tied the knot and he'd often come home to find her wearing it. I definitely didn't want that temptation.
However, things didn't quite go to plan.
Mr T and I have made a list of things we need to organise, book and pay for, and have been steadily working our way through it. Methodically and in order. I have a wonderful spreadsheet that I get far too much enjoyment from highlighting green when we've paid the different items or people off and yellow when we've given a deposit. Brilliant fun.
However, when we were walking through town, we passed the jewellers where Mr T got my ring from. It was really posh, the kind of store that only has a few pieces to look at in the window and you have to ring on a doorbell to be allowed in.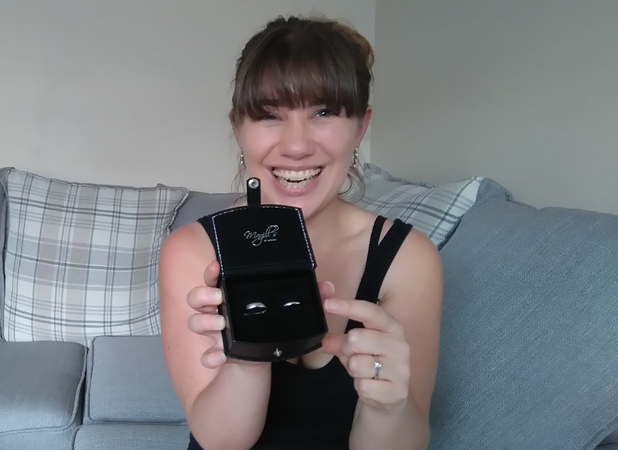 Obviously I wanted to go inside. And obviously it didn't stop there. Before I knew it, we were speaking to the owner and discussing the different types of wedding bands that would sit best with my engagement ring and the different metals Mr T could choose for his.
I decided to go for a plain white gold ring, the same width as my engagement one. Although I'd been asked whether it should be shaped so the two could sit smoothly alongside one another, the jeweler advised not to, as then I wouldn't be able to wear it alone. (Note, apparently I might want to leave my sparkler at home when I go on holiday, but not my wedding ring.)
And instead of going for white gold, Mr T chose a slightly wider palladium band. A silvery-white metal, it looked very similar to mine but it is known for being more durable.
After 20 minutes in the shop, we'd ordered custom-made bands and just a week and a half later, we picked them up. Bring out the spreadsheet, another line highlighted. Who said this wedding-planning malarkey was hard?
But our trip to the jewellery shop had started me thinking about what other jewellery I'd need for the wedding – something I hadn't considered before.
"Some brides will choose to go all out and pile on the diamonds on their wedding day, while others will stick to a far more minimal approach," says Vashi Dominguez, from online diamond specialist
vashi.com
.
"Every bride and wedding is different and the most important thing is to remember that your accessories should suit you, your personality and your tastes.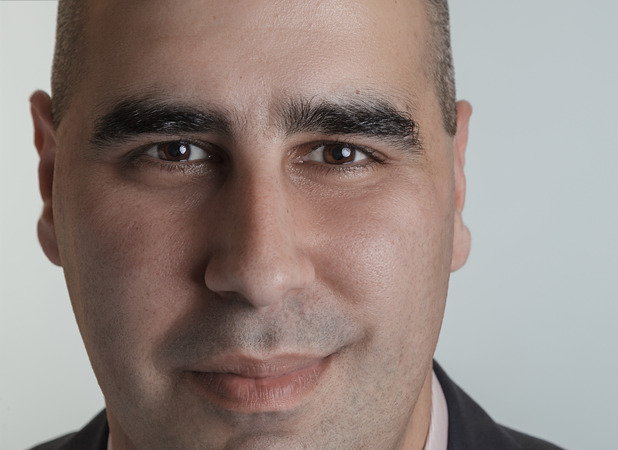 "Having said that, we find pearls are the most popular type of bridal jewellery, with many brides favouring their simplicity and elegance. Discreet but sparkling styles are also a winner, providing brides with a slightly more sophisticated incarnation of the princess wedding dream.
"It's worth bearing your dress in mind when choosing your jewellery, to ensure any pieces will contribute to the overall look, rather than distract from it.
"If you're struggling to choose, asking the advice of someone that you trust and knows you well is sure to give you food for thought. Even if you don't agree with their preference, it will help to clarify your own!"
I didn't need any more rings (clearly!) and bracelets tend to annoy me, so I scrapped them off the list straight away. My dress (look away, Mr T) is quite embellished, so a necklace might get lost. But earrings…
Ever since I got my ears pieced when I was 10, I've always worn a pair. Hoops or dangly ones are my favourite and I literally feel uncomfortable all day if I forget to put them in. I'm so used to seeing them, my face looks odd without them.
Hmmm, this is definitely something to think about. I have a feeling the spreadsheet (and the budget) will need updating soon…
If you have any tips or questions, get in touch with me at @Sarahw0684
More from the Clueless-Bride-To-Be:
13: The photographer
12. The invites
11. The wedding fair!
10. My (first) big mistake
9. How to pick a wedding dress to suit your shape
8. Reader, I got a brace!
7. Choosing the all-important venue
6. The dreaded guest list
5. Breaking down the budget
4. Picking my bridesmaids
3. Everything you need to plan or buy
2. Getting by with a little help from my friends
1. The proposal!