When the devastating Nepal earthquake hit in April 2015, five- month-old Sonies was buried in rubble. A year on, his loving mother tells how her son became a symbol of hope for so many
To watch toddler Sonies Aawal tottering around, squealing excitedly, it's hard to believe he came so close to death.
One year ago, gorgeous little Sonies became known as the Nepal earthquake's miracle baby. He was buried alive for 22 hours in the rubble of his family's house.
Everyone thought he had been killed.
Incredibly, he survived because a cupboard fell over his bed, protecting him. He was dug out and rescued the following day.
As she watches Sonies play with his big sister, Sonia, 11, his mum, Rasmila, 36, has tears in her eyes.
"I try not to think too much about what happened last year with the earthquake," she says. "Sonies is such a lovely boy. I am just so, so pleased and relieved that he survived, and that Sonia escaped as well.
"But my nieces both died. My brother-in-law and his wife lost both their daughters, their only children. That makes me realise just how lucky I am every day."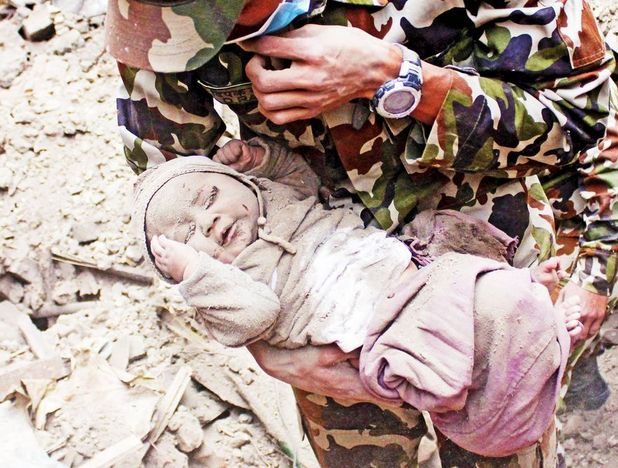 Last year, on April 25, the family had an extremely fortunate escape from the South Asian quake that killed almost 9,000 people.
At the time, Sonies' smiling face was pictured around the world, as the one tale of hope among all the horror.
He was only saved when neighbours heard faint cries from under the rubble of his home and called in the Army.
A team of soldiers eventually managed to free the baby from the wreckage. Miraculously, the cupboard had stopped rubble falling on top of him, saving his life. Now 17 months old, he is a happy, bright, boisterous toddler. But the impact of the earthquake on the family's life has been immense.
They can't move back to their home, as it's still a mass of rubble on the main street of Muldhoka, just outside the capital, Kathmandu.
The family, who managed to salvage some pots and pans and a few clothes, now occupy one tiny room nearby.
And there is no prospect of returning to their former home.
"We won't be able to move back," says Rasmila.
"We obviously wanted to try and rebuild the house, but it is on the main road through the town, and the Government want some of the land to build a bigger road.
"It's devastating – we'd lived there for 11 years. It's where we brought up our children.
"I cannot deny it's been difficult with all of us living in just one tiny room. We don't even have a television.
"But we are alive and we are still together, and now looking forward to the future. I want Sonies to have a successful life and have a good education. That is my dream."
Devoted Rasmila is thankful that her son bears no scars, physical or mental, from the disaster.
"He was just a baby, so he has no memory of what happened. He has no health issues and is fine," she explains.
The quake measured 7.8 on the Richter scale when it hit Nepal last year. In addition to the tragic death toll, more than 21,000 people were injured and an estimated 3.5 million left homeless.
The quake also triggered two avalanches – one on Mount Everest, which killed 21 people, making it the deadliest day in the history of the mountain.
Some 250 people were reported missing after the other avalanche, which happened in the Langtang Valley, also in the Himalayas.
Hundreds of millions of pounds of aid – much of it from the UK – flooded into the country, but Rasmila and husband Shyam, 35, have seen none of it.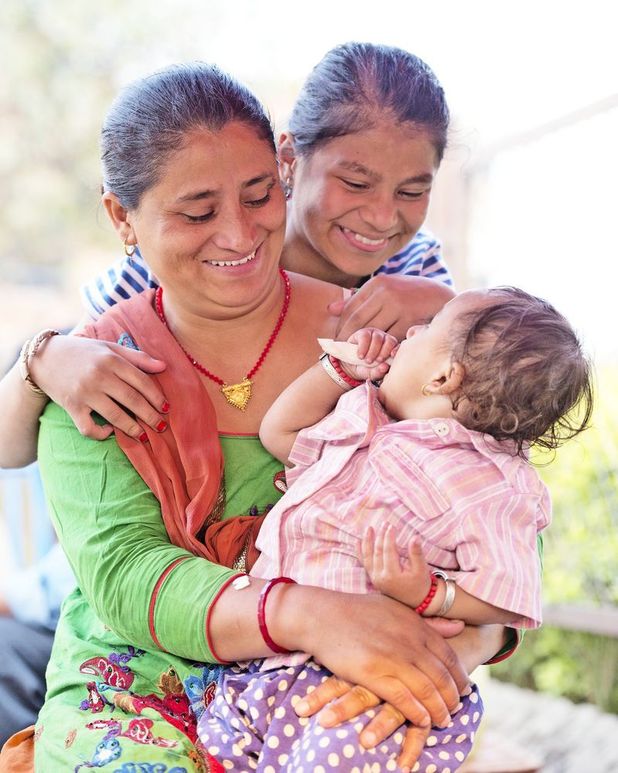 The Nepalese Government is has begun to slowly distribute reconstruction money, but Rasmila's family have yet to receive any financial help. Instead, they survive on Shyam's tiny earnings as
a truck driver.
"It's not just us," she says. "Our family has been badly affected, but so have many others. The situation has not been handled very well at all.
"I know it was a huge, tragic event, but I can't believe we are still living in one room a year later. I really miss my old home and the children do, too."
Sonies' favourite toys are a toy car and a football, but what he loves most is being outdoors, running about.
Despite being disappointed by the level of support offered since the earthquake, Rasmila is thankful every day for her wonderful little boy.
"It was a miracle, I was so certain he was dead," she says. "I believe my son is the sign of hope for the future, for all of Nepal. I prayed to every God and it looks like my prayers were answered."
By Andy Lines
To donate to the Nepal Earthquake Relief and Recovery Fund, visit
globalgiving.org/projects/nepal-earthquake-relief-fund/
For exclusive competitions and amazing prizes visit Reveal's Facebook page NOW!