Writer Daniel Harding was surprised when his best friend asked him to be her 'maid' of honour. But he took on the challenge, determined to prove a man could do the role.
"When my best friend told me she was getting married, I screamed down the phone with excitement."
After 11 years of friendship, 
I was thrilled that Alex Blyth, 28, was finally marrying David Sharman-Cox, 29.
The pair had survived seven happy years together without any trace of the so-called seven-year itch. Although, at 28 (100 in gay years), there was no ring on my own finger, I was glad that one of us was getting taken off the meat market.
The following day, in June 2014, we met for dinner. Alex beamed as she held out her hand to display a sparkling diamond ring.
"I"m scared to wear it!" she laughed. David had done well. We ordered champagne to celebrate, and Alex launched into bride mode. She told me they planned to marry in their favourite spot in Central Park, New York, in a year"s time.
And then she asked me to be her "man of honour".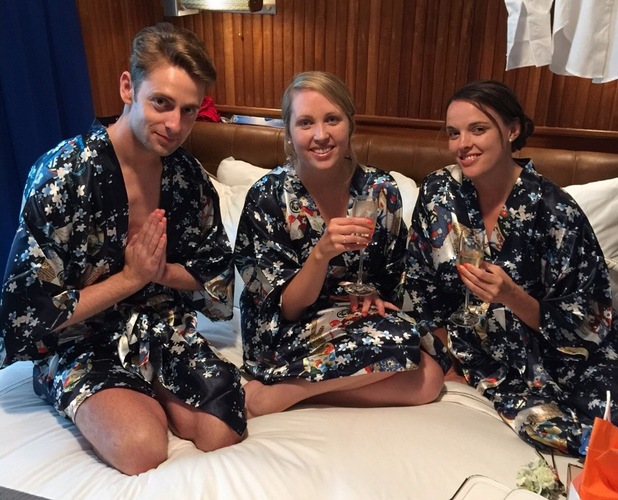 I stared at her blankly. Aren't maids of honour female, married and, well… old? Being gay, single and a man, I didn't tick any of the boxes.
As if reading my mind, Alex presented me with a blue book called Man Of Honour. She told me that, although I wasn't the stereotypical maid of honour, she couldn't imagine anyone else taking on the role.
In that moment, the stuffy tradition was broken. I slipped the book into my backpack and promised that, despite the disadvantage of being a man, I"d do everything in my power 
to give her a perfect day.
I mean, how hard could it possibly be?
Before I knew it, I was plunged into a world of white dresses, orange flowers, cake talk and hen-do planning – confusing stuff for any man. Thankfully, I had the help of my good friend and fellow bridesmaid Rosa, 29, without whom I would have struggled to understand terms like tit-tape, bridal fitting and bronzing, 
never mind which lipstick shade would complement the four bridesmaids" dresses.
Soon, my weekends consisted of perching on a stool while Alex searched for the perfect dress. As I sat patiently in the 15th dress shop, the Italian dressmaker there seemed stumped about my role.
"But you"re a man!" she pointed out, dumbfounded.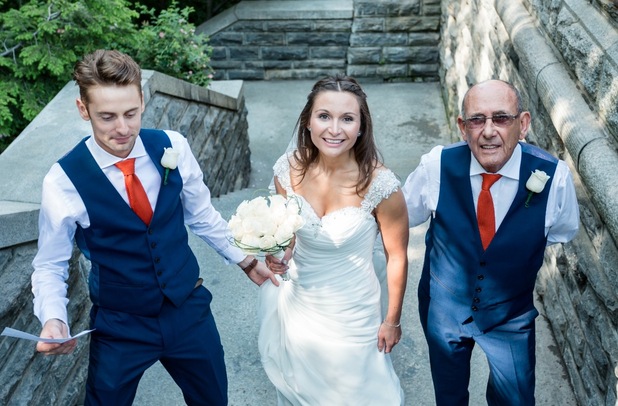 I confirmed for the third time that, while this was indeed the case, I was more than up to the challenge.
What felt like 100 boutique shops later, Alex finally fell in love with a beautiful backless white gown. Stepping out of the changing room, I stared in awe. This was the one; we"d done it.
But my job wasn't finished. Launching into "maid" mode, I had to arrange a hen do for 28 women, and my phone was permanently lit up like Blackpool Illuminations as I planned like crazy. Alex had always wanted something a bit different and, with Rosa"s help, I didn't disappoint her.
In April 2015, Alex was blindfolded and wedged in the back of my Fiesta Zetec, and we set off to spend the day on an army assault course. But the evening was a different story. It was all about the glamour, as we transformed a private bar in Southend into a NYC-themed venue with mini burgers and cocktails. My main job was to usher round the naked butler – tough gig.
And it didn't end there – there was another hen do in London, and a third in Dubai, which was full of non-stop parties and sunset beach yoga. My bank account may have ended up as bare as my perfectly waxed chest, but I enjoyed every minute. In the space of 10 months, we'd arranged the dress, the venue, flowers, four bridesmaid's dresses, and the New York itinerary. I had also surprised Alex with her "something blue", buying her dream wedding shoes.
Then, last June, 60 guests jetted to New York City, and 45 yellow cabs, 42 hotel rooms and 53 umbrellas were arranged for the freak thunderstorm that welcomed us.
But on the morning of the big day, I opened the hotel curtains to glorious sunshine. After the bridal breakfast, I found out a blow-dry isn't just for girls, as my hair was tugged into a male up-do. Then Alex handed me a silk robe. Sipping champagne with the similarly clad bridesmaids, I'm pretty sure I looked like a young Hugh Hefner surrounded by his bunnies.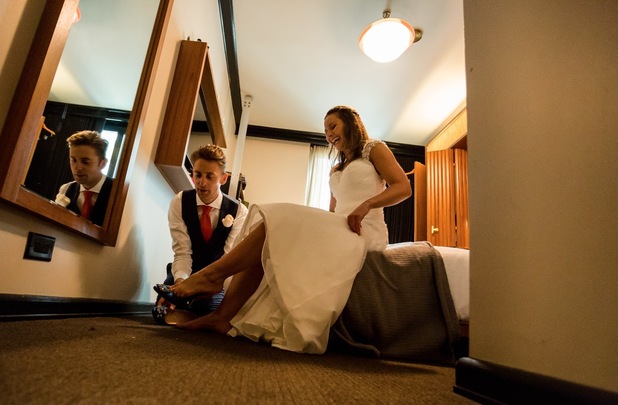 As the morning went on, I learnt how to put fake eyelashes on the bridesmaids, rehearsed a poem in front of the mirror, and attempted to backcomb my wilting hair.
Then it was time to go. I held Alex's dress up, making sure the white silk made no contact with the gravel underfoot.
As we got to Belvedere Castle in Central Park, I hugged Alex and told her this would be the best day of her life. Pep talk over, the music started and we walked down the aisle. What happened next was a blur. I supplied guests with tissues, politely told people to move out of photos they were bombing, and made sure everyone was having fun.
By 4am I was tipsy, dancing with the best men and smiling. An hour later, Alex was sprawled across a sofa, thanking me for all I'd done. I told her it had been my pleasure. And it really had. There are plenty of amazing things women can do that men can"t, but being there for a best friend is not gender-specific.
I was "maid" for it, and it really was an honour."
For exclusive competitions and amazing prizes visit Reveal's Facebook page NOW!