Wedding invitations are incredibly important. Even I know this.
Not only do they give your guests all of the important information – who, what, where – but they also offer the first glimpse of what the wedding will be like. Will it be formal? More quirky? Will it have a theme? The questions – and therefore, the pressure – were overwhelming.
I remember telling my newlywed friend, Lauren, that we weren't going to have a theme for our wedding. She looked askance, then insisted we get one. "It just helps everyone," she advised – very helpfully, it turned out. "Even if it's just a word, like 'romantic', or 'vintage', it helps your florist, your photographer, everyone, get a feel of what you want."
Well, I definitely wanted romance (who doesn't on their wedding day?!), but not so much vintage. But what I wanted above all was for our wedding to be
us
, about me and Mr T. After all, we were the ones getting married.
So we decided to make our theme books (for me) and music / films (for Mr T). Very pop culture. But not too over-the-top – Mr T's suggestion that we send 'gig ticket' invitations didn't go down very well, let me assure you.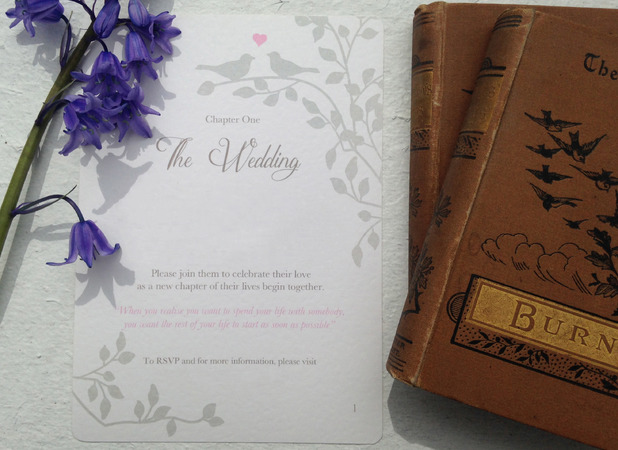 Thankfully, this was where Mr T's lovely friend Jude stepped in. She works at a wonderful online boutique called
Wedding in a Teacup
and offered us a helping hand, something we grasped very firmly.
"If you're not a standard, formal kind of girl, why choose standard, formal wedding invitations?" says Hester Lear, founder of Wedding in a Teacup. "There's a lot of choice out there so make sure you find something that wows you… and if you can't, then go bespoke. You can theme by colour, by style, by what you and your fiancé love and what represents you both best.
"A bespoke invitation service allows you to create something highly personal to you, but it's inevitably expensive so seek out companies who have a good bunch of designs that seem adaptable. Small companies like Wedding in a Teacup are perfect – they have an exciting and eclectic range of template invitations with everything from tandems to music notes to reindeer. We use lovely colours and fun fonts and your names and the venue details become part of the overall design.
"The whole process takes around 2-4 weeks once you've chosen your favourite design. You submit your details, then you're sent a PDF of the finished design to approve, and then it goes to print. If you need day and evening invites, and RSVP and info cards, order them together and you will usually get a good discount – and they'll be on the same print run, so you get exactly the same colours.
"If you want everything to blend beautifully, you can also order menu cards, thank you notes, order-of-service covers, all to match your theme."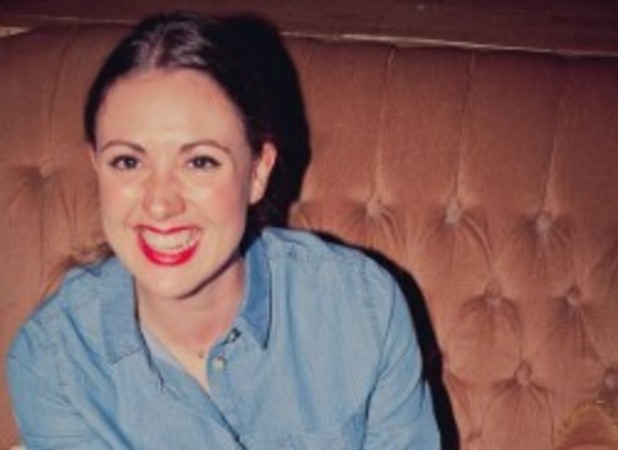 Because we didn't have a lot of time before the wedding, we decided to dispense with the traditional 'save the date' cards and instead just focus on our invites and thank you cards.
We'd discussed different colours, based mostly on the bridesmaid and flower girl dresses, and then picked a design called the Lovebirds from the website. And with a few alterations from Jude to make it look like a page from a book and adding a quote from a film, we eventually got our perfect card.
The colours weren't overpowering, but they will fit with the dresses. It looked romantic but wasn't too much and it had elements of both me and Mr T in there.
I didn't think I'd be so excited but when our box of goodies arrived, it was such an incredible feeling. Now we can officially start asking people to be part of our big day!
If you have any tips or questions, get in touch with me at @Sarahw0684
More from the Clueless-Bride-To-Be:
11. The wedding fair!
10. My (first) big mistake
9. How to pick a wedding dress to suit your shape
8. Reader, I got a brace!
7. Choosing the all-important venue
6. The dreaded guest list
5. Breaking down the budget
4. Picking my bridesmaids
3. Everything you need to plan or buy
2. Getting by with a little help from my friends
1. The proposal!