Anna Wyatt, 22, spent years battling anorexia. But a chance meeting in the supermarket with a someone she didn't know rescued her
"With all the parties and takeaways, most people put on weight when they start university. But not me.
Moving away from my home in Norwich, aged 18, to Exeter University and having to cook for myself meant I ate a lot less.
It wasn't intentional at first but three months later, I'd lost half a stone. The flattering comments form my new mates inspired me to join a gym, tone up, and lose a little more.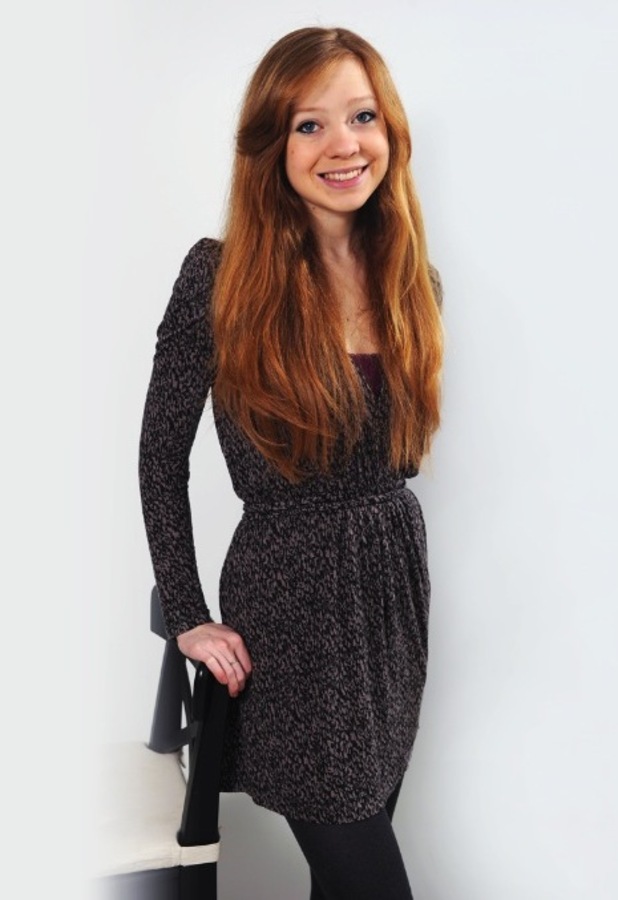 The following year I was diagnosed with a gluten allergy after months of awful stomach cramps, so I cut pasta and bread from my diet.
But as I didn't replace them with other carbs, my weight fell rapidly. I lived on fruit, vegetables and corn cakes.
By June 2013, I weighed 8st. I'd lost so much weight, I had to swap the size 10 dress I'd bought for my dad's wedding for a smaller size.
At the wedding, everyone said how healthy I looked. So I felt encouraged to lose more weight, slipping from 1200 to just 500 calories a day.
I'd have a small bowl of watery porridge for breakfast, followed by thin soup for lunch and vegetables for dinner. I went to the gym for 90 minutes, four times a week. Soon, I'd lost another stone.
My mum Carole, 55, saw something was wrong when I went home for the summer. By now, I weighed 7st 13lb - far too light for my 5ft 7in frame. When Mum caught me coming out of the shower, she was visibly shocked. 'You're just skin and bones,' she said.
Though I promised to eat more sensibly, I exercised for hours at a time, and lowered my daily intake to 200 calories.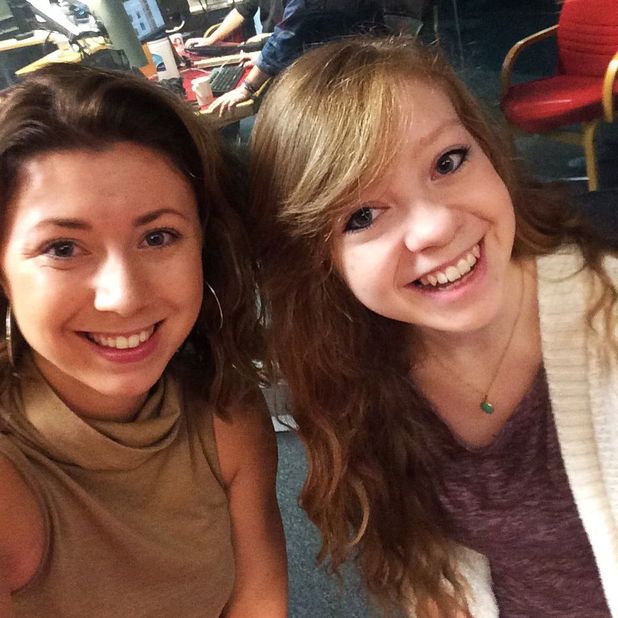 Worried, Mum asked me to weigh myself in front of her. And as the needle fell, she begged me to get help.
That September, in 2013, I returned to uni, promising Mum I'd have private therapy sessions. She visited often with my sister Helen, 24. I knew they were concerned but hated them checking up on me.
By October I was even more gaunt and Mum suggested I move home for a bit. It was devastating, but deep down I knew she was right - I needed help.
My weekly therapy with an eating disorder expert started in January 2014. Yet, still my weight fell.
It was so bad I had to leave my job in a café. As well as finding it difficult to be around food, I was on my feet so much and my body was under great strain.
Scans showed my bones were thinning, but it was like I had a phobia. I knew I had to eat and I wanted to, I just couldn't.
By summer, I weighed 5st 7lb and was at serious risk of a heart attack. Mum was frantic. I convinced myself I was just a bit tired.
Then, in June, I was painfully shuffling around the supermarket when a stranger caught my eye – a girl about my age.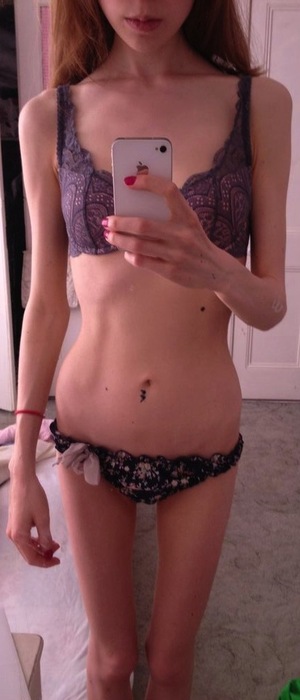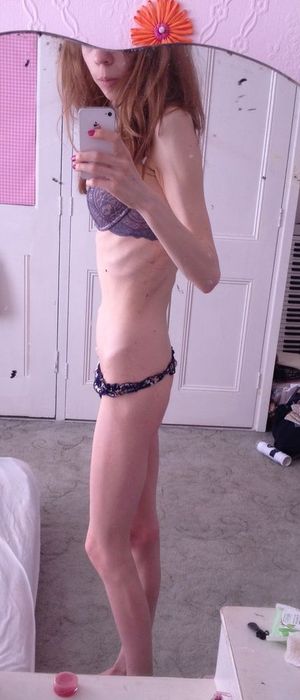 At the checkout, I spotted her again. And she pressed a piece of paper into my hand, saying: 'I'd really like you to read this.'
The handwritten note was just a few sentences long: 'Eating my weigh out of this disorder ellacrouch.wordpress.com. I used to be anorexic, now I am happy and healthy. You can be too.'
It was hard to believe I could ever be healthy. Doctors were threatening hospitalisation as I'd been under treatment for a year without success.
Back home, Mum and I looked up the website. The blog was written by the girl, Ella Crouch, who had recovered from anorexia using weightlifting and exercise. Her message was that stronger was better than skinny.
Ella's story moved me. The idea of making myself stronger and fitter, rather than just shoveling in calorific food, really appealed. Anything was worth a try.
In earnest, I emailed her personal trainer, who said he could help me. For the first time, I really believed I could beat this.
Training started straight away – 10 minutes of bodyweight exercises to get my joints working, before very slowly adding light weights.
When we moved on to the nutrition plan I could feel myself tense. It started at 1200 calories, but he helped me split it into chunks of 200-300 calories throughout the day. Now it didn't feel so daunting.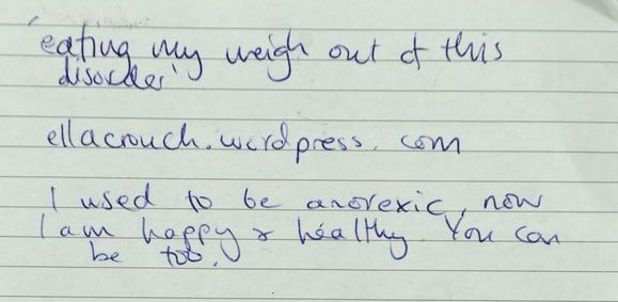 For breakfast I ate porridge with milk, fruit and nuts, followed by a salad of avocado and beans for lunch. Dinner was vegetable ratatouille with snacks of yogurt and fruit.
After a month, I'd put on 2lb. It was a start and inspired me to continue. Slowly, I upped my calories by 200 a week, and by September 2015 I'd reached a much healthier eight stone and gone back to university.
However, one thing still bothered me. I really wanted to thank Ella.
So last November, I initiated a meeting through her website. It was amazing to see her again. She said I looked really healthy, and I couldn't stop thanking her for what she did.
It's no exaggeration to say she saved my life. I'll be forever grateful."
Ella says: "I'd seen Anna in the supermarket and wanted to say something. It was only when I saw her again at the checkout that my mum insisted I help. I was recovering at the time and could see she had a problem, it made me really sad. I'm so glad she's now happy and healthy."
Anna is climbing Machu Picchu in Ausut. To donate visit justgiving.com/annawyatt
By Kelly Strange and Paisley GilmourFor exclusive competitions and amazing prizes visit Reveal's Facebook page NOW!