As you may have gathered, I've loved every minute of being engaged. And now we're making concrete plans for our big day, it's getting even more exciting.
However, there was one thing spoiling my mood since the minute I flicked through my first bridal magazine. The wedding dress. I know, I know, it's the minute most women dream of but it literally filled me with dread.
It's my height, you see. Or lack of it. At 4ft 11in, I am stupidly short. It's the first thing everyone comments on when they meet me and I never go anywhere without my trusty heels in tow.
So shopping is hard at the best of times but the thought of trying on a wedding dress literally turned my stomach. I was convinced I'd look like a deflated, white balloon. A short, dumpy, deflated balloon.
I wanted to avoid any obvious pitfalls, so I spoke to Heather McReynolds, Senior Bridal Buyer for
David's Bridal
, about what style dresses suit certain body shapes – and she was extremely helpful.
"For women with an
apple shape
, a plunging V-neck and sweetheart neckline are great options, as they naturally draw the eye upwards. An empire waistline will also help elongate you, while an A-line skirt will keep attention on your torso and upper body. Tea length or short gowns, which are having a major bridal moment, will allow your legs to take centre stage.
"A mermaid or trumpet silhouette is the quintessential style for an
hourglass figure
. It contours to your body by hugging in all the right places and naturally showcases your curves. You can also highlight your waist with a gown that has no waist or natural waistline by finding styles with beaded details along the waistline or adding a sash to help create waist definition.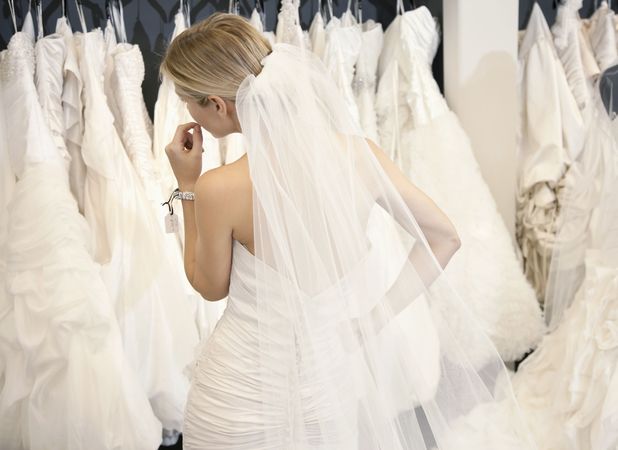 "If you have a
pear figure
, you should showcase their shoulders and décolletage to help balance their shape. Strapless necklines are always a great choice, but you should also consider one of the new emerging necklines, which are modern and fresh – a youthful deep scoop, plunging V-neck or one shoulder. Other options include collapsed ball gowns or A-line skirt silhouettes which will minimize the hips and/or bottom.
"Ball gowns are a perfect option for a bride with a
straight figure
as the fullness of the skirt will create the illusion of curves; other great options include mermaid or trumpet gowns. Brides with straight or rectangular figures should look for lace and beading placements that outline the silhouette of their shape as they can also help create the illusion of curves. Dresses that feature empire and natural waistlines with beading or lace interest also help create the illusion of shape.
"If you have a large bust and have always dreamed of a ball gown silhouette for your wedding dress, choose a natural or drop waist style which will elongate your torso so you don't look top heavy.
"When in doubt, head straight to an A-line – they're flattering on almost all body types."
I felt slightly more prepared with this knowledge but I couldn't completely banish my worries. Thankfully, my lovely friend and ex-flatmate, Sarah C, was around to stop me going on my own, the way I'd been threatening to, and when I made an appointment after work, she met me on the train and told me to stop being ridiculous.
And it turns out, I was being ridiculous. Because it was the MOST FUN NIGHT EVER.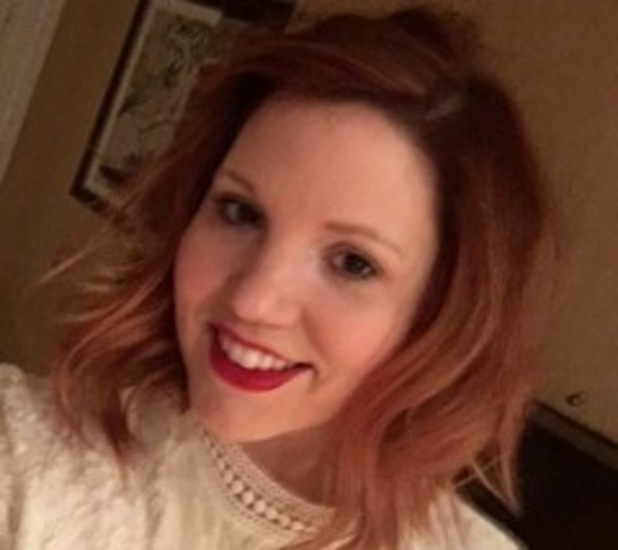 Sarah C isn't married either (yet, anyway! Congrats again on your engagement, lovely!) and so the two of us were a bit awestruck when we were faced with rows and rows of beautiful white gowns.
Thankfully, the boutique owner was there to make it all a bit more manageable for us and told us to pick four dresses for me to try on, then she would pick some more.
So I picked them – all big, floaty princess ones, completely the opposite to what I thought I'd go for. One was empire line, another had a lovely key-hole back. In the changing room, I changed into my tallest heels, put on a white strapless bra and held my breath as the owner helped me into the dress.
Ladies, I will tell you something, we should all wear white maxi dresses more often – they are sooooo flattering. I didn't look short and dumpy at all. In fact, I looked taller, slimmer, more elegant. I want to wear them every day.
I didn't find anything I wanted that night – but I was quite glad because, after a celebratory glass of bubbles with Sarah C, I arranged another trip, this time with my mum and three of my (many) bridesmaids.
And this day was equally fun, full of "oooohs" and "ahhhhs". Only this time, it was slightly better, because I found a really gorgeous one. I'm not going to say too much in here because Mr T always reads my blogs (or at least, I hope he does) but trust me, it's a beaut.
But I'm holding off buying it, as I'm booked into a sample sale, where designers sell off their samples dresses for half the price. And although my dream dress is gorgeous, it comes with a hefty price tag, so the chance to get a bargain is fairly appealing.
is it too much to hope that I'll find a similar style but in the sale?
If you have any tips or questions, get in touch with me at @Sarahw0684
More from the Clueless-Bride-To-Be:
8. Getting a brace before the wedding
7. Choosing the all-important venue
6. The dreaded guest list
5. Breaking down the budget
4. Picking my bridesmaids
3. Everything you need to plan or buy
2. Getting by with a little help from my friends
1. The proposal!