Vanessa Brooks has endured seven years of misery, after surgery ruined her face and her life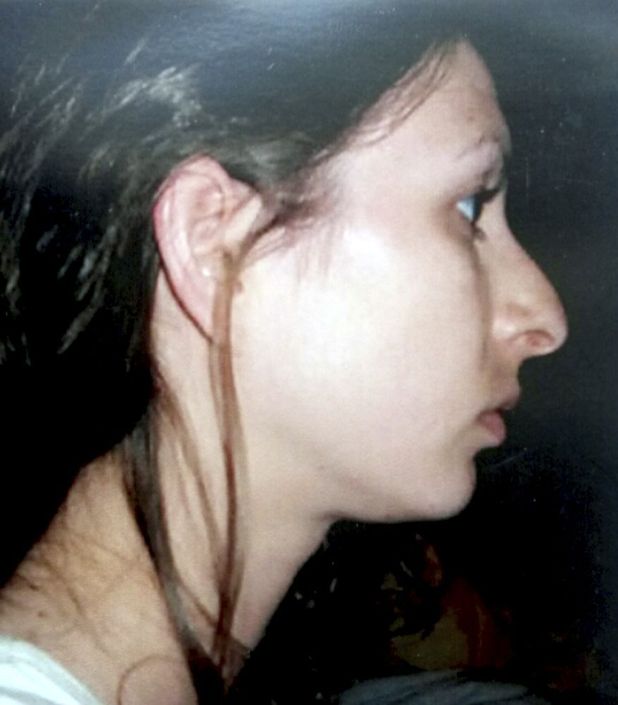 Forever known as "Nessy Big Nose", seven years ago Vanessa Brooks went under the knife in a quest for the perfect profile.
But, instead of getting the smaller nose she'd always wanted, botched rhinoplasty have given her a painful, twisted beak.
The trauma has left the 39-year-old mum-of-four housebound, jobless, and even cost her her marriage.
"My life has been ruined," says Vanessa. "i used to wish I had Angelina Jolie's neat, cute nose, but now I'd do anything just to have my old nose back."
Growing up, Vanessa was mocked and teased about her nose, and in time it began to knock her confidence.
Yet it wasn't until August 2008, married with two sons, that she finalyl decided to take steps to change it.
"My then-husband and i were having marriage problems and my self-esteem was really low," says Vanessa. "I thought, if I fixed my nose, it might fix the other problems in my life, too.
"I'd had a boob job six years before, at the Spire Hospital in Norwich, taking me from a 34A to 34D. It had gone perfectly, so I went back there again, this time to speak to a different surgeon about rhinoplasty.
"My biggest concern was that it might not be possible to correct my nose."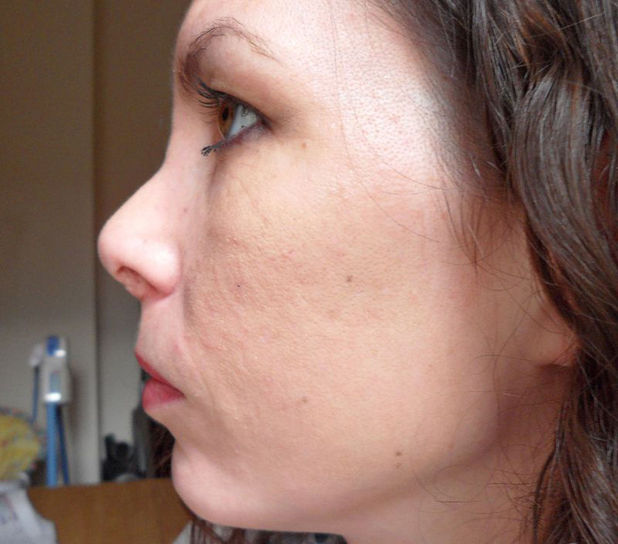 So Vanessa was pleasantly surprised when the surgeon, Jon Clibbon, assured her it could be done.
"Mr Clibbon explained there was always a risk with surgery, but the operation should pose no real problems. When he told me he could give me the nose I wanted, I was really excited," says Vanessa.
She had the two-hour op, which cost £5,500. The next day, back at home, alarm bells began to ring.
"The cast was sitting at a weird angle and my nostrils looked a mess," she says.
A couple of days later, the stitching started to weep with thick pus.
On calling the clinic, she discovered Mr Clibbon was on holiday. She was advised to go to A&E, where she was given antibiotics to treat an infected stitch.
Vanessa says, "I called the clinic every day. I was in severe pain and had wiry stitches poking out of my nostrils. The staff persuaded me to give it more time to heal."
After 10 days, Vanessa returned to the clinic to see her new nose for the first time.
"When I looked in the mirror, I burst into tears," she recalls.
Mr Clibbon had removed too much from the tip of Vanessa's nose, leaving her with a piggy, upturned profile.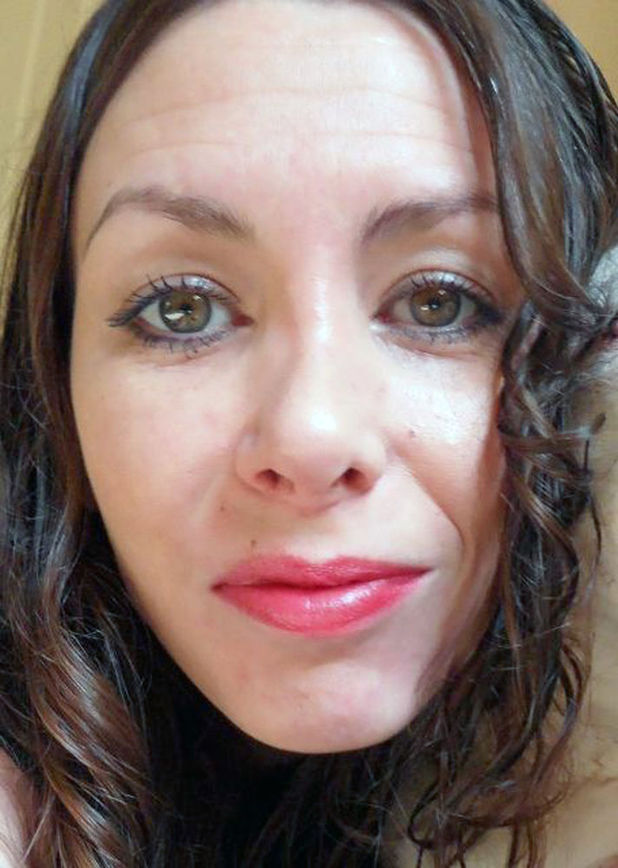 "He'd over-shortened it and my nostrils were hanging down, with uneven scarring inside and out. Even the nurses seemed embarrassed about it," she recalls.
Vanessa had no choice but to wait for Mr Clibbon to return from his holiday. In the meantime, her world crumbled.
"In less than a month, my life had become a living nightmare," she says. "I was anxious, crying, depressed.
"My face was a mess, I couldn't go outside, my marriage broke down completely, and I lost my job as a secretary.
"I was so ashamed. If I was forced to leave the house, I'd wrap a scarf around my face."
When Vanessa finally saw her surgeon, he removed the infected stitch and suggested revision surgery to correct the problems.
Desperate, she had a second op in February 2009, but there were no signs of improvement.
She says, "My nose was still bent and caved in, which was restricting my breathing. And my nostrils were still bulging, uneven and ugly."
Practically housebound, in 2011 she met an old friend Daniel Solomon, 39, online, and they struck up a relationship.
The pair went on to have two sons together and, with Daniel's support and encouragement, Vanessa found the courage to contemplate further corrective surgery, in a bid to get her life back on track.
However, Mr Clibbon admitted he was unable to fix her nose, so she went to another surgeon.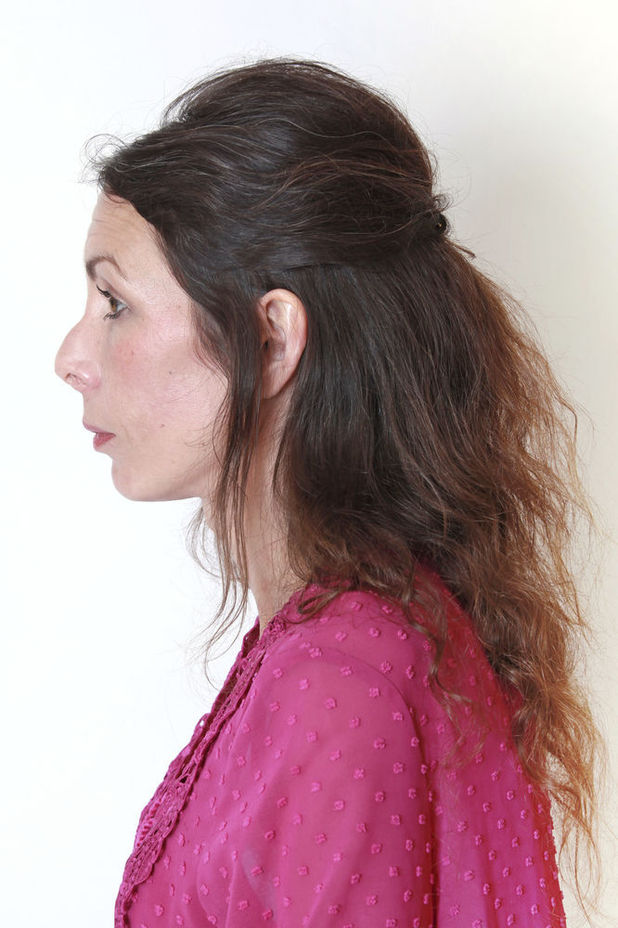 "He was shocked at the state of my nose and suggested a graft, using cartilage from my ribs, to straighten the caved-in side. He also said he could tidy up my nostrils," says Vanessa.
"I was absolutely terrified, but what choice did I have?"
Vanessa had her second bout of corrective surgery in July 2011. Although the surgeon did his best to fix it, over time she developed a twisted 'S'-shaped nose, giving her a pronounced, beak-like profile.
"It's warped and twisted, and now I can feel cartilage pushing through the tip of my nose," says Vanessa.
"I have breathing problems and painful, recurring sinusitis and headaches, because there's no lining left inside my nose. It's never healed properly.
"It's made me mentally and physically ill over the past seven years. I have panic attacks, I don't go out, and my whole family has suffered."
Vanessa began legal action against Mr Clibbon in 2011.
Finally, in March last year, a settlement of £50,000 was agreed. She is now to have revision surgery, costing £8,500, with a top Harley Street surgeon.
"I have faith in my new surgeon," she says. "I'm no longer looking for the 'perfect' nose, just a normal, nose. one that doesn't make people do a double-take in the street.
"I want to get back to work, take my kids on fun days out and marry Daniel. our lives have been on hold for far too long."
Mr Clibbon told Reveal, "I am unable to comment on any of the specific medical details of the case. I always try to provide the best possible care that I can to all of my patients."
By Chelsea Heatley and Su KarneyFor exclusive competitions and amazing prizes visit Reveal's Facebook page NOW!