Anyone who has a cat will be used to the little 'presents' they bring in for you. Although it's very sweet of them to gift us with half-dead mice, we'd often rather they didn't.
But one cat, Brigit, is bucking the trend of bringing home blood-soaked rodents for her owner.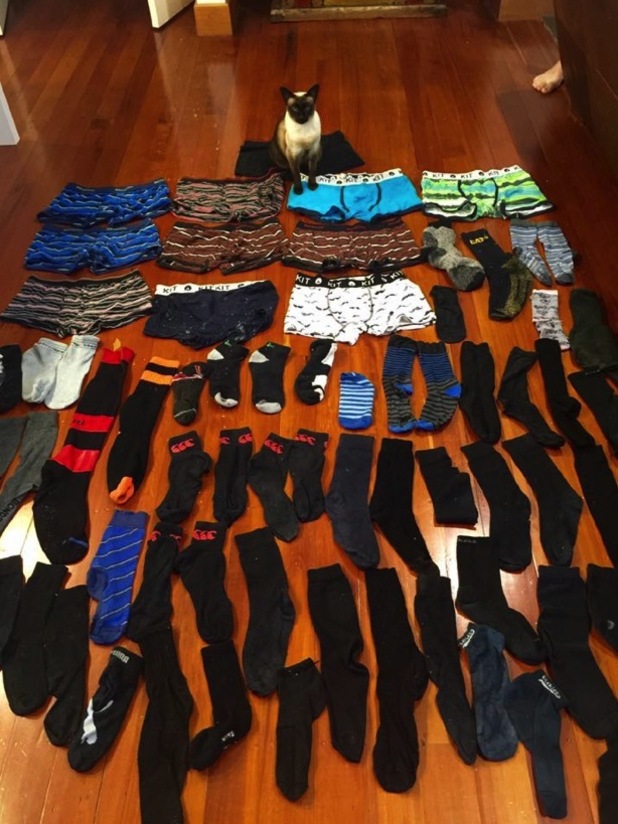 Instead, she gives Sarah Nathan stolen underwear.
The tonkinese has a clearly rather unhealthy obsession with other people's undies. And she's pinched 11 pairs of pants and 50 socks in the past two months alone.
Baffled Sarah, from New Zealand, posted a photo of unashamed Brigit with her spoils on Facebook.
She wrote
: "Now it's getting silly. This is Brigit's haul from the last two months. Every morning we wake up to more.
"I've put notes in every letterbox in the street. Someone must be missing this stuff. Please share if you know someone who lives in the George St area."
The mystery of whose smalls are being stolen by the cat continues.
She told the
New Zealand Herald
: "It's all men's. It's really, really weird. She's got really specific taste.
"In our last house she'd bring home a bit of everything - now she's decided menswear is the thing – and it's a very specific kind of underpants that she likes."
Brigit is one kinky cat.
For exclusive competitions and amazing prizes visit Reveal's Facebook page NOW!