This International Women's Day on March 8, we celebrated the brave women of India who refuse to hide the results of this brutal, disfiguring crime
As Geeta slept beside her two baby daughters, the balmy stillness of the Indian night was disturbed.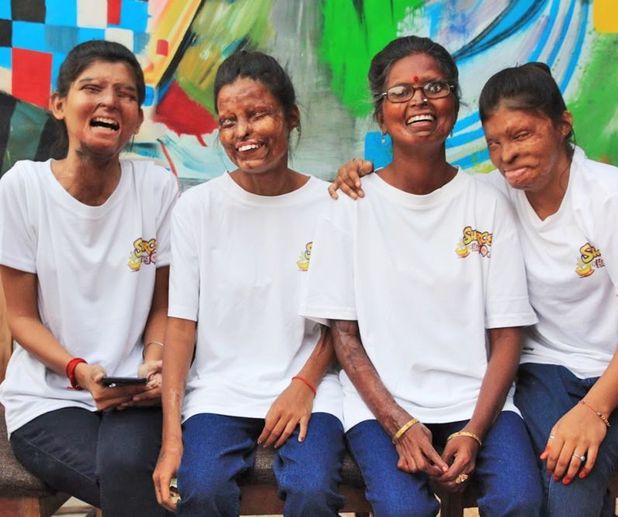 Geeta woke just as her husband, Inder Mahor, loomed over her in the dark. At first, it felt like he'd doused her in water. But, as the burning sensation seared her skin, Geeta realised it wasn't water. It was acid. And it had hit their daughters, too.
Krishna, then one, did not survive, dying two weeks later in hospital. Neetu, then two, was left almost completely blind. The acid dissolved her eyes. She suffered burns all over her body, and is disfigured for life.
Meanwhile, Geeta was left with facial scars and sight problems. Twenty-two years on, she is still undergoing corrective surgery – all because Inder was angry that she had failed to provide him with a son.
He was jailed for just two months.
Geeta's story is all too familiar in India, where it is estimated that five women are attacked with acid every week. It is a brutal crime, leaving victims isolated and living as outcasts.
On March 8, International Women's Day celebrates the achievements of women worldwide – and this year we are shining the spotlight on Geeta and her fellow brave survivors.
United by their shared tragedy, Geeta, Neetu and several brave women run the Sheroes' Hangout Café in Agra. It's funded by Stop Acid Attacks, a charity foundation set up three years ago by 26-year-old Laxmi Argawal.
Laxmi was just 15 when she was attacked with acid after spurning the advances of a 32-year-old man.
In 2006, her quest for justice took her to the Supreme Court, where she demanded regulations in the sale of acid.
Before Laxmi's case, acid attacks were treated as a minor crime, with attackers facing the same three-month sentence as pickpocketers. But the court ruled in her favour, and acid attacks have
since been made a heinous crime.
Though illegal now, acid is still readily available as a cheap substitute for toilet cleaner – easily obtained by someone bearing a grudge.
And until every survivor receives the immediate medical, legal and financial help they need, Laxmi vows she will not stop campaigning.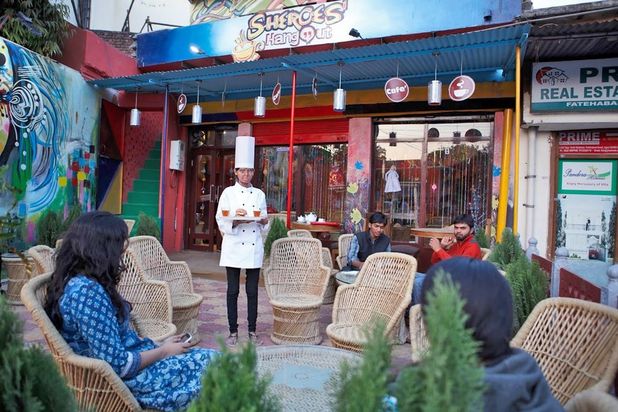 The Sheroes Hangout Café was launched in December 2014, when Geeta and Neetu joined forces with Rupa and Ritu, to remove the social stigma of their scars.
"I grew up wanting to be a fashion designer," says Rupa, now 23. She was 15 when her stepmother threw acid at her, permanently disfiguring her face. Rupa lives in constant agony, while her stepmother served just 18 months in prison.
Like many survivors her age, Rupa dropped out of school after the attack, retreating from society, "My father supported my stepmother, so I disowned him and stopped using the family surname," she explains.
Now, Rupa showcases her own dress designs in the café boutique. "My childhood career ambitions have finally come true," she says.
Café floor manager Ritu Saini was 17 when she was soaked in acid in May 2012 by two men on a motorbike on her way to volleyball practice.
Ritu says, "Shopkeepers quickly crowded around while I screamed in agony. Everyone stared, but no one helped until my brother, who was passing by, rushed me to hospital."
The attack, which caused 90 per cent burns to her face, was organised by her aunt, who had fallen out with Ritu's father over property.
"She destroyed my face and my future to settle a score," says Ritu, who spent two months in hospital. "It took me a long time to come to terms with that."
Her aunt and two attackers received life sentences, while the acid seller was jailed for 10 years.
Laxmi supported Ritu through her treatment. She's had eight surgical procedures so far to reconstruct her face, and hopes to return to school.
She says, "I went from despair to hope. I campaign for justice because no woman should go through what I went through."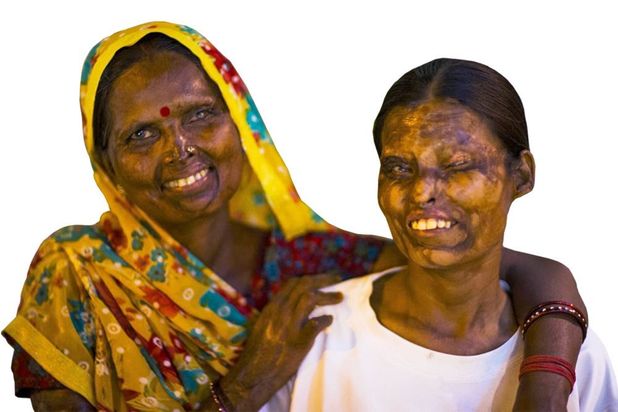 The Indian Government claims to offer £3,500 to acid attack victims, but only five survivors are known to have received this. The cost of medical assistance, surgeries and treatment tops £48,500 – well beyond the reach of the average Indian family.
It's estimated that 26 per cent of acid attacks occur as a result of unrequited love.
Dolly was just 13 when she declined the advances of a neighbour, Pradeep Bhaiya, 25, in July 2013.
She recalls, "I was studying when he came to my house, telling my mother he had something for me. Then he calmly poured an entire bottle of acid over me."
It burnt Dolly's face and the left side of her chest, leaving her with breathing problems. Traumatised, she locked herself in her room for a year, only leaving home to see her doctor.
With Bhaiya in jail, Dolly, now 15, recently joined the Sheroes team, refusing to hide any longer. She has returned to education and hopes to be a doctor one day.
"Here, at the café, I'm happy. I'm in charge of handicrafts. We have books like I Am Malala and The Devil Wears Prada in the library, and we hold workshops, poetry readings and jewellery exhibits," explains Dolly.
Instead of hiding in the shadows, as their attackers would hope, the survivors are thriving. "We haven't just got our self-confidence back," says Ritu.
"We've found our place in society."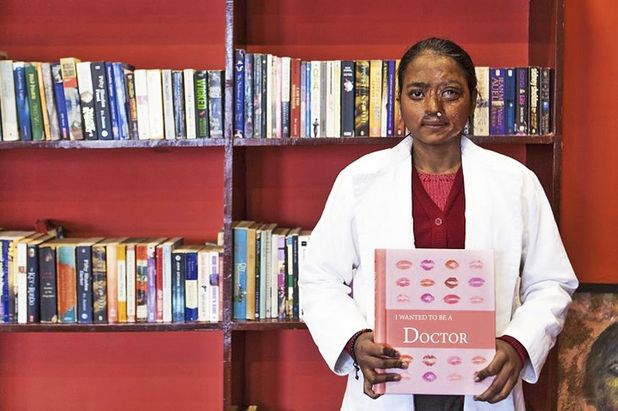 The café has been an unprecedented success, leading to the upcoming launch of four more branches.
Neetu adds, "Everyone has scars, ours are just more visible. The pain makes you fight for everything you have ever wanted."
There is a motto at the café, which the women repeat with a smile, "You burned my face, but not my will to live – you can't throw acid on that."
By Kim Willis
For more information, or to donate, visit stopacidattacks.org
For exclusive competitions and amazing prizes visit Reveal's Facebook page NOW!