It's one of life's eternal questions – how many bridesmaids are too many?
Well, that's a bit of a fib. I'd never actually considered it until I became involved in the wedding world. There, it's a huge question, big enough to be asked on the covers of two of the various bridal magazines I've bought or been given in the last six weeks. Suddenly, it's topping whether you put cream or jam on your scone first or whether your toilet roll should roll over or under.
Anyway, I digress. Whatever the answer is, I'm sure I have too many. Because I've ended with five. And two flower girls. I bet by the time it's my turn to walk up the aisle, all of the guests (the ones who haven't proceeded me up there, anyway) will have stopped bothering to look around, after giving themselves neck strain from craning round to peer at everyone else.
Even if they do, I don't care. Because I can say, without hesitation, I have the best girlies on my team ever. Fact.
First up, there's
my little sis, Laura
. We couldn't be anymore different if we tried – she's blonde, I'm brunette, she's super-slim, I'm curvy, she's practical and full of common sense, I'm… not. But that doesn't stop us being really close. We've been on holiday together and, despite living at opposite ends of the country, we talk every day.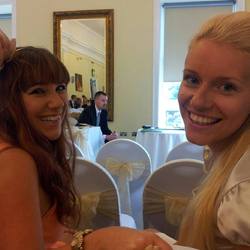 I actually didn't think she'd want to be my bridesmaid as she hates being the centre of attention – she had just six guests at her wedding. But, after I'd assured her she wouldn't have to do anything on her own, I was happily surprised that she said yes.
Then, there's
Caroline
, who I met when I started secondary school. We went on our first friend date when we were about 12, to see Leo in
The Man in the Iron Mask
at the cinema.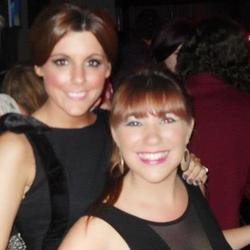 We got told off for talking too much, I spilled Dr Pepper all over my white jeans (very fashionable back then) so it looked like I'd came on my period and we both cried so much, our faces were red and swollen. To some, it would have been a disaster. But to us, it was just about perfect and a friendship was born.
Third on the list is
Rachel
, who, although she doesn't remember it, used to make me giggle with her Jim Carrey impressions in French class.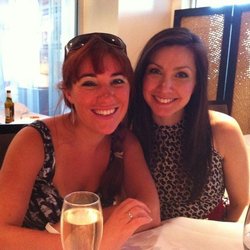 I thought our friendship might be over the day she came to my house in her long, black, leather coat and my dad asked her bluntly if she was a Goth. But she didn't seem to mind – in fact, that's one of the reasons I love Rachel so much. Very little fazes her.
Alison
joined our group when she joined our sixth form. Caroline and I thought she was the coolest person we'd ever met, because instead of buying the tops that looked like you were wearing a short-sleeved T-shirt over a long-sleeved T-shirt, she
actually wore
a short-sleeved T-shirt over a long-sleeved T-shirt. And don't even talk to me about the day she came in wearing her boyfriend's jeans cinched around her waist with a belt.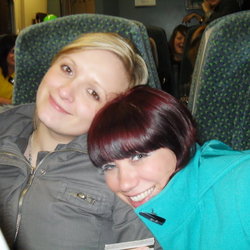 But she's far more than just than cool. When my mam was diagnosed with breast cancer when we were 17, Ali was, quite frankly, amazing. I will never be able to thank her enough for that time.
And finally, there's
Sophie
. I met this lovely lady at uni and, as a couple of fellow Geordies surrounded by a load of southerners, we immediately bonded. We went through everything together. I got her drunk for the first time on a night out in Newcastle and held her hair back as she threw up the cheesy chips we'd scoffed just an hour before.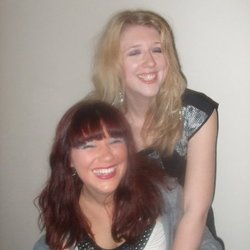 Once we finished living together in uni, and I finally followed her down to London, we got our first flat in Clapham together. Thus ensued many late nights up talking and even more nights out drinking and dancing, all split up with too many shopping trips, meals and bottles of wine to count.
And Mr T is just as bad. Not content with just one best man, he's asked two of his mates to step up to the job. The bridal party is huge.
But could you have picked between such wonderful friends? And should you? A big part of the big day is getting ready – and having your besties with you to pop open a bottle of bubbly, stop you panicking about any last-minute catering problems and wipe away your tears, as you realise all your loved ones have gathered together for one day, just to celebrate the love you've found with your other half, is something you should never compromise on.
Aw, I'm welling up already…
If you have any tips or questions, get in touch with me at @Sarahw0684
Hallmark Hotels has launched a competition that will see 27 happy couples win a September 2016 wedding at 27 of its hotel venues across the UK. As the competition doesn't close until midnight on March 11th, ladies looking to pop the question on the leap day on Feb 29th, will still have the chance to enter and win a wedding... provided he says yes! To enter go to www.hallmarkhotels.co.uk/winawedding
More:Blog 1: Getting engaged!Blog 2: Getting by with a little help from my friendsBlog 3: Expert info on everything you need to plan