New mum Danielle Stoakes was inspired to share her premature baby boy's battle for life. This is Reggie's journey…
Announcing the happy arrival of a newborn son or daughter is a momentous event for any new mum. And, for many, that means posting an all-important first picture on social media.
But when Danielle Stoakes uploaded an image of her tiny son, Reggie, to Facebook for the first time, it wasn't your standard photograph. Lying in an incubator, wrapped in a plastic sandwich bag and surrounded by tubes and machines, the 25-year-old first-time mum was showing the world her premature baby boy's fight for life.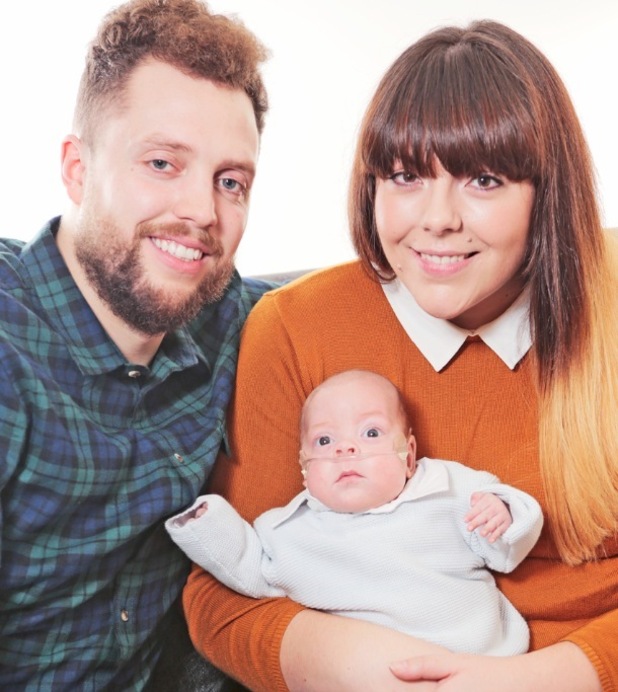 When he arrived, almost four months early on 14 June 2015, weighing 2lb 7oz, Danielle and partner Matt Hansom, 26, could only watch on as their brave boy battled against the odds. With each precious day that passed, Danielle took a photo to record his progress, creating a Facebook page called "Reggie's Journey" to keep worried family and friends updated.
And, as Danielle's photos now prove, Reggie was a born fighter.
"Mine are not the type of baby pictures people normally post online, and some may find them shocking," says Danielle, a dental manager and singer from Skegness.
"But the reality is that not every baby is born healthy. If Reggie's Journey gives hope to one family who are going through what we did, then I'll be happy."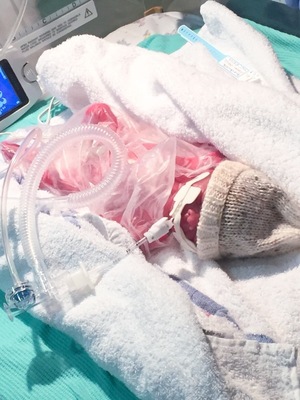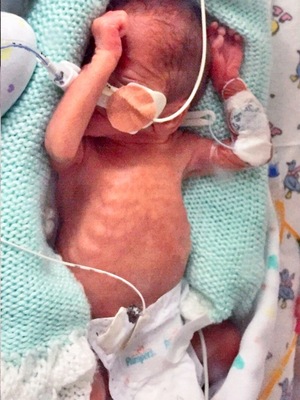 In January 2015, Danielle and Matt, an electrical engineer, excitedly found out they were expecting.
But at 23 weeks, Danielle started bleeding while performing on stage.
She was rushed to hospital and kept in for two weeks on emergency bed rest.
Doctors gave the worried mum-to-be steroids to develop her baby's lungs before he was born. And just a fortnight later, Danielle went into labour and Reggie George Hansom was born 15 weeks early.
"All I wanted was to hold my baby, but doctors had to whisk him to intensive care and put him on life support."
Within an hour of giving birth, Danielle had a haemorrhage, losing two litres of blood. Tests revealed she carried the rare infection chorioamnionitis, and it had been passed on to her son.
"It was much worse for Reggie, because he was so small," says Danielle. "After a critical 24 hours, he made it through, and the infection was stabilised with antibiotics."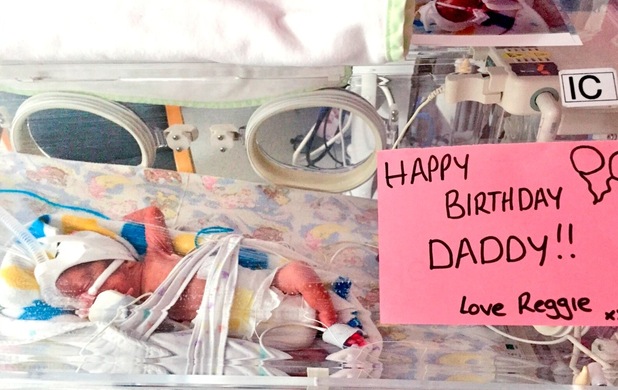 But at just 12 days old, Reggie contracted E. coli and doctors said the next 24 hours were absolutely critical.
"It was devastating," Danielle says.
"We loved him so much already, we couldn't imagine life without him."
From her vigil at Reggie's bedside in August 2015, Danielle turned to Facebook to stay in touch with her loved ones.
"Being at the hospital every day meant I could see gradual changes in Reggie's progress, and I wanted to share that with friends and family.
"Setting up a Facebook page updated everyone instantly, without the stress of having to make phone calls. So I started uploading the beautiful photos I'd taken of Reggie since the day he was born.
"They were graphic – not the sort of photos parents usually post of their new babies. I wanted people to see the reality of our situation. The consultants had painted a very bleak picture, but we never stopped hoping he'd survive."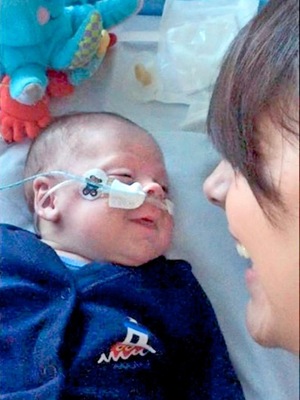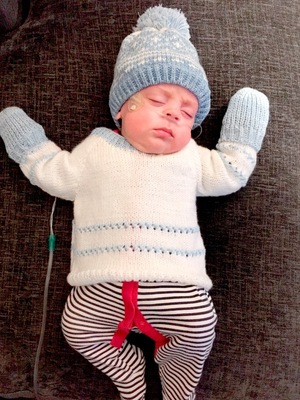 The page gained attention and, soon, had almost 1,000 followers, including other parents of premature babies.
"They sent messages saying they found it inspirational. We're aware our situation isn't unique, so it was amazing knowing I was helping others with my posts," Danielle says.
Finally, after four months in hospital, Reggie turned a corner. On 20 October, at 130 days old, his emotional parents were finally allowed to take him home, and they shared their news with a special heartfelt status on Reggie's Journey.
"We were ecstatic, and announced our family homecoming by uploading a clip of us with Reggie in his nursery for the first time.
"Our followers had seen our son at his weakest, so it meant everything to be able to share this huge, happy moment with them."
Now eight months old, Reggie is still tiny – just 14lb, the size of a baby half his age. His journey is still ongoing, but he fights back as strong as ever.
"Reggie has chronic lung disease and still needs oxygen. He's had a few re-admissions to hospital since being discharged, but we're told that he should eventually grow out of it," Danielle says.
"Development-wise, he is blowing our minds. His eyes, hearing and sight are all spot on, and although his heart has a tiny hole in it, it's not causing any problems.
"Looking back over all the photos of Reggie, it's incredible to see how far he's come. I don't think any mum could be more proud."
by Amy SharpeFor exclusive competitions and amazing prizes visit Reveal's Facebook page NOW!